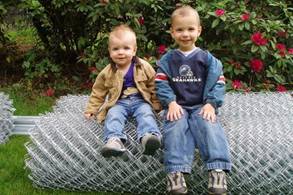 When the summer started, our grandsons weren't having all that much fun in our big side yard. Why? Because there's a road on the north side of our yard, and these days the cars present a real danger to careless children chasing balls. And our grandsons love to chase balls.
So we would hover over them and tell them to stay in the middle of the yard and not go to the edge by the road. When they made a move toward the road, they sensed the tension in our voices. None of us were free. Nanci and I decided we needed to get a fence.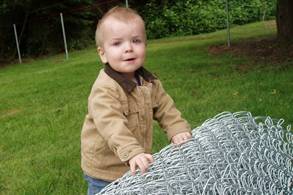 Jake and Tyler were happy when we decided to put up the fence. It gave them something to sit on. Ty was eager to help us put it up. (After lifting this bunch of fence and throwing it around the yard, he was ready to eat something. Anything. Everything.)
There are a lot of people who think that Scriptures' warnings and commands are restrictive, hampering our freedom. We want to be free to do whatever feels best to us.
But as a loving father, God builds fences to protect us. And if we stay within the fences He has put up for us, we experience not frustration, but joy. Not bondage, but freedom.
God tells us to build fences, too. He says, "Above all else, guard your heart, for it is the wellspring of life" (Proverbs 4:23). To guard your heart, you build fences to keep dangerous influences away from you, and keep yourself away from them.
In my book The Purity Principle I wrote,
"But we really love each other" has no bearing on the ethics of sexual intimacy. Sex does not become permissible through subjective feelings, but only through the objective, lifelong commitment of marriage. Those are God's rules, God's guardrails. There's nothing we can do to change them. The rules are always enforced. When we break them they always break us.

A smart traveler doesn't curse the guardrails. He doesn't whine, "That guardrail dented my fender!" He looks over the cliff, sees demolished autos, and thanks God for guardrails.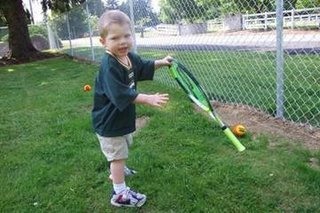 Once the fence was up, Matthew learned we could hit balls against it, and they wouldn't get out. Until he learned to hit them over the fence, which took at least five minutes. But even then, he wouldn't be tempted to run out to the road to get them. The fence is his best friend. (Well, Elmo is his best friend, but the fence is a close second.)
God's guardrails are his moral laws. They stand between us and destruction. They are there not to punish or deprive us but to protect us.
Our fence has not made my grandsons miserable. It's allowed them to be happy. They think it's great. They can actually do a lot more in the side yard without being worried, or us being worried. Now they have a great big side yard to play in. They have much more freedom with the fence than without it.
Thank you, Lord, for loving us enough to put up fences.
By Randy Alcorn, Eternal Perspective Ministries, www.epm.org. Used with permission.