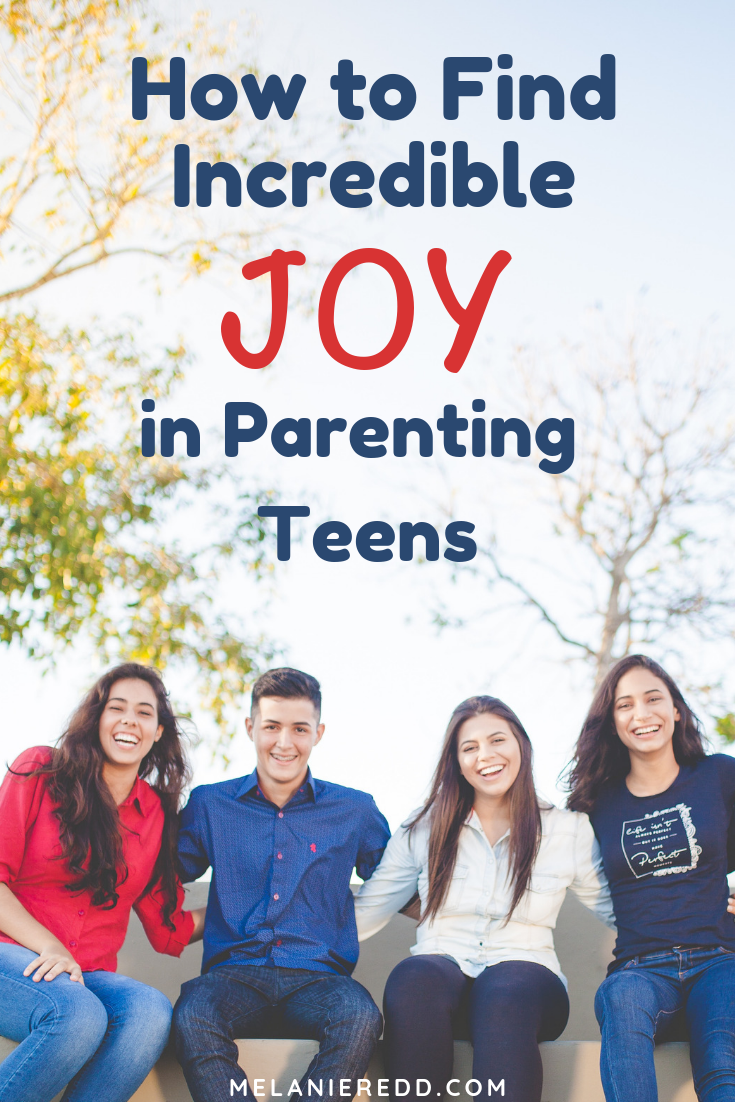 They get a bad rep.
People think of them as difficult, trying, rebellious, loud, messy, and challenging, And, they can be.
Raising teenagers is not for the faint of heart.
(Maybe that's why God sends them to us wrapped in very small packages unable to speak at all!!)

How to Find Incredible JOY in Parenting Teens
Not everything about teenagers is bad.
And, not everything about raising teenage kids is hard.
There are, in fact, some really amazing and wonderful moments that happen as we are moving our little people from childhood to adulthood.
I've consulted with parents of teenagers all over the world – literally.
These parents have shared with me some of the JOYS of raising teenagers.
Even the most independent teenagers will still have occasion to need their parents.
During this stage of parenting, teens will often seek out their parents for help, advice, support, prayer, and wisdom.
According to mom Amye Patterson,
"Even though their freedoms become more liberal than a young child, they still need mom and dad for advice, for a hug, and yes, even for money. And, I'm always glad to give it."
Says mom of two teens Colleen Jones,
"They are in the in-between stage of still needing your help for some things (Like helping learn to manage a bank account), but they are independent in many things as well."
Rhonda Cochran shares,
"For me, the joy has been those moments that come when you least expect it; they just unload on me, and I have the opportunity to share LIFE with them. I can share God's Word with them, and they really listen."
Surprisingly, many teenagers still like to be with and around their parents.
Although they are beginning to really enjoy their peers, it is still very common for teenagers to enjoy regular family time–especially in homes where the relationships are strong.
Mom of 5 teenagers, Elizabeth Davis shares,
"I love to hear my kids say, 'I couldn't wait to get home to talk to your mom,' or to get a text that says, 'Can we hang out tonight?' I try to always answer YES to those precious texts because I know that this season won't last forever."
Pastor's wife and mom Micah Tallent relates what one of her children said to her:
"Mom and Dad, whatever God wants us to do, we will do it as long as we are all together."
Colleen Jones shares,
"My kids genuinely love to spend time with their father and me. I had heard stories of teenagers pulling away from their parents… That's not the case in our house. I love that my kids want to be with us, and I'm cherishing every moment until they move out of the house."
Teenagers are some of the most determined and courageous people on the planet!
Even when faced with enormous challenges, teens will bravely work until they overcome and succeed.
They are tenacious and bold.
According to mom Belinda Letchford,
"I have joy in seeing my kids stand up for what they believe with their peers. They don't do it in a heavy-handed way; they are just naturally being themselves."
Mom Dianne Thornton shares,
"I love watching my kids perform with skill and excellence in areas that were extremely difficult for them at first. They pressed through the hard stuff. Sometimes it was hard to watch, but now I stand in awe and wonder at what they've accomplished!"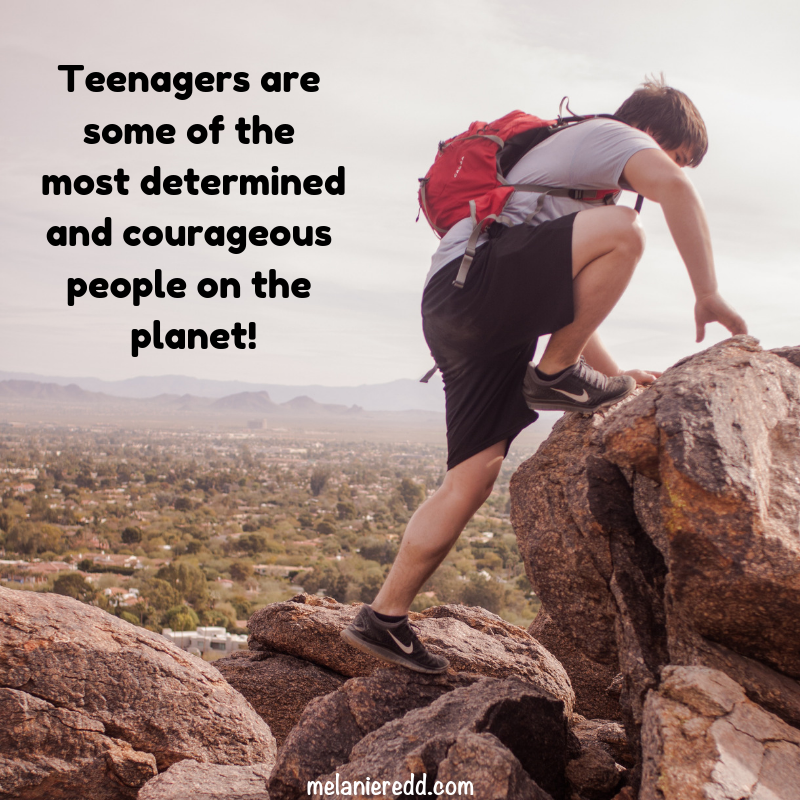 Parenting teens in an incredible adventure!
Teenage children will push, pull, tug, bounce, move, and shake up their parents' worlds!
There is nothing boring about being the parent of a teen!
Dawn Klinge puts it this way,
"My daughter keeps me on my toes. I love that she challenges me. She has her own ideas, she's articulate, and she's good at helping me to see new perspectives."
Something sweet starts to develop between siblings during the teen years.
Although some siblings have related well all along, there is a very special bond that starts to form during the teen years.
Parents begin to see more teamwork and unity.
Consider Julie Meek's story…
"Recently our middle school son walked in and announced he'd had a terrible night. When his 17-year old sister got home, he gave her a play-by-play. She sat beside him on the sofa and listened to every word. She gave him her undivided attention for a long while. Then, they sat side by side, his head on her should until they fell asleep. It was sweet and so peaceful."
Teenagers can be surprisingly compassionate and sensitive to the needs of those around them.
They can even be positive encouragers to their own parents.
Listen to what mom Colleen Jones has to say:
"At this age, my kids are very sensitive to my moods. If they sense I am frustrated or upset about something,… they will work hard to cheer me up – usually doing something silly. They will give me a hug and throw compliments my way. They are encouragers and cheerleaders for me when I can't be for myself, again, all without any prompting or deliberate teaching from me to do this."
"FUN" is one of the words that could be used to best describe so many teens.
There is never a dull moment when you have kids this age living in the house.
Elizabeth Davis shares,
"We have fun with our kids. When I'm running errands with them, I'll turn up the radio and dance and sing with them. We do this with 80's music that I know, and they think it's hilarious. We all love the popular Christian music, and this is a common language we can speak."
Mom Dianne Thornton says,
"Teenagers are under a tremendous amount of stress with school projects, exams, relationships, competitions. One of my favorite things is watching them laugh with total abandon. Head back, laughing uncontrollably. It's a break from all of the other stuff."
Some of the most generous and giving people in our world are under the age of 18.
They work in soup kitchens and visit children's hospitals. VBS and AWANAS are filled with teen workers.
Teenagers aren't afraid to get their hands dirty and to make sacrifices for causes they consider worthy.
"At this age, I have the privilege of seeing them make wise choices and sacrificial choices to help others, all on their own. My 16-year-old daughter has helped in Children's worship at church for the past 2-3 years. She has also helped out as an assistant coach with Upwards Sports soccer at our church. She frequently steps in to help with watching kids at church for events like "Date Night" the weekend of Valentine's day," explains Colleen Jones.
According to Dianne Thornton,
"This morning I was praying over a situation involving one of my teens. The Lord showed me that I was looking at it like a mother hen trying to protect her little chicks. But my teens, however, were in the thick of it—meeting the deep needs of another person. There were no lines of distinction or prejudice on their part—just a ton of encouragement and loyal love."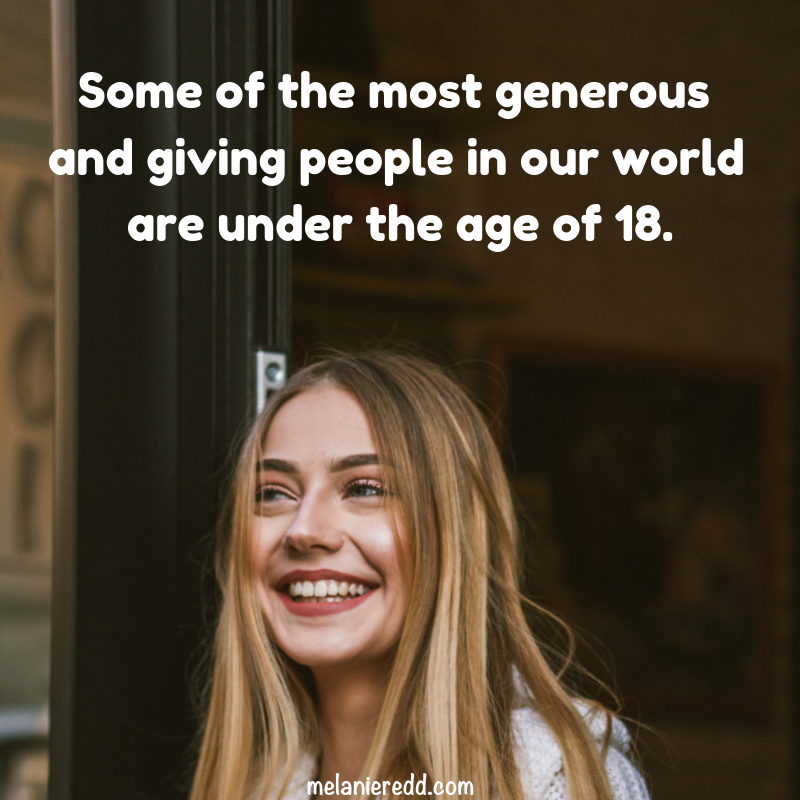 There is really nothing sweeter than a teenager who is deeply & passionately in love with Jesus.
Mom Melissa Childs shares,
"Hearing my kids talk about their faith, their friends, and their life is precious. I was anxious about having my kids becoming teenagers but it has been one of the most fun seasons with lots of laughter and stories."
"I love seeing them discover on their own that what we've taught them is really the truth, and watching them choose to stand on it themselves. And, I am beginning to enjoy having adult conversations with them, listening to them process life, just as I enjoy talking with my friends," shares Jennifer Walker.
What fun years these are with your teens moving toward college decisions, career decisions, relationship decisions, and more!
Parents are able to coach, steer, and counsel their kids as they approach their launch out into the world.
Elizabeth Davis explains it this way:
"I love all the conversations we have and that we get to comfort them when they are sad or hurt. I love watching them seek the Lord and our advice for their next step. And, I love looking forward to their future with them and seeking out the purpose God has given them."
There is something deeply satisfying about watching our children find God's plan for their lives.
To be able to pray for them and let them go is amazing. It's like launching little birds out of the nest!
Jennifer Walker shares,
"I love watching God work in their lives, reaching places I can no longer touch, except through fervent prayer. It really is like watching a struggling flower bud begin to bloom."
They are complex, complicated, and challenging.
And, they are also a JOY!
** Special thanks to all of my friends who contributed to this article! You ladies are amazing. I'm blessed by you, Dawn Klinge, Jennifer Walker, Amye Patterson, Rhonda Cochran, Dianne Thornton, Micah Tallent, Julie Meeks, Belinda Letchford, Colleen Jones, Melissa Childs, and Elizabeth Davis.
You may want to check out a new resource from the Ministry of Hope.
You can find out more on Amazon.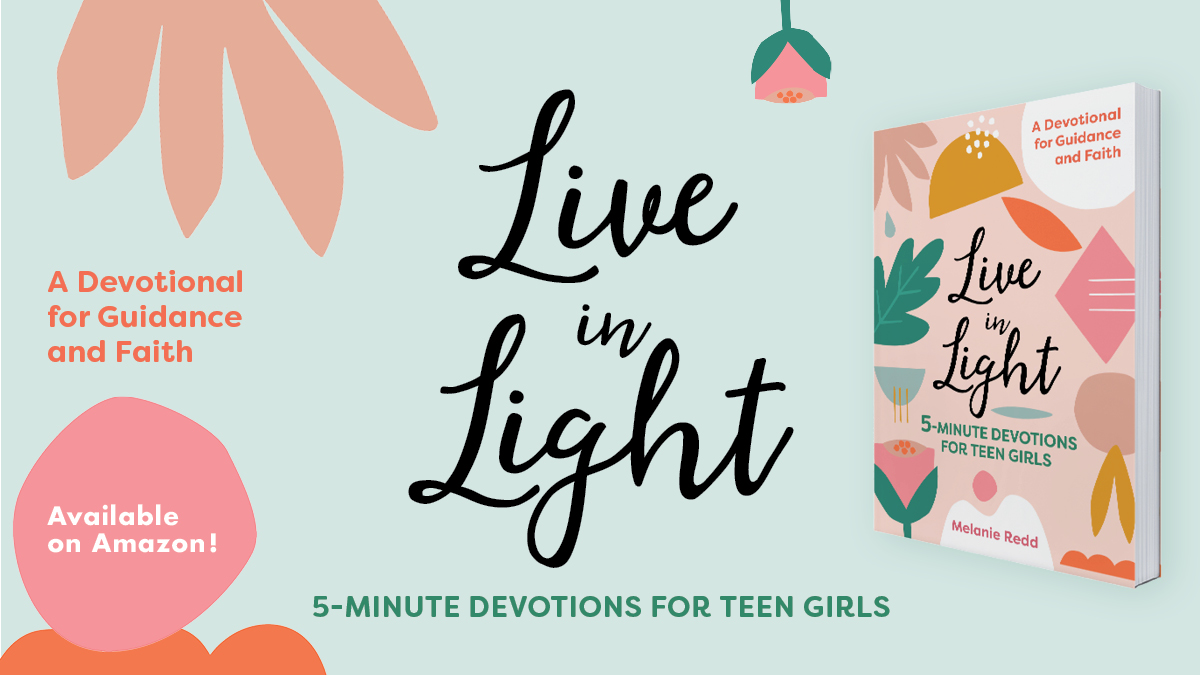 Then, would you share this article with a friend, co-worker, or family member?
Or, maybe you can send it to a friend or family member?
This blog occasionally uses affiliate links and may contain affiliate links. Additionally, Melanie Redd is a participant in the Amazon Services LLC Associates Program, an affiliate advertising program designed to provide a means for sites to earn advertising fees by advertising and linking to amazon.com. Also, for more on my disclosure policy, click HERE.
© Melanie Redd and Ministry of Hope, 2019. Unauthorized use and/or duplication of this material without express and written permission from this blog's author and/or owner are strictly prohibited. Further, excerpts and links may be used, provided that full and clear credit is given to Melanie Redd and Ministry of Hope with appropriate and specific direction to the original content.
This article was shared with permission from Hope Ministry, LLC and Melanie Redd.