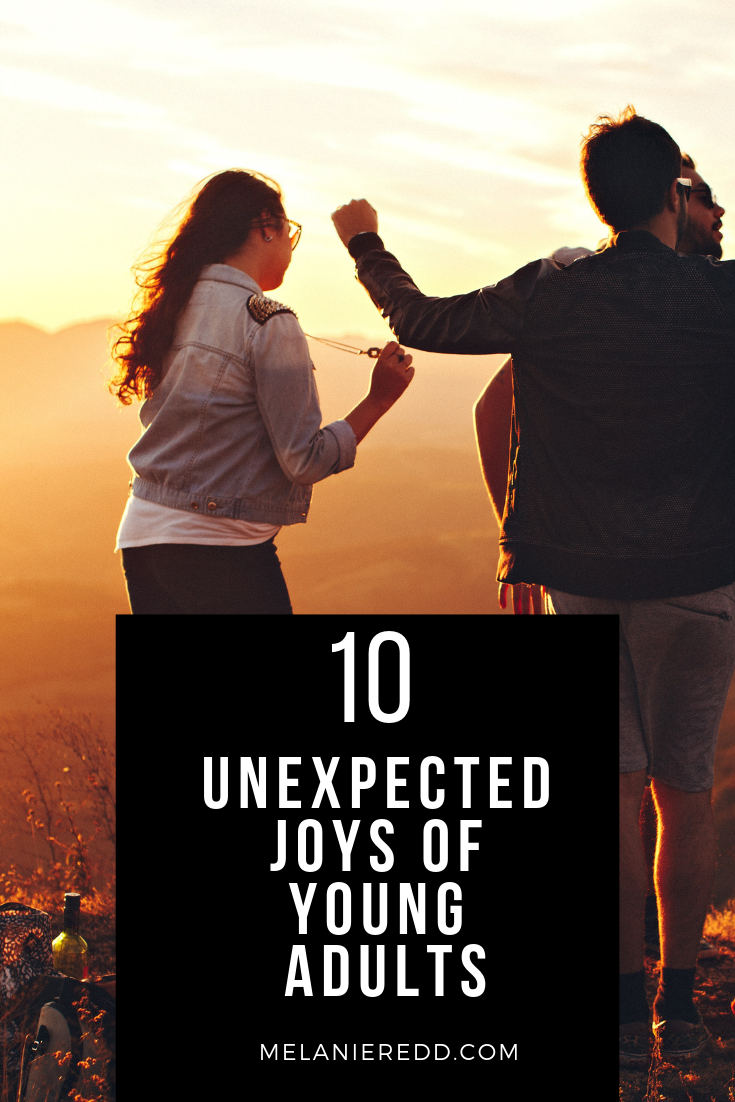 It was about ten-thirty at night.
My husband and I had gotten settled in the bed to go to sleep. He took my hand to pray before we drifted off.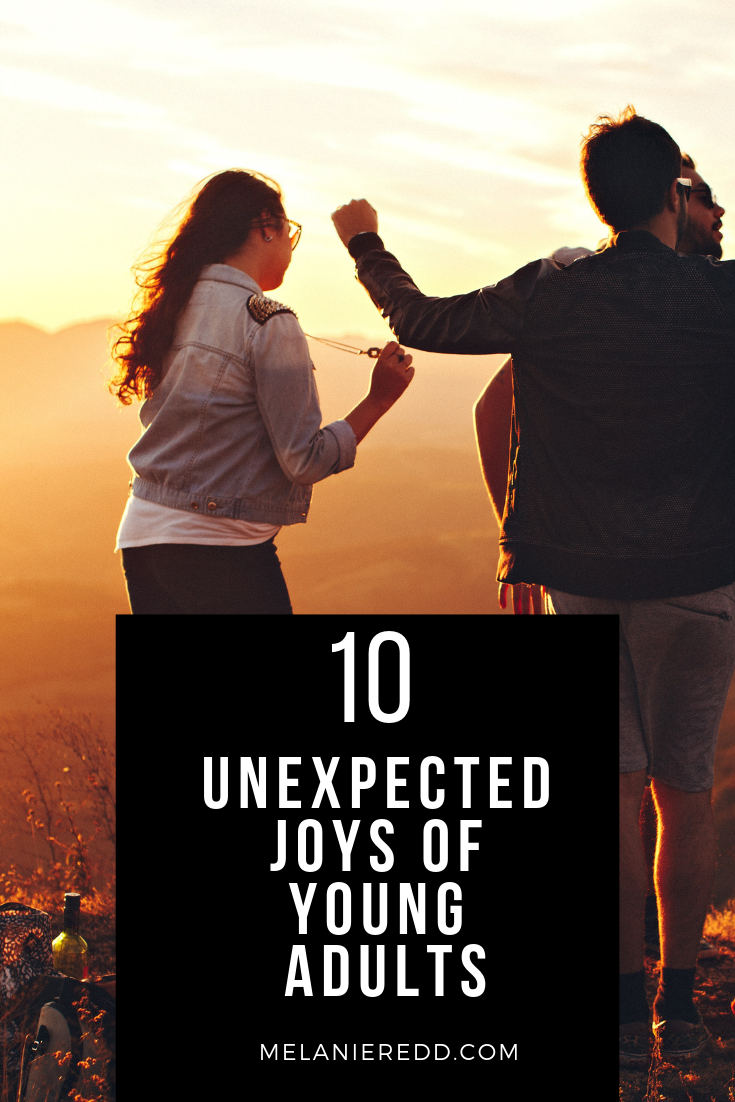 About that time, a deep voice interrupts us as our 6 feet, 4-inch, 23-year old son comes into our room and plops down between us on our bed.
He starts to talk to us, and we begin to laugh together.
Not 10 minutes later, his sister (our 21-year old daughter) appears in our room and plops down beside me on the bed.
We are all on the bed, in the dark, talking and laughing.
It was a great moment with my young adult children…one that I treasure.
And, I began to think about how much I enjoy my young adult kids.
Sure, children, this age can be challenging. This is the age when our kids are making HUGE decisions about life, careers, marriage, having their own children, where to live, and where to worship.
Their decisions are not little anymore and they carry great repercussions.
Also, young adults can keep very late hours, they can eat you out of house and home, they can cost a whole lot of money, and sometimes they can wear you out.
And they are also an incredible joy.
They are unexpectedly and unbelievably a JOY at this age.
In preparation for this post, I asked some of my dearest friends to share what they enjoy about their young adult children. Family members shared their thoughts as well.
Life is full of humor, noise, videos, movies, memes, jokes, and laughter with young adult children.
We laugh with them, about them, and at them.
They are just plain fun.
"They make me laugh… a lot!" says Regina, mom to two young adults boys.
Young adult kids will compliment you, tell you what you are doing well, thank you, and offer all sorts of good words.
Young adults can be some of your best encouragers.
My friend Christi Gee shares, "They are some of my biggest supporters, encouraging my writing, sharing it with their friends, and then messaging me often to pass along a story of how something impacted someone else."
My daughter will often look at me and say something that makes me feel good like, "Mom, you look good in that outfit."
They can do so much at this age, and they are willing to pitch in and help.
Not only do they assist us as parents, but they also help their grandparents, neighbors, and friends.
It is so much fun to watch them serve and use their gifts and talents for good.
Beth Reed shares, "They become the most unexpected and delightful ministry partners."
"They tag team with me to plan family events. It's no longer all up to me to brainstorm ideas and follow through on details. And they have great ideas," shares Christi Gee.
Sometimes, they will amaze you with what they have contemplated and considering.
Ruthie Gray shares this insight, "Daily they bless me with their spiritual wisdom and growth. Sometimes I wonder who these kids are because I don't know that I was that wise at that young of an age."
"They help me see tried and true principles from a fresh perspective, " shares Beth Reed.
Diane Smith says, "They teach me new things all the time."
They are enjoyable to talk to and to hang out with.
Kids this age are very real, open, and genuine, and they want you to be the same way.
It is refreshing to interact with them.
Diane Smith says, "They are great company and conversationalists."
Regina Green shares, "They have taught me to be brutally honest about myself and others. There are no shades of gray… at all… ever!"
Christie Gee remarked about her adult kids, "They challenge me to think. I used to ask the questions, knowing the answers. Now, I ask the questions, interested in their point of view."
"They begin asking the most thought-provoking and penetrating questions," shares Beth Reed.
There is something so enjoyable about parenting this age of the child.
It is fun to talk to them and much fun to walk through life with them.
Lisa Allen says, "I think watching them walk through adulthood is interesting, exciting, and scary. It's somewhat like when they were learning to walk, ride their bike, drive, the first day of school, etc., but it is much better because I have no responsibility."
According to Kelly Rhodes, "It is joyful to see my kids begin to experience the adult life through fresh eyes, and I'm really getting to see them live out the life lessons we've discussed all along. There are more opportunities at this stage for them to put into action ideas and principles we've always tried to instill in them."
This is a season in their lives where they are making huge decisions and having to be responsible for those decisions.
Becky Morris says, "They choose husbands for themselves. I could not have asked for or prayed for better spouses. They have chosen professions that they have worked hard for and are passionate about."
Ruthie Gray shares, "My oldest turned out to be a fantastic parent… And the rest of them are terrific aunts and uncles, which lets me know that they are going to be great parents too!"
I don't believe I've ever prayed as much for my kids than I have at this particular stage of their lives.
There is more to pray for and more to pray about for these kids.
"I really enjoy moving into the role of talking to God about them, instead of talking to them all about God," shares Lisa Allen.
What you have invested in your children will begin to produce returns at this stage.
You will begin to enjoy all of your time, hard work, and prayer.
Ruthie Gray shares, "The older they get, the more they appreciate us. They like to pick our brains and hear stories of how we struggled through the early years of parenting."
Kelly Rhodes says, "I really enjoy watching my daughter mature and begin to appreciate all that she's had at home."
"They are beginning to reproduce what has been invested in them… And it is so rewarding to see. They are giving the same advice to friends that we have given to them," remarks Beth Reed.
Dawn Guyton shares, "They are deep thinkers, and they come to us for advice."
"They joyfully serve the Lord, and that is the greatest joy of all," expresses Ruthie Gray.
It is not without its challenges.
But, there are some wonderful and unexpected joys during this season of life.
So, what about you?
~ What about your kids?
~ Do you have young adults?
~ What are some unexpected joys you've experienced with them?
*Special thanks to my amazing friends for sharing their parenting insights. I'm blessed by you, Kelly Rhodes, Ruthie Gray, Dawn Guyton, Lisa Allen, Diane Smith, Beth Reed, Becky Parrish, Regina Green, Becky Morris, Christi Gee, and Randy Redd.
Live in Light is every girl's guide to tackling their teenage years with the wisdom and comfort of the Bible.
From navigating the pressure to be "perfect" on social media to dating and dealing with frenemies, these 5-minute devotionals help you to become the woman that both you and God want you to be.
Discover more on Amazon.
Then, would you share this article with a friend, co-worker, or family member?
Or, maybe you can send it to a friend or family member?
This blog occasionally uses affiliate links and may contain affiliate links. Additionally, Melanie Redd is a participant in the Amazon Services LLC Associates Program, an affiliate advertising program designed to provide a means for sites to earn advertising fees by advertising and linking to amazon.com. Also, for more on my disclosure policy, click HERE.
© Melanie Redd and Ministry of Hope, 2019. Unauthorized use and/or duplication of this material without express and written permission from this blog's author and/or owner are strictly prohibited. Further, excerpts and links may be used, provided that full and clear credit is given to Melanie Redd and Ministry of Hope with appropriate and specific direction to the original content.
This article was shared with permission from Hope Ministry, LLC and Melanie Redd.