Dear Encouragement Sisters,
I've been silent on social media about all the terrible unrest in the world. But it's not because I don't care. It's because I doubt the benefits of making my thoughts, opinions, and concerns known.
We live in a vast sea of online noise, which is, at times, deafening. Our minds are flooded with ideas, images, facts, un-facts, and stuff that, quite frankly, doesn't belong.
What in the world is happening?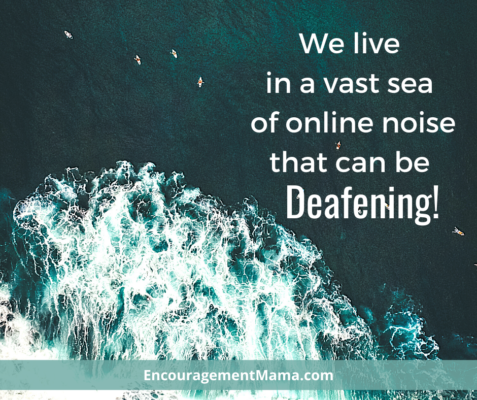 Within my lifetime, we've gone from rabbit-ear televisions to microwave ovens, from landline phones to cell phones, and from Sunday newspapers to 24/7 news headlines. And though our minds were created to store extensive amounts of information, I don't believe we were made to absorb the constant stream of media we do today.
Am I hearing a few "amens"?
Sisters, we must begin to turn the tide in our own whirlpool of faith! We cannot control the raging sea around us, but we can turn to the One who calms the wind and the waves with this command: "Peace, be still!"
As the streets of our cities become battlegrounds, "Peace, be still."
As our minds churn with too much information, "Peace, be still."
As we wonder what the near future holds, "Peace, be still."
As we ponder what on earth is happening, "Peace, be still."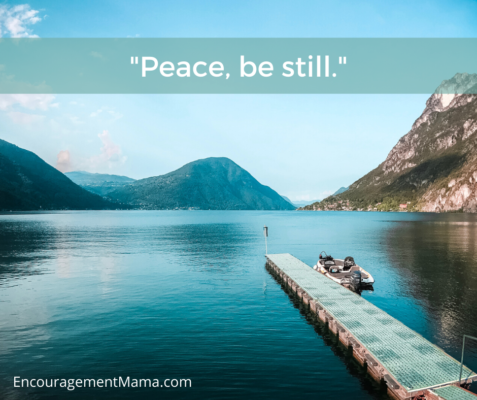 "Are you severely troubled right now? Are you afraid and confused by the waves and the turbulence God sovereignly allows to enter your life? Have you left no stone of your faith unturned, yet still not found any well of peace, joy, or comfort? Does your life seem completely barren to you? Then look up and receive the quiet contentment of the Lord Jesus. Reflecting His peace is proof that you are right with God, because you are exhibiting the freedom to turn your mind to Him."
Sisters, many of us are severely troubled right now, as everything seems to be spinning out of control. But guess what? They aren't!
Our heavenly Father is the one who spoke the earth into orbit.
He is the One who sees it all.
Nothing has escaped His sovereignty!
Remember Jesus' words from John 16:33?
"These things I have spoken to you, that in Me you may have peace. In the world you will have tribulation; but be of good cheer, I have overcome the world."
Our current tribulations are very real. We can't ignore them. However, we can find peace in the midst of them. By removing ourselves from the current, that threatens to pull us to the middle of the ocean, we can find peace and joy in the sweet bay of Christ's presence.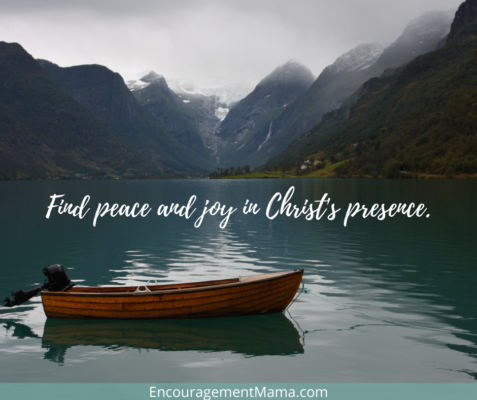 I may not vocalize much on social media, but that doesn't mean I don't care. In fact…
I'm not ignoring, I'm praying.
I'm not judging, I'm loving.
I'm not condemning, I'm empathizing.
I'm not justifying, I'm relying on the peace of God to prevail.
Dear sisters, if you have been swept to the middle of the sea, let Jesus' words be a life-preserver for you today.
"Peace, be still."
And you know what? The wind and waves will obey!
Jennifer
P.S. Was this post encouraging to you? Get weekly posts just like this one sent right to your inbox! Click HERE for more information!
This post, or a variation of this post, was written and published by author Jennifer Waddle from EncouragementMama.com a place where discouragement doesn't win!