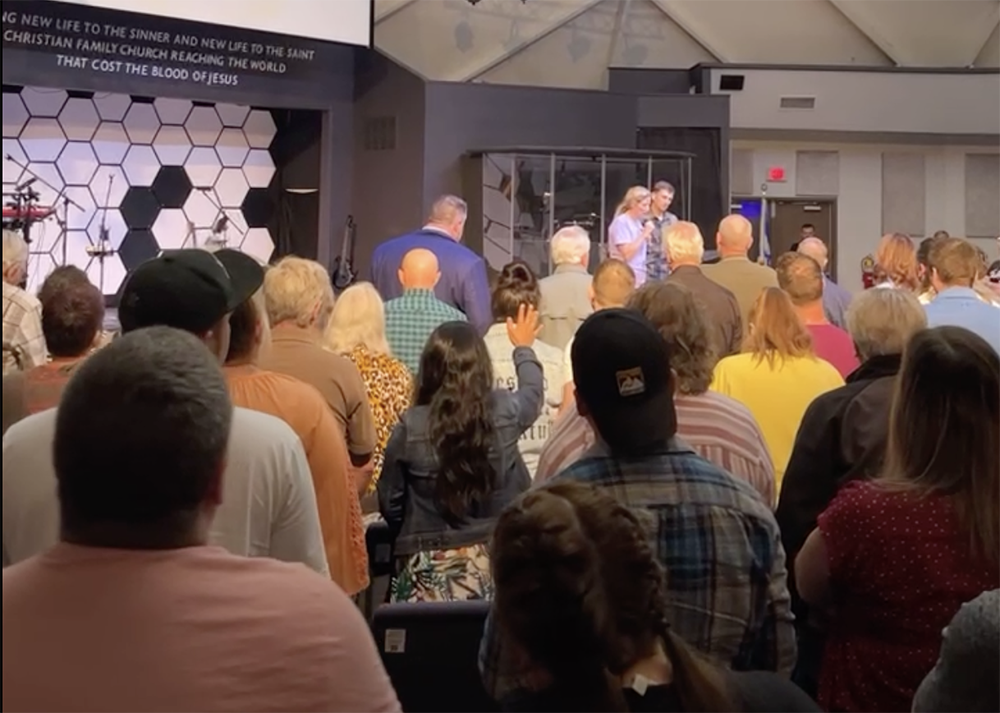 Hello World,
I wonder what's going to happen at New Life Christian Church & World Outreach in Warsaw, Indiana today because last Sunday was like a scene from a movie…In fact, if I hadn't seen the Facebook video, I wouldn't have believed it…Read the statement from New Life Christian Church & World Outreach as to what happened below followed by the shocking video!!!
NEW LIFE CHRISTIAN CHURCH & WORLD OUTREACH

STATEMENT CONCERNING PASTOR JOHN B. LOWE

On Sunday, May 22, 2022, Pastor John B. Lowe II addressed the congregation of New Life Christian Church & World Outreach ("New Life") at the conclusion of morning worship service and confessed that he had committed adultery on several occasions and over the course of time many years ago. When Pastor Lowe offered his confession, he also announced that he would be stepping down from his ministerial role and responsibilities with New Life.

This long-held secret first came to light when a woman in the church came forward and disclosed the relationship to various people within the church. When confronted by others in church leadership concerning that report, Pastor Lowe confessed privately that the adultery did, in fact, occur. The woman in question and her family did attend together and addressed the congregation, indicating that improper sexual conduct first occurred when she was 16 years of age and continued into her twenties. She tearfully described living with deep shame and pain over the ensuing years.

In the wake of what has now been revealed, we are hurting and broken for a woman who has lovingly attended and served in the church for many years, as well as for her husband and family. It is our deepest prayer and commitment to love, support, encourage and help her through a process of healing in any way in which we are able. New Life is likewise devoted to ministering to and with all of our members through this difficult season, that we might not only survive this, but experience together abundant grace, unity healing – all for the glory of God, and the preservation of His church.

Our brokenness extends to Pastor John B. Lowe II, his wife and family as well. For 42 years, New Life has taught and preached a Cross-driven message of repentance, forgiveness and restoration; a ministry of reconciliation which has been both led and modeled by Pastors John and Debbie Lowe. As healing occurs in their hearts, their marriage and family, we are committed to demonstrating the same support, encouragement, counsel and forgiveness that has come to define the collective heart and ministry of this body. As of Monday, May 23, 2022, Pastor John B. Lowe II tendered His resignation with New Life Christian Church and World Outreach.

To all concerned, please be assured that, until now, none of this was disclosed to or known by any of the staff, ministers or personnel of New Life. As with the church in general and the public at large, we too are responding to this without anticipation; praying and striving only to see that the Lord's good, perfect and eternal plans will ultimately and visibly prevail. Life is messy. Believers are messy. Church is messy. God is not.
Crazy, right? However, I'm glad the woman finally found the courage to confront this pastor about what he did and essentially forced him to confess his wrongdoing…In light of the recently released Southern Baptist Convention abuse report, what in heaven and hell is going on at American churches?!!!
What say you?
Any thoughts?
Comments
comments
Property of Jacqueline J. Holness, creator of AftertheAltarCall.com.