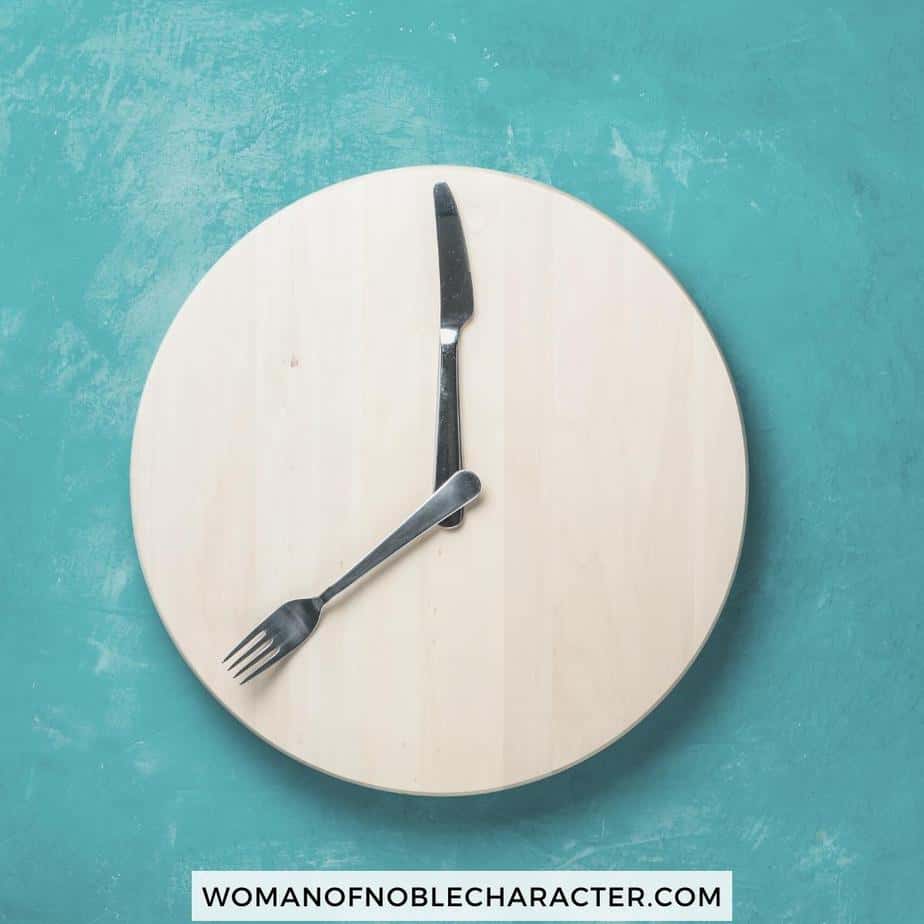 Have you ever wondered what the Bible says about fasting? Or even the types of fasting in the Bible?
Perhaps you've considered fasting and were curious what the rewards and benefits of a biblical fast were.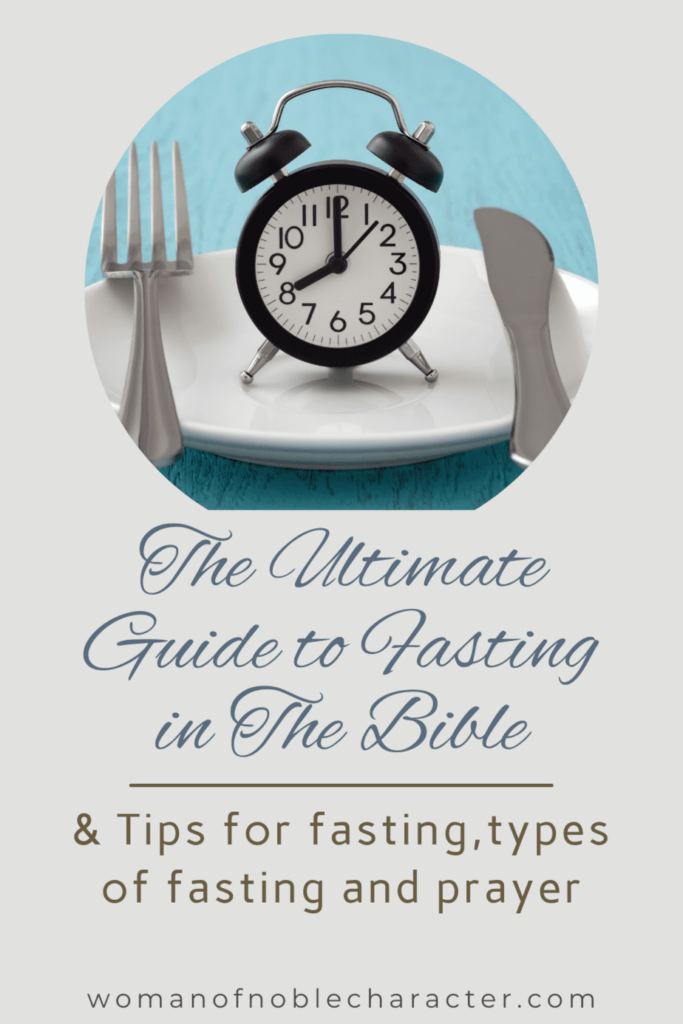 We're going to cover all that and more in this post so that you can learn more about fasting in the Bible and how to fast for a spiritual breakthrough.
A Complete Guide to Fasting in the Bible
A Complete Guide to Fasting in the Bible
What is Fasting?
The word fasting means to abstain from something. Most commonly, fasting refers to abstaining from food, but it can include abstaining from other things, as well.
Biblical fasting can be defined as abstaining from food or something else for a period of time in order to focus your thoughts on God. Going without food (or whatever you are fasting from) for medical reasons or lack is not biblical fasting.
What the Bible Says About Fasting
Fasting is mentioned over fifty times throughout the Bible! Throughout this post, I'll share some of the Bible verses about fasting, but, for deeper study, you can download and print this PDF on Bible verses about fasting.
(Note: the PDF includes most of the verses about fasting, but I have omitted some that were very similar or, where the reference to fasting was vague.)
You may wish to use the verses about fasting for your own study, use for Bible journaling references or to write the scripture in your prayer journal as you go through your own fast.
Click on the image below to download and print this THIRTEEN page PDF with Bible verses about fasting.
The first time fasting is mentioned in the Bible is in Exodus 34:
Moses was there with the Lord forty days and forty nights without eating bread or drinking water. And he wrote on the tablets the words of the covenant—the Ten Commandments. – Exodus 34:28
The last time fasting is referred to in the Bible is in 2 Corinthians 11:27
I have labored and toiled and have often gone without sleep; I have known hunger and thirst and have often gone without food; I have been cold and naked. – 2 Corinthians 11:27
(This one is not listed on the PDF as it is not clear that it is truly about fasting or lack)
Clearly, fasting is an important biblical concept.
You can expect to feel more spiritually connected with God from a fast. It is crucial that during these times of fasting, we purify our souls by connecting one-on-one in prayer and meditation so as not to miss out on His blessings because they might be what's needed at this point in time!
When you spend time with God, He will answer your prayers. – not always in the way we expect, however! Meditate on Him and His Word and sing His praise because through worshiping at the foot of Christ, we experience an unshakeable bond between ourselves as warriors fighting spiritual darkness while being powered by heavenly light!
Satan will do everything to pull you away from your prayer and Bible reading time, but don't let him. When the enemy tries discouraging words or actions, enter into God's presence so that He may strengthenyour resolve with Him in facing difficulties of all kinds–including temptation!
Fasting is a powerful discipline that helps us put our faith in God. The enemy wants nothing more than for you and me, as Christians,to grow weak so he can have an opportunity of attacking us–this could be one way the devil tries his best at tempting people who belong to Jesus Christ!
It's essential to be aware that Satan doesn't want you to grow in your faith. He will do anything from making people hungry and grumpy or bringing up trouble at home – all the way up to tempting us! Make prayer an integral part of protecting yourself against these attacks by trusting God with every fiber within us as we fight off those fiery darts aimed straight at our hearts.
Spiritual fasting is about giving your whole self over to God. Prayer and praise are essential, but they must be accompanied by a shift in focus from ourselves- towards Him at all times!
During your fast, confess your sins to God as the Holy Spirit brings them to mind and continue focusing on him so that you may be able to pray effectively to The Father.
Fasting is a great way to reconnect with God and become more spiritually sensitive. You may not experience a "mountaintop" moment,
but you will have other rewarding benefits, such as feeling closer than ever before to our Heavenly Father.
The experience of those who fast is often one where they feel a nearness to God that has never been experienced before, but others have honestly sought His face and did not necessarily experience this.
Fasting is a dynamic and powerful spiritual tool that can be used to renew our relationship with God. For some, it was an easy process of self-denial; for others, though their fast became physically/emotionally draining, they knew in themselves that this would help them worship more fully than ever.
The most important thing to remember when fasting is that your motive must always remain God-centered, not focused on an emotional experience or personal happiness; otherwise, it would become a means for self-indulgence instead of glorifying Him to achieve these things. From time spent alone with our Creator!
Let's dive into some biblical examples of fasting and why we fast.
13 Biblical Examples of Fasting
One of the most memorable accounts of fasting in the Bible was when Jesus fasted for 40 days to prepare for His battle with Satan and to gain spiritual strength from His Heavenly Father. (Luke 4:1-3 and Matthew 4:1-11)
And Jesus, full of the Holy Spirit, returned from the Jordan and was led by the Spirit in the wilderness for forty days, being tempted by the devil. And he ate nothing during those days. And when they were ended, he was hungry. The devil said to him, "If you are the Son of God, command this stone to become bread."

Luke 4:1-3 (ESV)
2. Jesus expected His disciples to fast, but cautioned them not to do it for the wrong reasons. (Matthew 6:16).
"And when you fast, do not look gloomy like the hypocrites, for they disfigure their faces that their fasting may be seen by others. Truly, I say to you, they have received their reward. But when you fast, anoint your head and wash your face, that your fasting may not be seen by others but by your Father who is in secret. And your Father who sees in secret will reward you.

Matthew 6:16-18 (ESV)
3. In Luke 2:36-37, we learn of Anna, described as "a righteous woman" who "She did not depart from the temple, worshiping with fasting and prayer night and day."
This post was originally published on womanofnoblecharacter.com.