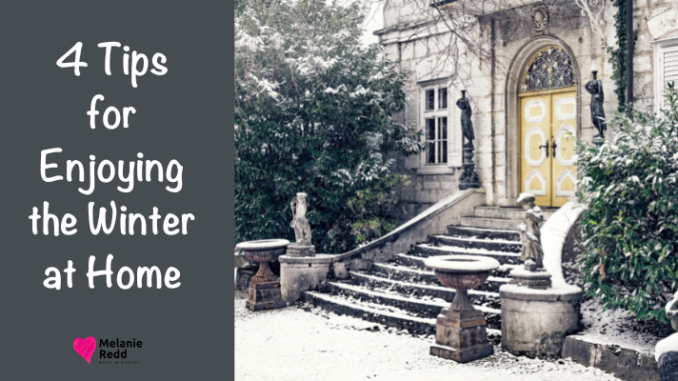 4 Tips for Enjoying the Winter at Home
Not everyone is deeply in love with the winter months.
After the dizzying heights of summer, many people find that the cold days and early nights can be a little difficult to handle.
And this is especially true for hyper-social people who always want to be out doing activities and seeing friends.
If you're one of those people, then fear not. You don't necessarily need to have several months of misery!
There are things you can do that'll have you enjoying the cold winter months at home.
In this blog, we'll take a look at some tried and tested tips for making the most of the quieter, colder part of the year.
First Tip to Enjoying the Winter at Home: Embrace the Home
Life is all about mindset. If you think that you're stuck in the home during the cold months, then, of course, you'll begin to resent your property. But there is another way to look at your home.
For instance, consider this — you're not
stuck
in your home during winter. You get to stay warm and protected from the elements during winter.
See your home as a place that you get to enjoy, and you'll soon see all the possibilities that it offers. It's much better than being out in the snow and ice!
Second Tip to Enjoying the Winter at Home: Get in the Kitchen
It can be fun to cook at any time of the year, but it's especially enjoyable during the winter months.
What could be nicer than spending some time inside your kitchen, baking cookies, and bread"
Or, your could try your hand at
new recipes
as the snow falls outside.
It's a lovely image that we should all make the most of.
Don't worry if you don't have all that much experience in the kitchen.
Indeed, you can get to grips with the basics relatively quickly, plus there are recipes that'll guide you through the process.
Third Tip to Enjoying the Winter at Home: Take Care of Your Property
You might broadly enjoy being inside during the winter months.
However, if you're continually worried about, or annoyed by, your property, then it'll be no surprise if you begin to dislike the cold season.
You can help to keep the contentment levels to the max — and problems at bay — by taking care of your property.
This process can involve hiring a
snow and ice removal
company, repairing any damage to your windows, and trimming any branches that may pose a threat to your home.
It can also be worthwhile getting your heating serviced. This service will help to keep you warm and keep your energy costs down.
Finally… Invest in your Living Room
Finally, if you want to enjoy the winter months to the max, be sure to invest in your living room.
You won't mind if the snow falls all day if you have a comfortable and entertaining space to unwind in. You don't need to go overboard.
Even try simple things, such as boosting the comfort of your couch, adding some atmospheric lighting, and upgrading your entertainment system.
These actions can do wonders for the overall quality of your living room — and ensure you love the winter season.
Were you encouraged by what you read?
Then, would you share this article with a friend, co-worker, or family member?
Or, maybe you can send it to a friend or family member?
This blog occasionally uses affiliate links and may contain affiliate links. Additionally, Melanie Redd is a participant in the Amazon Services LLC Associates Program. This is an affiliate advertising program designed to provide a means for sites to earn advertising fees. These are earned by advertising and linking to amazon.com. Also, for more on my disclosure policy, click HERE.
© Melanie Redd and Hope Ministry, 2022. Unauthorized use and/or duplication of this material without express and written permission from this blog's author and/or owner is strictly prohibited. Further, excerpts and links may be used, provided that full and clear credit is given to Melanie Redd and Hope Ministry, LLC. Please give appropriate and specific directions to the original content.
This article was shared with permission from Hope Ministry, LLC and Melanie Redd.