A Unique Perspective on Isaiah's Gratitude–for Your Thanksgiving Joy
Of course, we are gearing up for Thanksgiving and reminded again how important giving thanks is. Gratitude brings joy, contentment, kindness, responding in love, and so many other wonderful things.
There's so much to say about gratitude but I thought it would be unique to see how an Old Testament encounter between Isaiah and God in the throne room could inspire us.
The story is in Isaiah 6 when Isaiah "saw" the Lord sitting upon a throne, high and lifted up (Isaiah 6:1). After Isaiah is cleansed from his sin, God asks, Whom shall I send, and who will go for us? (IIsaiah 6:8)
God asks the question and stares right at Isaiah. Because there isn't any other human in the throne room.
OK, let's get this clear.
There's no one else who can take this opportunity (who is human).

God knows who he wants to take the opportunity.

He's staring right at Isaiah.

Yet God Almighty asks. Asks.
Although God has no qualms about directing and telling people what to do, he still asks. He asks knowing the person could refuse. Of course, God knows everything including Isaiah's answer, but from a human standpoint, he could know it because of what occurred several verses previously.
In verse 3, Isaiah sees the Holy God high and lifted up in all his regal holiness. The continual words spoken by the Seraphim is, "Holy, Holy, Holy, is the LORD of hosts, The whole earth is full of His glory" (vs. 3). The repeated description of God in triplet is very significant. The more a word or phrase is repeated, the more the meaning is being stressed. And the more the speaker is saying, "pay attention." This Jewish idea is used by Jesus when he frequently said, "Verily, verily, I say to you …" Anyone listening understands the words are very important.
What is Isaiah's response to this magnified magnificence about God's holy nature?
"Woe is me, for I am ruined!
Because I am a man of unclean lips,
And I live among a people of unclean lips;
For my eyes have seen the King, the LORD of hosts." (vs. 5)
Isaiah fully expects to be killed instantly because the Scriptures say no one can see the Lord and live. Isaiah deserves death as a woefully sinful person. But the Seraphim brings a burning coal and touches Isaiah's lips, saying, "Behold, this has touched your lips; and your iniquity is taken away and your sin is forgiven" (vs. 7).
Isaiah is about to die and suddenly gets a reprieve. Picture you sitting in the electric chair knowing you deserve death—you really are guilty. Just when the executioner starts to pull the switch someone shouts, "Wait! Clemency has come through from the President of the United States." Not only would you be stunned, you would be willing to kiss the President's feet and do anything he requests.
God's graciousness is demonstrated in a powerful way in this throne room scene pointing to the future Messiah coming to earth to reveal the fulfillment of the gospel predicted back in Genesis 3:15. As a result of realizing we don't deserve being forgiven by a totally holy God, we are filled with gratitude which motivates and energizes our obedience.
TWEET THIS!!!! Wonder if your gratitude were based upon, not what you receive or desire or have been given, but on being cleansed and forgiven by God? Would your gratitude look different?
Maybe you could forgive someone who has hurt you knowing you have been forgiven of rebellion against God.
Maybe you could express gratitude to a loved one for what he can provide even though he can't seem to fulfill all your desires.
Maybe you could be more at peace with yourself and your failings even though you continue to fail God and others. But because He stands ready in His magnificence to forgive and encourage you, you can relax.
Maybe you could think of the coming holidays not as a to-do list or a requirement to please everyone, but to be grateful that there's really one Person you need to please: God Himself.
As you think of these possibilities, reflect on:
Is there anything new about God's gracious holiness revealed to you in this throne room scene?
How would you like to apply the gratitude Isaiah experienced to your daily living, especially in the midst of stress at the holidays?
Gracious God, I praise you that you are totally holy and yet made it possible for my sin to be forgiven. Thank you for motivating me to serve you out of the gratitude for my redemption.
(This is a revised excerpt from Larry and my book, God's Intriguing Questions: 40 Old Testament Devotions Revealing God's Nature. To check it out, CLICK HERE.)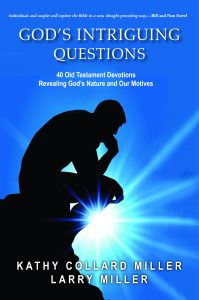 Used by permission of Kathy Collard Miller.