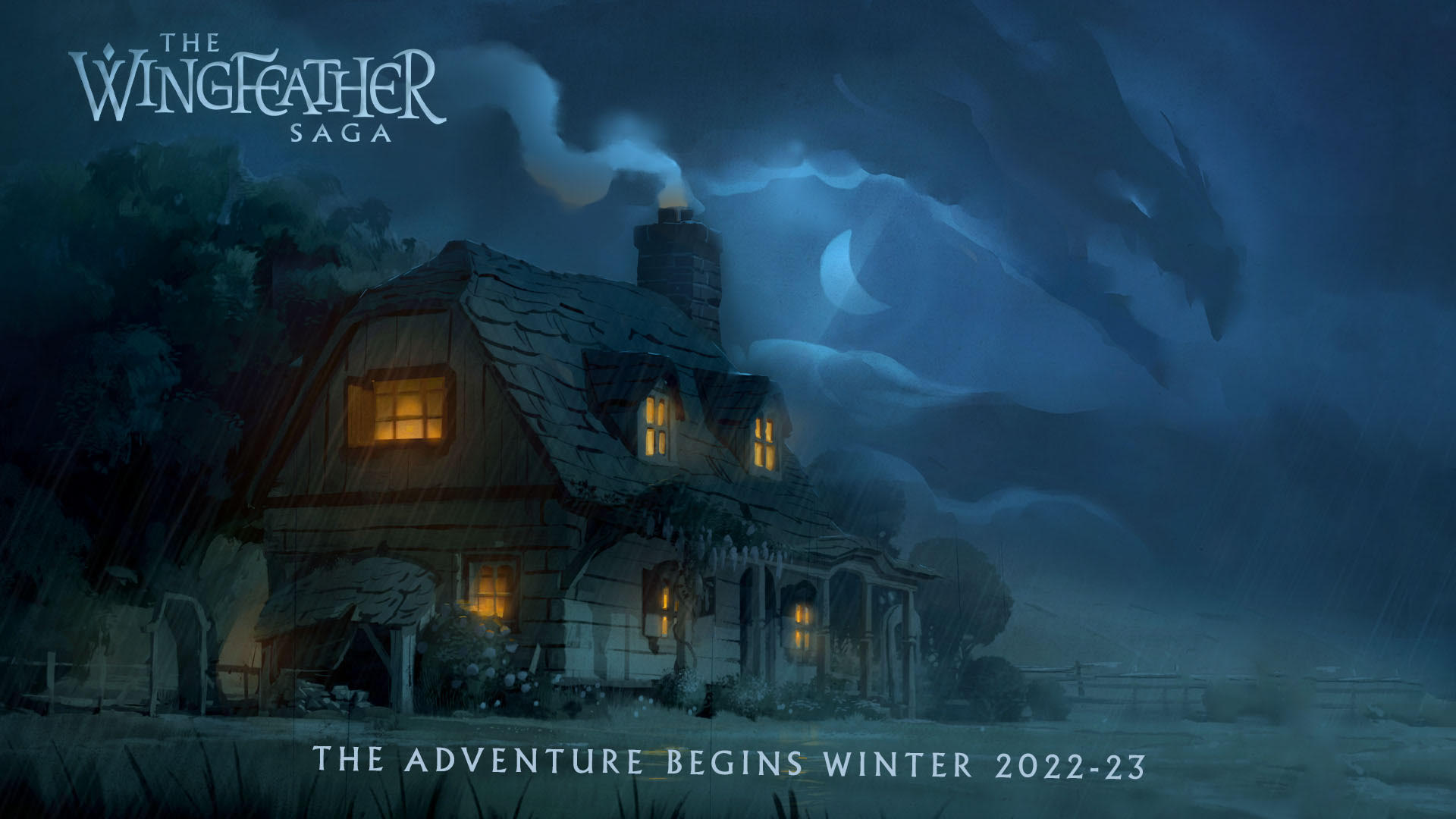 NASHVILLE – Not to be lost in the groundswell of success that The Chosen has experienced, Angel Studios has just released another new video series that will certainly capture the hearts and imagination of its audience.
Based on the bestselling four-book epic children's fantasy series by Andrew Peterson, The Wingfeather Saga is an episodic animated program that chronicles the adventures of the Igby family as they uncover family secrets and take on the powerful yet mysterious ruler Gnag the Nameless. Think The Lord of the Rings meets The Princess Bride meets Disney animation.
Directed by Chris Wall, an animation veteran who produced 16 movies for the Veggie Tales franchise, The Wingfeather Saga will feature six episodes in season one, highlighted by its premiere on the Angel Studios streaming app this weekend.
The pairing of Wall and Peterson appears to be a perfect match as both bring a distinct perspective to the colorful characters that comprise the Wingfeather universe.
"It's interesting because he's (Peterson) got a book, right?" says Wall, who is also the creator of The Slugs and Bugs Show. "He's like, "I wrote it, here it is." And I think because of his singer/songwriter background, he is such a collaborator and welcomed pieces being dropped in. And then at times, like a head chef will say, "That's not our flavor." There's a confidence there (from Peterson) that we can't stray too far. And so, I feel just fantastic about what the audience is about to experience because I think that we've kept it honest."
"I think the most fun part of it is that animation is one of the most collaborative art forms," adds Peterson, who has also founded a non-profit arts organization called The Rabbit Room. "There's so many people involved in turning this thing into a TV series that I'm enjoying kind of experiencing it objectively. If it was just the books, it would be like, yeah, there's me and the editor and whatever. Well, this is such a massive family that is poured into this thing that I feel like I'm just one of the Jenga pieces."
For Peterson, who, in addition to his writing, has carved out a solid, two-decade career in contemporary Christian music, he had always seen The Wingfeather Saga as an animated series more than a live-action program from the moment he began envisioning his books coming to life onscreen.
"I had seen some really beautifully done animated series on television," Peterson explains. "All of them were a little different from what this would be. The possibilities were endless. This story seemed especially well suited to first, animation, and second, serial animation, like something that is going to be told over the long haul."
As Wall and Peterson began crafting the foundation of the series, they realized they needed veteran voice over actors to capture the vision for it and really make these characters leap off the screen. One of those actors was Jodi Benson, who has received worldwide acclaim as the beloved singing and speaking voice of Ariel in the Disney animated feature film, The Little Mermaid. Benson was drawn to many of the positive qualities her character, Nia, brought to the series.
"I really love Nia," shares Benson, who has also starred in other animated movies like Toy Story II and Toy Story III. "She's so powerful and she is a great leader. She is strong, she's brave, but I love that she's an incredible mother who is so in love with her kids and fights for them like a mama bear."
With such a wealth of experience in this genre, it would be easy for Benson to see The Wingfeather Saga as just another role to add to her burgeoning resume. But she sees it much differently. Benson can't help but see all of the positive qualities in The Wingfeather Saga that our world so desperately needs to experience these days.
"Wingfeather shows us to be gracious and to be courageous." Benson points out. "Step outside of the box, take chances, and dream big. Loyalty and faith. This show has very tremendous faith. And I think the center core for this family is their love, their fierce love for one another."
Ellie Holcomb, who has carved out a respectable career as a contemporary Christian singer/songwriter, is a long time friend of Peterson who was inspired many years ago to write a song based on the Wingfeather books. For her, the secret to the series success lies in the vividly rich storytelling found in each and every episode.
"Stories are so often a mirror," shares Holcomb, who portrays Ferinia Swapleton in the series. "A mirror of what's there. A mirror of what could be. And with Wingfeather you have a story about kids who are faced with great hardship. And they have to have great bravery. And they rise to the occasion and then sometimes they fall. But they always get back up. And so, to have a story where kids can feel invested in that, but also watch someone be at their age where they're figuring out who they are and what their gifts are and what they're called to, it is such a gift to see them see themselves in the story. I am deeply grateful for these stories."
Veteran voice actor Christopher Robin Miller, who plays Gnorm in The Wingfeather Saga, wholeheartedly agrees with Holcomb's sentiments.
"It's just good entertainment," says Miller, who has also appeared in "Rachel and the TreeSchoolers" and "The Aquabats Super Show". "What's nice about it is that you can watch something that might be as exciting to you as Lord of the Rings or even Game of Thrones, but you can have your little kids in the room and they'll enjoy it too. That's what sets The Wingfeather Saga apart."
The Wingfeather Saga is distributed by Angel Studios, the studio behind other notable series such as The Chosen and Dry Bar Comedy, and is produced by Shining Isle Productions. The series is available for streaming right now on the Angel Studios streaming app. LEARN MORE.
Watch a Featurette for 'The Wingfeather Saga' Animated Series: