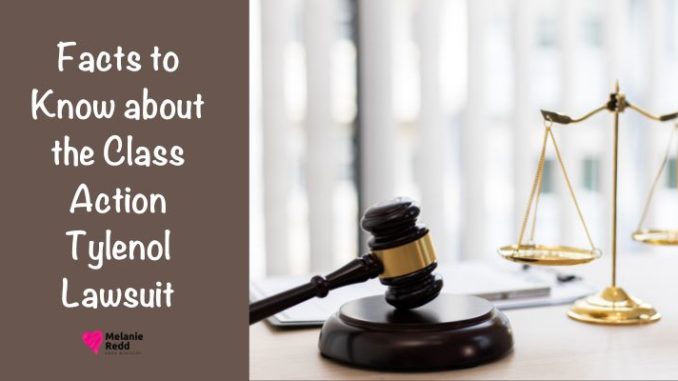 Five Facts to Know about the Class Action Tylenol Lawsuit
Who Is Able to File a Lawsuit Regarding Tylenol Potentially Increasing the Risk of Autism?
You should first know who is eligible to file a Tylenol class action lawsuit.
This lawsuit is about the effect that it or generic acetaminophen has on children when taken during pregnancy.
In the event that you took Tylenol or generic acetaminophen while you were pregnant and your child received a diagnosis of autism spectrum disorder at a later date, you might be able to file a lawsuit as a result.
This type of lawsuit is known as a product liability lawsuit.
Naturally, you could seek financial compensation if you are eligible to file a lawsuit. Indeed, this lawsuit regards Tylenol's effect on children having autism when their mother takes Tylenol while pregnant.
Possible plaintiffs will be able to put together stronger claims if they are able to demonstrate that they took high doses of acetaminophen products or Tylenol for an extended period of time during pregnancy.
Other factors like no family history of autism may also strengthen your case.
How Much Will You Receive in A Settlement?
The amount of the settlement you could receive depends on the trial value of the Tylenol class action lawsuit.
A successful verdict in a class action Tylenol autism lawsuit would likely be worth between a minimum of $5 million and $10 million at most, on average. Of course, this is just an average trial value and the amount can vary depending on a number of factors.
You should keep in mind the fact that settlement compensation payouts are only worth a fraction of the case's trial value when it comes to mass tort cases such as this one.
In the event that the science behind these cases holds up, the cases go to a jury and obtain verdicts, and pressure Johnson & Johnson to settle, you could receive a significant settlement.
On average, the settlements could be worth between $300,000 and $600,000 per person. However, it is difficult to project the exact settlement amount. This figure is simply an estimate.
What Research Links Acetaminophen to Increased Risk of Autism?
There has been new medical research published on the topic of Tylenol use during pregnancy. The journal Nature Reviews Endocrinology included a Consensus Statement in its September 2021 issue warning that using acetaminophen or Tylenol during pregnancy can lead to an increased risk of autism.
A total of 91 medical experts wrote this Consensus Statement. The medical experts summarized animal testing and epidemiological research has been done showing that prenatal exposure to acetaminophen can heighten the risk of neurodevelopment disorders like autism and can change fetal development.
The aforementioned research contained 29 observational studies involving more than 220,000 mother-child duos from all over the world.
What Is The Latest Update on the Tylenol Autism Lawsuit?
As of December 17, 2022, the most recent update on the Tylenol class action autism lawsuit is that Judge Cote issued an order that allows future cases that are part of this lawsuit to be filed directly in the multidistrict litigation.
This is a common practice in class action multidistrict litigations since it streamlines the process used to add new cases to the multidistrict litigation.
You can also expect Judge Cote to approve a Short Form Complaint that new incoming cases can use. This Short Form Complaint will make it even easier to add new cases to the MDL.
As a result of these actions, you can expect many more new Tylenol autism lawsuits to get added to the MDL in 2023.
Were you encouraged by what you read?
Then, would you share this article with a friend, co-worker, or family member?
Or, maybe you can send it to a friend or family member?
This blog occasionally uses affiliate links and may contain affiliate links. Additionally, Melanie Redd is a participant in the Amazon Services LLC Associates Program. This is an affiliate advertising program designed to provide a means for sites to earn advertising fees. These are earned by advertising and linking to amazon.com. Also, for more on my disclosure policy, click HERE.
© Melanie Redd and Hope Ministry, 2023. Unauthorized use and/or duplication of this material without express and written permission. Otherwise, the use of this blog's author and/or owner is strictly prohibited. Further, excerpts and links may be used, provided that full and clear credit is given to Melanie Redd and Hope Ministry, LLC. Please give appropriate and specific directions to the original content.
This article was shared with permission from Hope Ministry, LLC and Melanie Redd.