Book Giveaway: "Pure-Hearted: The Blessings of Living Out God's Glory"
Forgive me. I've never featured my own book in my once-a-month book giveaways but I'm eager to re-introduce one of my books to you titled: "Pure Hearted: The Blessings of Living Out God's Glory." I think you'll value it if you haven't read it before. And if you have, please consider writing a review on Amazon.
Regardless, please enter the drawing. I would love to send a copy to the winner, either Kindle or print. And by the way, it is also available on audio (can't win in the audio version) Read below how to enter the drawing.
Description of "Pure-Hearted"
It is possible to have a purer passion for serving God and respond with greater godliness as a result. Do you desire to bring glory to God yet wonder if your motives are muddied by fear, selfishness, and immaturity? Even when you're empowered by the Lord to represent him well, do you wonder if your success has made it all about you?
Pure Hearted will inspire you to focus on desiring God's glory and enjoy the benefits without guilt—benefits like selflessness, security, satisfaction, surrender, stability and self-control, along with others. Filled with biblical principles, practical instruction, and motivational stories, Pure Hearted is written for women. Every chapter includes discussion questions for groups or individuals.
Here's an excerpt from Pure-Hearted
Our Adoption Assures Us
by Kathy Collard Miller
Let's concentrate on having a deeper sense of security so that we desire to give God more glory. Ephesians 1:5 says,: he predestined us for adoption as sons through Jesus Christ, according to the purpose of his will.
In the Roman culture when Paul wrote the letter to the Ephesians, a Roman father could disinherit a son born into the family. But an adopted child could not be disinherited.
The idea was a father had no choice as to what he received when a baby was born naturally into the family. If the child grew up and disgraced the family, the father could justify disinheriting him by saying, "I didn't know he had all these flaws, otherwise I would not have chosen him."
But an adopted child was chosen specifically with full knowledge of his strengths, weaknesses, appearance, and anything else a family considered important. Therefore, a father could not justify disinheriting him. A father could never say, "I didn't know what I was getting."
Paul's wording didn't just say we are sons (or daughters). He included the fact we are adopted. Paul fully knew the Roman culture—he was Jewish yet had Roman citizenship. His readers knew the significance of not only becoming a son but an adopted son—a position which could not be taken away regardless of performance or flaws.
I hope this speaks to you as much as it speaks to me. God wants us to know we cannot be disinherited—we cannot lose our salvation! He chose us fully knowing we would not be perfect. But he also wants us to desire to please him out of gratitude for the great salvation he has given us. As we live in that assurance, we'll give glory to God.
When you read through Ephesians 1, it's striking how often God's glory is mentioned. You'll find it in:
vs. 6: his grace brings him glory
vs. 12: we are to the praise of his glory
vs. 14: the gift of the Holy Spirit brings praise to his glory
vs. 17: God is the Father of glory
vs. 18: we can know the riches of his glory revealed in our inheritance.
What glorious connections to our inheritance.
If you are a Christian, you are secure. You may not always "feel" it, but you are regardless of your feelings. As we more fully develop joy and a sense of security we enlarge God's generosity in the eyes of others.
I hope you enjoyed that snippet from my book. If you'd like to enter the drawing, please make a comment on the blog post (click here). Only USA addresses can win. The drawing closes on Thursday evening, February 9, 2023.
Table of Contents
Chapter 1 Start the Purification

Chapter 2 Selfless: Love Others Well

Chapter 3 Surrendered: Trusting God's Plan

Chapter 4 Secure: Know Your Position in Christ

Chapter 5 Satisfied: Enjoy Contentment

Chapter 6 Stable: Reap Emotional Strength

Chapter 7 Self-Controlled: Choose Wisely

Chapter 8 Struck with Awe: Praise God in Truth

Chapter 9 Steadfast: Exhibit Dependability

Chapter 10 Sensitive: Share God's Design

Chapter 11 Conclusion: Surprise!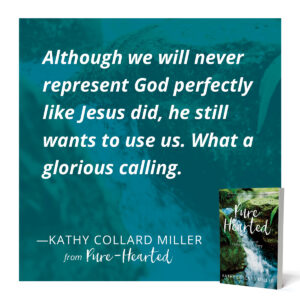 Used by permission of Kathy Collard Miller.