6 Investment Options to Secure Your Child's Financial Future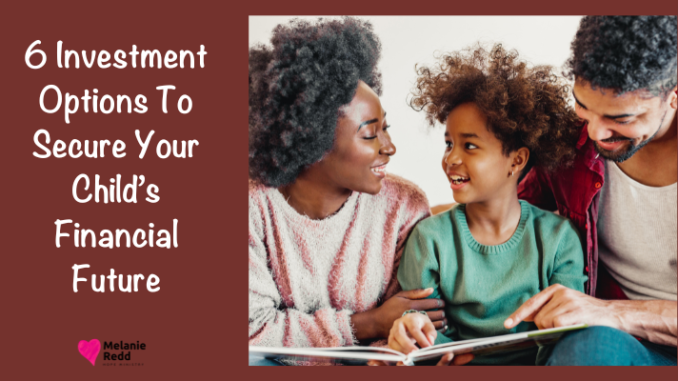 6 Investment Options To Secure Your Child's Financial Future
Did you know that it now costs more than
$300,000
to raise a child to 18 years?
And this figure does not include the cost of higher education or unforeseen expenses, highlighting the need to invest in securing your child's financial future.
But with so many investment opportunities, deciding the best option can be overwhelming. Looking for the right option to grow your wealth and financially secure your kids is important. You should also prioritize one that offers the least risks with significant long-term profit.
Here are the best investment options to secure
your child's
financial future.
Consider a 529 college saving plan to secure your child's financial future.
A
529 college savings
plan is a state-sponsored investment plan that allows you to save money for your child or other beneficiary and pay for their education expenses.
This investment also provides tax-free growth and covers almost any type of educational expenses.
Plus, you don't have to worry about costly charges or deductions when making withdrawals.
And you will also enjoy additional state or federal tax benefits. You can open a 529 plan directly with your state. But you can also speak with brokers and financial advisors to help you choose the best plan for your children.
Consider Stocks to secure your child's financial future.
Stocks hold many benefits for kids.
For example, they offer higher returns with rates that beat almost any other asset class. You can also hold stocks in different types of investment accounts.
Plus, they can be relatable. Another great thing about stocks is that you can invest in them for yourself, your children, or both. Your best option is to consider companies that your child is more likely to understand or interact with as they age. Investing in stocks allows you to earn profits from the company you invested in.
Pick the right company, and you will set your family's financial future. Your kids can earn cash from price appreciation and cash distribution through dividends.
Exchange-traded funds
Exchange-traded funds (ETFs) offer a simple and effective way for parents to increase their wealth and set their families on the road to long-term financial stability.
Similar to mutual funds, exchange-traded funds offer flexibility in trading. With ETFs, you can diversify your asset portfolio in a single investment, significantly reducing your risk level.
That means you wouldn't have to worry about market fluctuations and subject volatility – all risks associated with individual stocks and bonds.
And because they offer trading flexibility, you can buy and sell them throughout the day, just like you will with stocks.
Other small savings schemes
Apart from the 529 college savings plans, you can choose from several small savings schemes – all of which will benefit your family.
The federal government typically offers small savings schemes through the treasury department. And some examples of these schemes include Series EE Savings Bonds, Series I Savings Bonds, Treasury Bills (T-Bills), Treasury Notes (T-Notes), Custodial accounts, and Treasury Inflation-Protected Securities (TIPS). Custodial accounts can cover college expenses and earnings on assets.
You can also purchase the Series EE and I for your kids. Any interest you earn on savings bonds is exempt from taxes. And if you use these bonds to pay for qualified education expenses, the interest may also be exempt from federal taxes.
Consider Real estate to secure your child's financial future.
Real estate is a worthy investment option if you're a parent with the funds to invest in it.
First, owning a rental property means you can provide a steady flow of income for years.
And you can use this income to cover your child's educational expenses or supplement your retirement income.
And with proper care, your children will grow up to inherit the property and earn from it in many ways. Also, real estate is one of the few investment options that continues to appreciate with time, of course, with proper care.
Plus, they come with tax benefits, including deductions for mortgage interest, property taxes, and depreciation.
Prepaying for the unexpected
Prepaying for the unexpected means preparing financially for emergencies and unexpected events. It includes buying insurance policies or setting aside an emergency fund.
Some emergencies may include natural disasters, and purchasing insurance policies can financially shield you and your family from costly losses.
You can also prepay for catastrophes like illnesses, disability, or death. Regarding death, for example, making prepayments with companies like
Funeral Coop
can help alleviate the financial burden on your loved ones.
Another way to prepare for the unexpected is to invest in an emergency fund. That can be a cushion to help you cover daily living expenses in case of unemployment without unemployment benefits.
Were you encouraged by what you read?
Then, would you share this article with a friend, co-worker, or family member?
Or, maybe you can send it to a friend or family member?
This blog occasionally uses affiliate links and may contain affiliate links. Additionally, Melanie Redd is a participant in the Amazon Services LLC Associates Program. This is an affiliate advertising program designed to provide a means for sites to earn advertising fees. These are earned by advertising and linking to amazon.com. Also, for more on my disclosure policy, click HERE.
© Melanie Redd and Hope Ministry, 2023. Unauthorized use and/or duplication of this material without express and written permission from this blog's author and/or owner is strictly prohibited. Further, excerpts and links may be used, provided that full and clear credit is given to Melanie Redd and Hope Ministry, LLC. Please give appropriate and specific directions to the original content.