TBN to Honor Bill & Gloria Gaither's Musical Legacy in New TV Special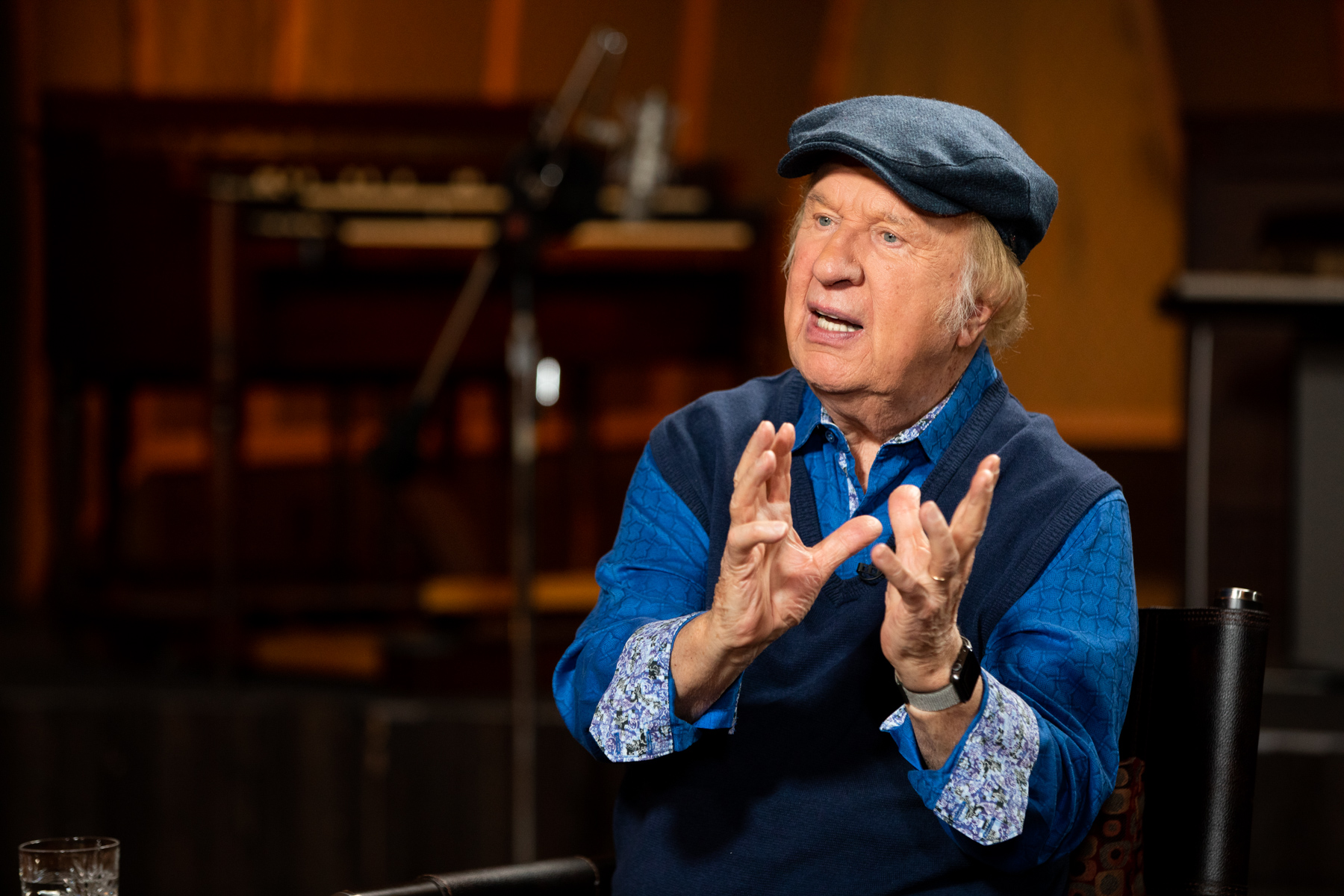 No Gospel artist has had more of a seismic impact on Christian music over the last 100 years than Bill and Gloria Gaither. The husband and wife duo have left an indelible mark, writing more than 700 songs, many of which have become staples of Sunday morning praise and worship across the world.
With songs like "He Touched Me", "Because He Lives", and "The King is Coming", just to name a few of the highly recognizable standards they have written and recorded, there is little doubt why these Gospel Music Hall of Famers were named Christian Songwriter of the Century by ASCAP more than 20 years ago.
Now, as the Gaithers settle into their seventh decade in Christian music, Bill is opening up about his musical journey in an intimate conversation about his career, impact, and legacy in Gaither: A Legacy in Christian Music, set to premiere on TBN Friday night, June 24th at 8pm ET. The program will also air at 9pm ET, 10pm ET, and 11pm ET.
For More Information on Gaither: A Legacy in Christian Music
I recently sat down with Bill to discuss why people are so passionate about their life's work, why now is the right time to talk about his life in music, and the song that he sees as his most vital contribution to furthering the Gospel of Christ.
There is just so much that I want to ask you but let me start by saying that I was raised on Gaither music. I believe my late Mom and Dad were two of your biggest fans. They purchased every one of your albums and I think my Dad recorded every "Homecoming" concert when they were on TV. Why do you think people were and continue to be so passionate about your music?
Oh, I don't know. I think the good thing about good gospel music and great hymns is it gives people a handle to get through difficult times. Sometimes it doesn't solve the difficult times but at least it gives them a handle to get through. You think of the old hymn, "Some through the Water, Some to the Flood, Some through the Fire, But All through the Blood", or Andre's (Crouch) great song, "Through it All". 'Through it all, I learned to trust in Jesus'. And I hope that we have contributed also to that need of hope in our songs. We have songs like, "Hold on My Child", "Joy Comes in the Morning" … 'Weeping only for the night. Hold on, my child, joy comes in the morning.' We've had songs like, "Because He lives, I can face tomorrow." And I think lines like that are basically saying, I know we're going through tough times, but there is light at the end of the tunnel.
So, to answer your question, I think they may be attracted to what we're doing because of the art form. It's a fun kind of music. It is accessible. People can take it home and sing it. And secondly, it's giving hope in troubled times. Hopefully, that's what's happening.
I think it is safe to say that your legacy has shaped the Christian music industry for decades. If we could turn the clock way back, what inspired you or influenced you to get into Christian music and songwriting? If I understand correctly, you actually started your professional career as a school teacher?
As a kid, I discovered the love of the music and the music style probably in my junior high years. That's where most kids start. I would say I like this group or that group. Most of our peers were into pop music pretty heavily. I didn't dislike pop music. In the late 1940s, big bands were popular. I liked this kind of music but it didn't light my fire. But when I heard some secular quartets, like The Mills Brothers, The Ames Brothers, The Four Preps, The Four Lads, The Four Aces, and The Four Freshmen, they were all good. From an art perspective, the gospel quartet hooked me more and I just couldn't get away from it.
So, for that reason, I got interested in music very young. And secondly, in going to our church, which was very unsophisticated and had a lot of blue collars, I saw a lot of saints who were going through difficult times in those days on Sunday morning singing, 'I will praise Him. I will praise Him, praise the lamb that was slain,' … and the praise and the worship still continues. It's a new silo now, but when you're around people like that, music can be powerful. Back in those days, they would have time for personal testimonies. People would stand up and give their testimony in spite of some difficult times. So that bit me as a kid and I still love it now. I never thought in terms of a career of doing it (music), but after high school, I did spend a year with three young guys trying to do music and it never worked out. That's when I went back to college, majored in English, and broadened my world view. I realized there was something else in the world besides four guys and a piano player around a microphone. That was the smartest thing I ever did. After graduation I started teaching, and then that's when I met Gloria. She was teaching down the hall and that's the rest of the story.
Speaking of Gloria, after writing more than 700 songs with your wife, winning so many awards that I can't mention just one, you have made the decision to open up about your musical journey in this new program, Gaither": A Legacy in Music. Why is now the right time to have such an intimate conversation regarding your career, impact, and legacy?
We haven't talked a lot about our personal lives and what we do other than, as it's reflected in our songs. For example, "Because He Lives" was a personal thing because the verse goes, "How sweet to hold a newborn baby, feel the pride and joy he gives …" So, we were open in our songs, but we haven't done a lot of talking about our personal stuff. In fact, I've been very slow, even on the internet. Mark Lowry and a lot of our young artists are on the internet all the time. I said, are you sure you want to tell everybody what you think every day? Is there going to be ear fatigue somewhere on the part of a listener saying, "I've heard enough of this now?"
We haven't shared a lot of our personal lives but to answer your question, TBN came to us three or four years ago. And we said, we were fine doing this at the right time. I'm not trying to play humble here, but there's a side of me that says, do people really care about our personal journey, or what we've done? But it was a lot of fun doing the interview. They came here to our studio and tried to determine what made Bill and Gloria tick.
Changing gears, you were born in Alexandria, Indiana and have pretty much remained in Indiana your entire life. I'm sure Nashville or some other musical metropolis may have beckoned over the years but you have pretty much remained there. What is so special about Alexandria, Indiana?
That's a very fair question. I probably overdo the physical space thing. We still own grandpa's farm and the old house. But there is something about me that loves to keep in touch with where I started. Now, in all fairness, I could take you by the Ryman Auditorium in Nashville and say, there's a part of me there too. I'll show you the bench I sat on the first time I heard my first gospel quartet. So, there are places down there that have always seemed like a second home to me down there but I don't want to be a sentimentalist, right? That's because I'm not sure that's always healthy.
I think people either live in the past or the future and very few live in the present. And I think we have a pretty good record of living in the present. So,why do we stay in Alexandria? It is very comfortable. The people in this little town have got our backs. We've lived in the same house for 57 years, and been married for 60. It's the same house we lived in when we taught school. Now, we've put quite a bit of money into the property. We have about 20 acres and we've got every kind of tree you can imagine there. But the house is a pretty simple house that was built 60 years ago. I couldn't imagine living anywhere else but in that house.
That's neat. Beginning with your breakthrough song, "He Touched Me", the Gaither songbook is just so deep with songs like "Because He Lives", "The King is Coming", "Something Beautiful", "It is Finished", just to name a few. How have you approached the songwriting process to write so many profound staples of Christian music?
I don't know exactly how we have done it, but I do know this. We normally don't write anything until we have been really pushed to say something. (In other words), we need to say this or this has been said before, but it needs to be said in a new way because He lives to be a good example. There was a hymn that we grew up singing in our church called "He Lives". (Sings) 'He lives, Christ Jesus lives today.' I have sung that all my life. My question was, why does it make any difference to me today or tomorrow? Now that puts a whole new concept to it. And this is the kind of thing I'm thinking about.
Gloria just had a songwriting seminar where we talked in depth about where she starts her songwriting process. It always starts with an idea. You just need an idea that you think could make a difference. So it won't sound like I'm bragging, let's go back to Andre's (Crouch) song "Through It All". It's one of the most profound songs I've ever heard. It's just the three words through – it – all. You fill in the blank on "it" and you fill in the blank on "all". I don't know what your tough time has been, but just the idea itself (is so powerful). Let me give you a current idea. There's a lot of concern in the Christian church that the world's going to hell in a handbag. This is not the first time this has happened. Just remember back to the 1960s. If you live long enough history repeats itself … racial violence, cities burning down, young people burning their draft cards during the Vietnam War, and drugs of course. This kind of sounds familiar today, doesn't it?
I've had people say to me, 'Bill, what do you think is going on in the world? This wasn't my first response but the more I got thinking about it, I said, bring it on to the devil. Bring on your toughest. Give us your toughest shot because 'the darker the night, the brighter the light'.
I'm pretty sure I know what you are going to say but I need to ask this anyway. Is there any one of your songs that you see as the most vital piece of music or the cornerstone for your nearly 60 years in Christian music?
The one song that seemingly is standing out as the key on the basis of what we have done as far as people's responses are concerned, and the song that's been translated into more different foreign languages than any other … it blows our mind to hear the song sung in Chinese, in Russian, in Ukraine, in German, in Portuguese, in Brazil, and all around the world. That song is "Because He Lives". And I don't think any songwriter has any control over saying what their favorite song is. But if I were to say what is the favorite song of the folks that listen to us and has had the lasting impact and would probably define our music, it is that song. I use the word legacy very carefully but if there was a song that defined us it would be that one.
Now, after I've said that, if you're going to ask me what song I would like to define what we do, there would be three or four. One of them would be, "I Am Loved", which is not that well known but I think it's great theology and great psychology. The lyric of the verses say,
If you knew you wouldn't want me, my scars are hidden by this face I wear,
But He said, my child, my scars go deeper. It was love for you to put them there.
I am loved. I am loved. I can risk loving you for the one who knows me best loves me most.
I am loved. You are love.
Won't you please take my hand. We are free to love each other, we are love.
That's a tiny, quiet little song, but maybe in the future, people will say, this song needs to be sung a lot more than what it is sung, right? (Another song is,) "It is Finished". That one is pretty high on my list. I love that last verse that says"
Yet in my heart, the battle was raging,
Not all prisoners, a war had come home,
These were battlefields of my own making.
That is Gloria at her best.
Amen. I just want to thank you for taking the time to talk about your career in music and your place in it with me. I'm just blessed to have this chance to talk to you and on behalf of Crossmap.com I want to commend you for your life's work in Christian music. You and Gloria have truly been a blessing to so many over the years for utilizing the gifts God planted in you and that you continue to use for His kingdom.
Well, it's been a pleasure for me and a blessing. Thank you.
Watch a Trailer for Gaither: A Legacy in Music: