Who Is Your Story About? - Lori Altebaumer
Jun. 06, 2022
Who Is Your Story About?
Stories inspire me, encourage me, and teach me. In fact, I'd say my life is fueled by stories. Books and movies take me places I could or would never go to do things I could or would never do. They walk me through valleys I've never been through and lead…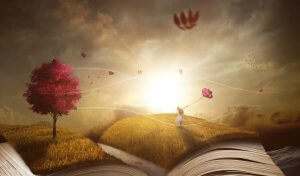 Stories inspire me, encourage me, and teach me. In fact, I'd say my life is fueled by stories. Books and movies take me places I could or would never go to do things I could or would never do. They walk me through valleys I've never been through and lead me up mountains I may never see. They teach me things about others and more importantly, about myself. There is simply something in my DNA that resonates with story.
And over the past few years I've come to understand why.
We, Dear Sisters, are in the midst of an epic story. It's a tale of love and war, of good and evil, life and death. Too often we don't realize it, or if we do, we hide ourselves away in hopes of staying safe or we determine to make the story about us. It's human nature.
But when we become followers of Jesus Christ, we are given a new nature. It is in this new nature that our eyes are opened to the story God is telling in the world around us. Through the guidance of the Holy Spirit, we'll be able to discern right from wrong. We'll learn to recognize the enemy's attacks almost before they start. We'll have a supernatural strength that gets us through trials we never thought we could survive.
When we have our eyes opened to the story God is telling, we'll no longer question our purpose, or whether we even have one.
When we give our lives to God and accept His sovereignty over everything, we'll see His hand of providence has been with us, preparing us for this time and this place.
As I wrote my latest novel, A Far Way to Run, I was hit over and over again with the words for such a time as this. A favorite verse of mine, these words come from the book of Esther. If you're not familiar with her story, I encourage you to read it now.
Esther has been forced to live a life she didn't want and wouldn't have picked if she'd been given the choice. Orphaned among an exiled people, she was forced to marry a pagan king. She may have lived in a castle with all the royal benefits, but she lived a life of bondage. She couldn't even approach her husband without fear of being put to death.
And then there came a moment when she had a choice. When we read this story, we often think her choice was whether to risk her life or to play it safe.
But a deeper consideration reveals that the choice was really about story.
Was her life to be about her story—the orphan turned queen—the end? Or was she willing to live her life as a part of God's eternal story?
What about the story of our lives–your's and mine–this very day? Is your story the divorced wife turned exhausted, single mom working two jobs? Is it the drug addict cut off from her friends and family in an effort to keep it a secret? Maybe it's the frazzled soul weary from holding up the crumbling facade of "everything's just fine."
Or maybe it's even worse than any one else could imagine.
Whatever fire you're going through, the flames can be your prison, or they can be the purifying of your purpose.
Esther chose well, and today we are stilling studying her life as an example for ours.
We, too, have a choice.
We can live our lives as though the story is about us. Or we can step into the irreplaceable role God has created for us.
Few of us live an unblemished life. We have regrets over poor choices and past mistakes. We wrap ourselves in shame over things we've done or have had done to us. We lose our way in the larger story… if we ever knew it in the first place.
And we did.
Our little girl selves knew there was a great and heroic adventure before us, and we were ready to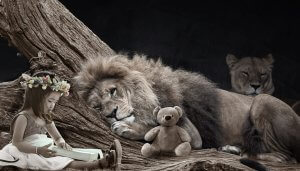 play our part.  But the world has told us we are unlovable, unworthy, and unnecessary until we find ourselves stuck in the chapter we're in. Afraid or unable to turn the page, we soon we forget we're in a story at all.
There was a time when this was my life as well. I felt the weight of depression as I faced a black curtain that hid the future. Though I wanted to believe there was something on the other side of it, I couldn't see past the curtain. I slipped down a dark hole where it felt as though there was no meaning to my existence. It was a terrible experience, and one I've thankfully left in the past.
Writing stories helps me remember I am in a larger story, whether I choose to embrace that fact or not. When I live as though my story—my life—is about me, I live a life with limits, where failures are failures and mistakes can't be redeemed. But when I live my life as a part of God's larger story, I live a life where the failures and mistakes can not only be redeemed but used for God's glory. I may not understand the pain and suffering I've experienced, but I can trust that God has used it to prepare me for my such a time as this moment.
We're all living in a story. The question for each of us is who will our story be about? This is the question my protagonist, Shayne, must wrestle with in A Far Way to Run.
Today may we all consider that question. There is freedom in living out we our roles in God's greater story.