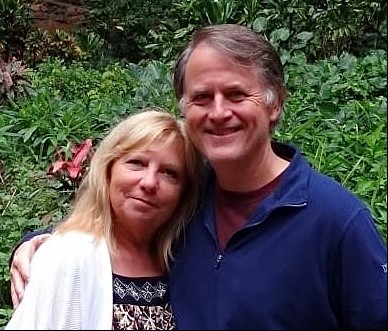 Contemplating the final end of sorrow has brought me great comfort in my first month of grief after my precious wife's death. I already can't wait to see Nanci again and have her show me around Heaven, and then after the resurrection when we relocate to the New Earth, for us to both experience it for the first time together. How glorious that will be, and above all just to be with Jesus regardless of where!
I sometimes ask Jesus to pass on messages to Nanci as I have asked Him to do for my mother since 1981 when she joined Him there. As I shared in a past blog, of course, we shouldn't pray to the saints who are with Jesus, or try to talk to them directly, but we can always pray to Jesus, our only Mediator (1 Timothy 2:5), and He can tell our loved ones living in His presence whatever He wants to. He still hears our prayers, and I think there's every reason to believe that He would pass on to Nanci something I ask Him to.
These are two paintings that Nanci loved, putting up printouts of them in her office. She saw herself as the girl in both photos, with King Aslan the lion in the one, and with the real King Jesus who Aslan depicts in the other.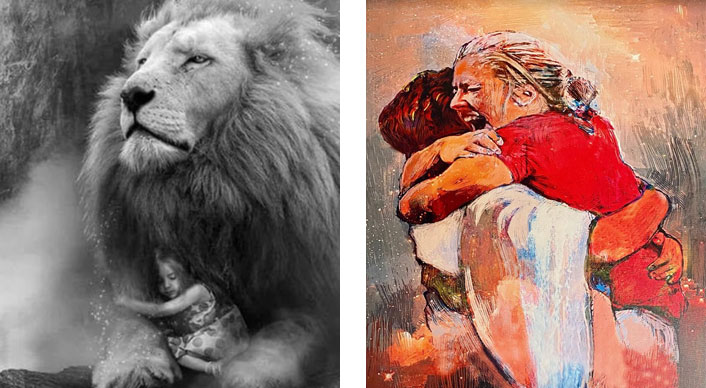 Above the blond girl embraced by Jesus, my blond wife wrote "Someday." And at last that day she longed for has come.
Then I saw a new heaven and a new earth, for the first heaven and the first earth had passed away, and there was no longer any sea. I saw theHolyCity, the new Jerusalem, coming down out of heaven from God, prepared as a bride beautifully dressed for her husband. And I heard a loud voice from the throne saying, "Now the dwelling of God is with men, and he will live with them. They will be his people, and God himself will be with them and be their God. He will wipe every tear from their eyes. There will be no more death or mourning or crying or pain, for the old order of things has passed away."

He who was seated on the throne said, "I am making everything new!" Then he said, "Write this down, for these words are trustworthy and true."

—Revelation 21:1–5
I write in 90 Days of God's Goodness:
God promises that one day there will be no more death or mourning or crying or pain. As we are acutely aware, that day has not yet come. But notice how Jesus caps off His promise to His disciple John: He says John should write the words down because they are "trustworthy and true." In other words, He is saying, "John, my beloved friend and servant, you can take these words to the bank; I'll stake my life on them. In fact, I already have."
Christ promises—in writing—a resurrected life on the New Earth, an eternal life without sorrow and pain in a glorious new world. Talk about light at the end of the tunnel!
Our own suffering is often our wake-up call to the world's suffering. But even if you aren't now facing it, look around and you'll see many who are. If we open our eyes, we'll see the problem of evil and suffering even when it doesn't touch us directly.
The loss of American lives in the terrorist attacks of September 11, 2001, numbered 2,973—horrible indeed, yet a small fraction of the terror and loss of life faced daily around the world. The death toll in the 1994 Rwandan genocide, for example, amounted to more than two World Trade Center disasters every day for one hundred days straight. Americans discovered in one day what much of the world already knew—violent death comes quickly, hits hard, and can be unspeakably appalling.
Yet no suffering is like our own suffering. After his wife died, a grief-torn C. S. Lewis realized and wrote in A Grief Observed, "If I had really cared, as I thought I did, about the sorrows of the world, I should not have been so overwhelmed when my own sorrow came."
Sufferers have told me, "We did everything right. We attended church and gave our money to missions—and then God did this to us. I don't get it." At times like these our faith gets exposed as an insurance policy for which our good behavior is the premium we pay to protect us from harm.
Devastation and tragedy feel just as real for those with faith as they do for those who have none. But knowledge that others have suffered and learned to trust God anyway gives the faithful strength to keep going. Because they do not place their hope for health and abundance and secure relationships in this life but in an eternal life to come, believers' hope remains firm regardless of what happens.
And on the other side of death, God promises that all who know Him will experience acceptance into His holy, loving, and gracious arms—which is the greatest miracle, the answer to the problem of evil and suffering. He promises us an eternal kingdom on the New Earth, where He will wipe away every tear from the eyes of those who come to trust Him in this present and temporary world of pain.
Lord, thank you for your promise of a new and glorious and everlasting life on a redeemed Earth, with you and all of my spiritual family. Help me to trust you today, to sense your arms around me and your gentle hands even now beginning to wipe away my tears.
Photo by FRANCESCO TOMMASINI on Unsplash
By Randy Alcorn, Eternal Perspective Ministries, www.epm.org. Used with permission.