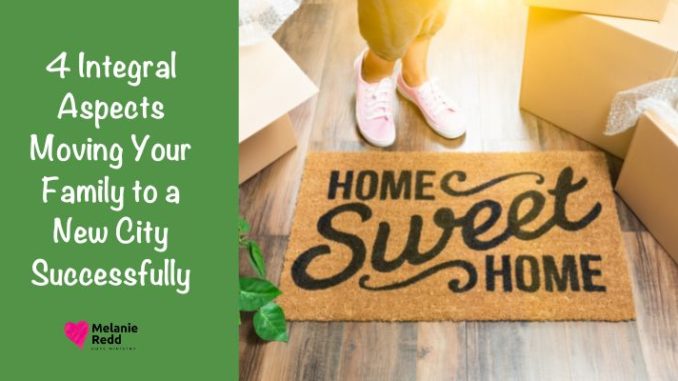 It's not easy to move your family to a new city.
There are so many things to take into account – from finding a new home and school, to making friends and adjusting to the local culture. But with careful planning and preparation, you can make the transition as smooth as possible for your loved ones.
In this blog post, we will discuss four integral aspects of moving your family successfully to a new city. Read on for tips and advice that will help make your relocation a success!
The first step in moving your family to a new city successfully… Finding the right home
When relocating your family, finding a place to live is likely at the top of your priority list.
You will want to find a safe neighborhood with good schools, access to public transportation, and amenities that suit your family's needs. Take time to research different neighborhoods, visit them in person, and narrow down your options before committing to a new home.
Your new home should also suit your budget, so compare prices before signing a lease.
The second step in moving your family to a new city successfully… Planning a smooth move
When moving your family to a new city, it is important to hire a household moving company to help out.
This requires careful planning and a great amount of effort on your part. First, you should research the area you're moving to find the best schools for your children and ideal living arrangements. Determine which neighborhoods might fit into your budget and lifestyle preferences.
If possible, arrange a trip to visit potential housing options before making any commitments. Next, ensure all necessary paperwork is taken care of before the move.
This includes transferring or canceling any existing services like utilities or internet connections at your current location and setting up those services in advance at the new residence.
The third step in moving your family to a new city successfully… Learning about your new city
Before you move to a new city, it is important to learn as much about the area as possible.
Knowing what types of neighborhoods are available, which schools the children will attend, and the overall quality of life in your new city can help make it easier for your family to adjust once they arrive.
Researching local attractions such as parks, museums, and theaters may also help you get a better sense of what kind of experience you will have in your new home.
Additionally, suppose you need to find employment after moving to a new city. In that case, researching potential employers can help give you an edge over applicants unfamiliar with the area.
The last step in moving your family to a new city successfully… Staying connected to family and friends
Moving to a new city can be an exciting adventure for your entire family. But it can also be challenging to leave behind the support network of family and friends you are used to.
To ensure your loved ones stay connected, keep in touch through phone calls, emails, or video chats. If possible, plan visits back home every few months so all family members can reconnect with people they care about. Staying connected will help make the transition easier for everyone involved.
Overall, relocating your family isn't easy but it doesn't have to be stressful either. You can move your family successfully to a new city with proper planning and preparation. From finding the right home to staying connected with family and friends, there are many integral aspects to consider when making a move.
Were you encouraged by what you read?
Then, would you share this article with a friend, co-worker, or family member?
Or, maybe you can send it to a friend or family member?
This blog occasionally uses affiliate links and may contain affiliate links. Additionally, Melanie Redd is a participant in the Amazon Services LLC Associates Program. This is an affiliate advertising program designed to provide a means for sites to earn advertising fees. These are earned by advertising and linking to amazon.com. Also, for more on my disclosure policy, click HERE.
© Melanie Redd and Hope Ministry, 2022. Unauthorized use and/or duplication of this material without express and written permission from this blog's author and/or owner is strictly prohibited. Further, excerpts and links may be used, provided that full and clear credit is given to Melanie Redd and Hope Ministry, LLC. Please give appropriate and specific directions to the original content.
This article was shared with permission from Hope Ministry, LLC and Melanie Redd.