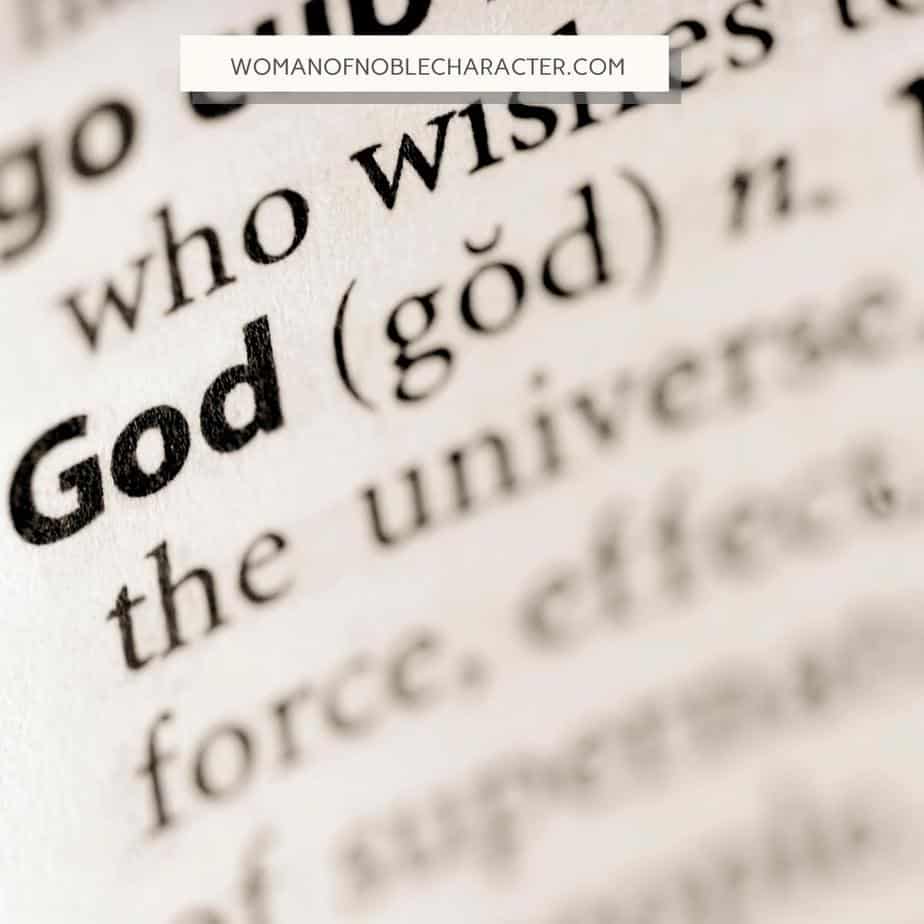 Jehovah Jireh
As we continue with our series of the names of God, I'm excited to share one of my favorite of the Lord's names: Jehovah Jireh. The Lord Will Provide or The Lord Who Provides.
Other posts from this site on the names of God include Jehovah Rapha, Jehovah Nissi, Jehovah Rohi, Adonai, Abba, Yahweh, Jehovah Elohim, and Jehovah Shalom
(For more on praying over the names of God and why we should study them, see this post).
Jehovah Jireh Meaning
The Jehovah Jireh meaning is found in one of the most famous Bible stories. And it is found only once in scripture (Genesis 22).
Jehovah Jireh is the name that Abraham called God by, and he also assigned it to the site where God told him to sacrifice his son, Isaac, as a burnt offering. This was God's way of testing Abraham's faith and obedience, if you recall the story. (You can refresh your memory by reading Genesis 22).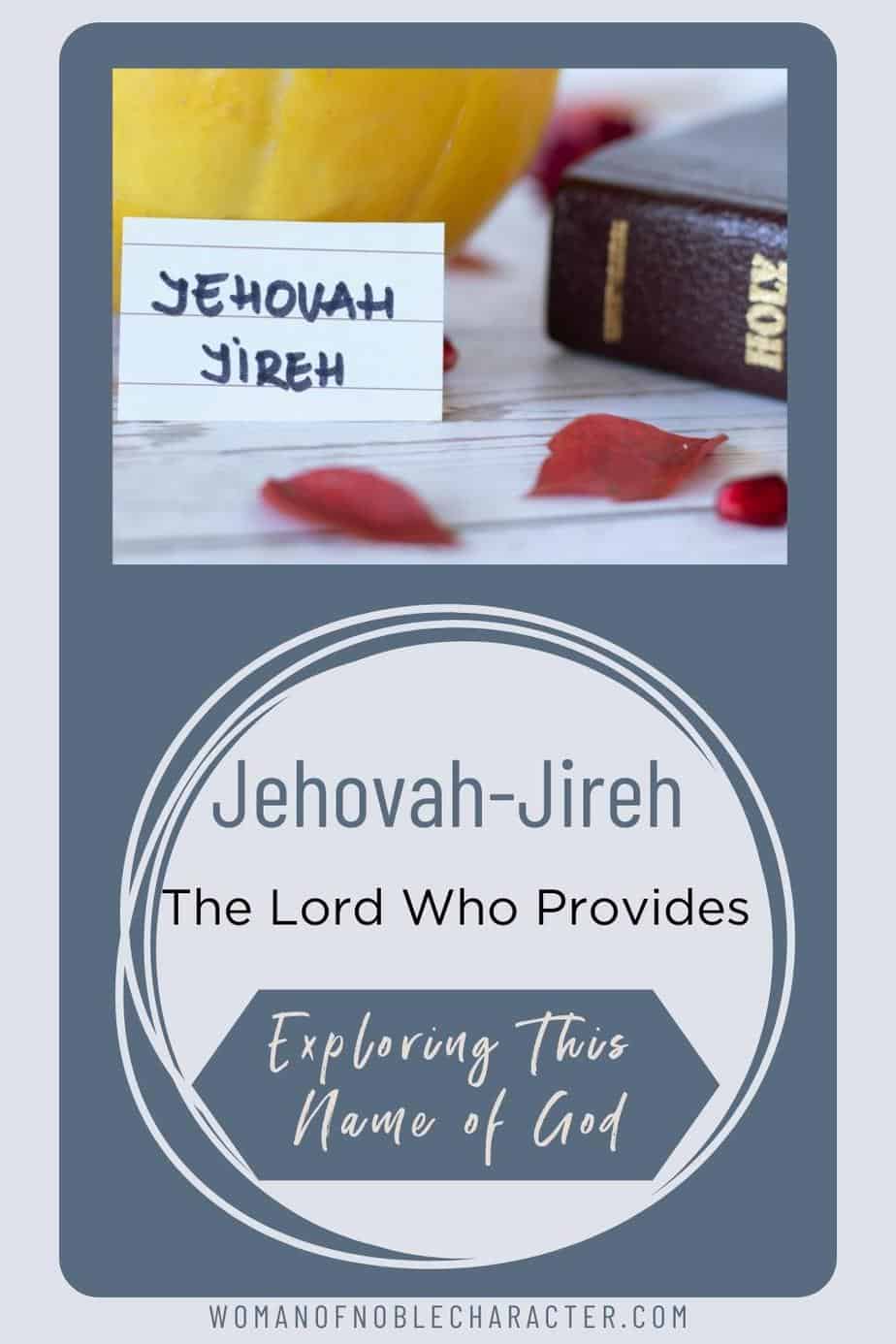 The Backstory to Jehovah Jireh in the Scripture and Why it is Important to Understand This Name of God
The easy answer to Jehovah Jireh's meaning is "God will provide," but there is much more to it than that. I want to take us back to Genesis 22, when we read an interesting story of Abraham and his son Isaac.
Bible Reading Plans
Bible Reading Plans
Play Video
God gave Abraham a promise that he would eventually have a son. Abraham was shocked by this as his wife, Sarah, was barren, and he was an older man himself. As each year went by, he doubted whether God's promises would ever come true.
Can you relate? You pray repeatedly, and it seems that God is not answering your heartfelt prayer. Doubt fills our minds, but we are to have faith, even when we cannot see God working (2 Corinthians 5:7 ESV).
What happens next is shocking. Abraham's wife, Sarah, encourages Abraham to have sex with her servant, Hagar. Sarah was feeling shameful that she couldn't produce Abraham's promise, and by the looks of it, time was running out.
God is a patient God, but that doesn't mean he won't give you more than your heart can imagine. When we trust him with all of the blessings in our lives and wait for his perfect timing before receiving them, instead of trying "quicken" their arrival by working hard on ourselves first, amazing things happen!
Eventually, Hagar gets pregnant and bears a son, Ishmael. While things get tense between the two women (a story for another day), the situation is complicated when Sarah, in her advanced age, does get pregnant.
God answered their prayers and "made good" on His promise to Abraham when Sarah gave birth to a boy she named Isaac.
Abraham was waiting for a very long time for His promises to come true which is why when God tests him; it is a stunning and troubling request.
Genesis 22:1-3- Now it came about after these things that God tested Abraham and said to him, "Abraham!" And he said, "Here I am." Then He said, "Take now your son, your only son, whom you love, Isaac, and go to the land of Moriah, and offer him there as a burnt offering on one of the mountains of which I will tell you." So Abraham got up early in the morning and saddled his donkey, and took two of his young men with him and his son Isaac, and he split wood for the burnt offering, and set out and went to the place of which God had told him.
Wait a minute! Abraham waited all of his life for a son, he finally gets one, and God asks him to sacrifice him? A very odd request, but the fascinating part is how obedient Abraham was. He was just like, "Ok, let's go!"
I believe he was so obedient because he knew the heart of the Father. I come to this conclusion because of what he says in verse 5.
Genesis 22:5- Then Abraham said to his young men, "Stay here with the donkey, and I and the boy will go over there, and we will worship and return to you."
Notice how Abraham tells the young men, "We will worship AND RETURN." How did He know that God would never allow him to go through with that? The answer is because Abraham knows the God he serves, and Abraham recognized that this was a test. How much better would our lives be if we could identify the tests from God without all of the worries.
God stopped him when Abraham raised the knife to take his son Isaac's life. Abraham then noticed a ram trapped in a nearby bush or thicket. He offered the ram as a sacrifice instead of Isaac. Abraham felt sure that God had provided this ram for this purpose and called God The Lord Will Provide.
Jehovah-Jireh provided a sacrifice to save Isaac, and that action was a precursor to the provision of His Son for the salvation of the world.
Jehovah Jireh, The Lord Who Provides
In Hebrew, the name is יְהוָה יִרְאֶה. The first word of the phrase is the Tetragrammaton (יהוה), generally translated in English bibles as "the LORD" or "GOD" in capital letters. Jehovah is a Christian anglicized vocalization of this name using the vowels of Adonai.
The early Septuagint translation into Greek gives the meaning as "The LORD hath seen."One Latin version of the Christian Bible rendered the name in Latin as Dominus videt ("The LORD sees"). The King James Version follows this meaning, as quoted above.
And Abraham called the name of that place Adonai-Jireh; as it is said to this day: 'In the mount where the LORD is seen.' –

GENESIS 22:14
However, some modern translations, including the NIV, render it "the LORD will provide", amplifying the literal meaning along the lines of "the LORD will see to it", and referring to Abraham's earlier words in 22:8, "God himself will provide the lamb".
Through the name Jehovah Jireh, God is revealed as a provider. The Hebrew word for this name means "to provide" and to perceive or experience His will in our lives.
The God who provides is also the one that perceives your needs. He knows what you are going through and will provide for your every need.
We all have the greatest need for salvation-forgiveness of our sins and eternal life. The story of Abraham offering Isaac in Genesis 22 is more than just an illustration of faithfulness; it previewed what God would provide us later on: an incredible sacrifice of His Son on the cross.
Jesus as Jehovah Jireh
On Calvary, the "God Who Provides" did what He asked Abraham to do, but even more so.
"For God so loved the world, that he gave his only Son, that whoever believes in him should not perish but have eternal life."

JOHN 3:16 (ESV)
When God asked Abraham to sacrifice his son, Isaac was spared and provided a ram in place of the boy. But on Calvary, there would be no substitute – Jesus died instead, who is called "the lamb" because he offered up himself as an instrument for our salvation.
Jehovah Jireh and You
He who did not spare his own Son but gave him up for us all, how will he not also with him graciously give us all things?

ROMANS 8:32 (ESV)
Paul says that God has provided for our eternal salvation by giving His Son the greatest gift he could give. And so, having given this precious thing to us, will not fail in providing all of our needs- even smaller daily ones! He knows what you need and is always ready to answer our prayer – often in ways more incredible than we could ever imagine.
It doesn't matter how big or small it may be because Jehovah Jireh (The Lord Who provides) is our help and salvation.https://www.youtube.com/embed/mC-zw0zCCtg?feature=oembed
Scripture Related to Jehovah Jireh
While Jehovah Jireh scripture references are minimal (the actual text "Jehovah Jireh" occurs just once in the Bible in Genesis 22:14), promises that God will provide are found throughout the Bible. Here are just a few.
And my God will supply every need of yours according to his riches in glory in Christ Jesus.

Philippians 4:19 ESV

So Abraham called the name of that place, "The Lord will provide"; as it is said to this day, "On the mount of the Lord it shall be provided."

Genesis 22:14 ESV

Now to him who is able to do far more abundantly than all that we ask or think, according to the power at work within us,

Ephesians 3:20 ESV

But seek first his kingdom and his righteousness, and all these things will be given to you as well.

Matthew 6:33 (NIV)

And without faith it is impossible to please God, because anyone who comes to him must believe that he exists and that he rewards those who earnestly seek him.

HEBREWS 11:6 (NIV)
This post was originally published on womanofnoblecharacter.com.