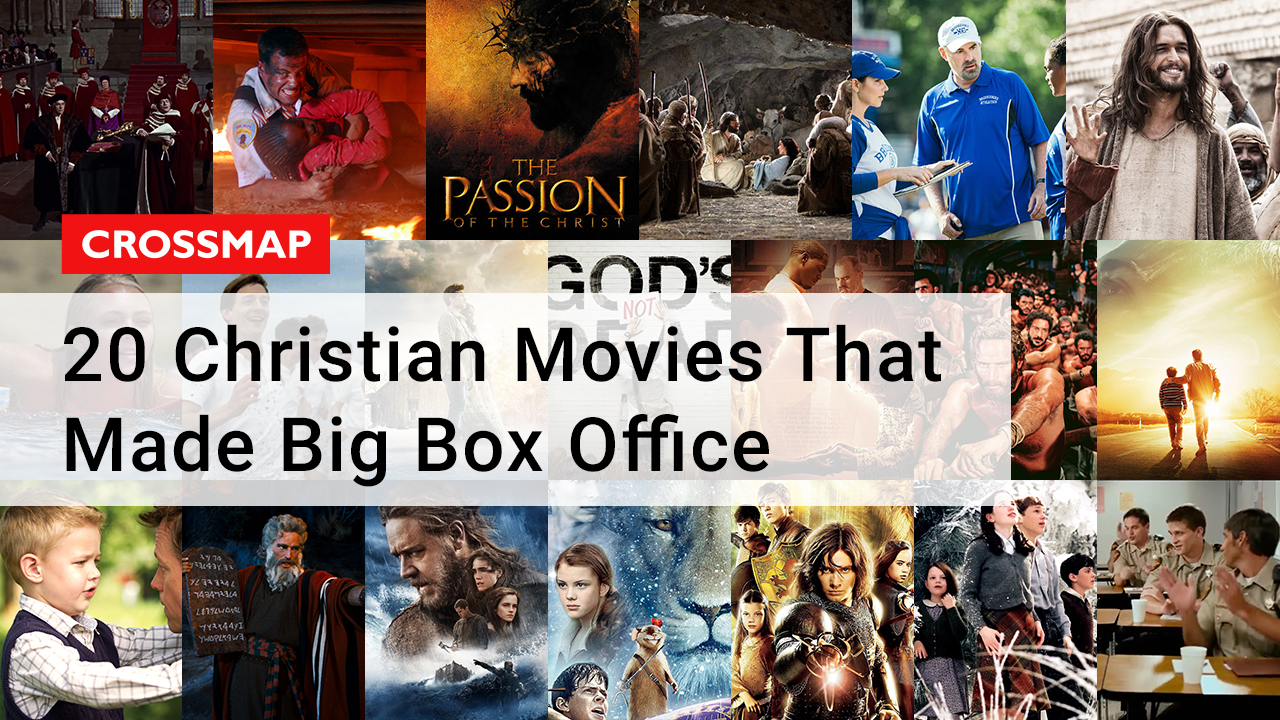 Christian or faith-based movies as some like to call them have been around for generations. For so many people, the thought of watching grainy, tinny-sounding movies on a 16mm movie projector at a Sunday evening church service either brings a smile to your face or conjures up painful moments of the audio being out of sync with the video.
Fortunately, Christian cinema has come a long way over the past 20 years, so much in fact, that a Christian movie is the highest earning Rated R movie of all time. However, to be clear, this film earns its rather adult rating for depicting the horrific crucifixion of Jesus Christ in graphic detail.
But for all the criticism Christian movies sometimes endure due to plots that seem unpractical, or acting that doesn't always hit the mark, there are a growing number of films that have truly resonated with audiences far and wide.
The following is a list of 20 Christian movies that have generated enormous box office returns for their quality and overarching messages of hope, encouragement, and redeeming grace.
So grab some popcorn, turn up the volume on your computer, and enjoy the list!
20. A MAN FOR ALL SEASONS (1966)
Total Earnings: $28.3 Million
Rating: G
Synopsis: When the highly respected British statesman Sir Thomas More (Paul Scofield) refuses to pressure the Pope into annulling the marriage of King Henry VIII (Robert Shaw) and his Spanish-born wife, More's clashes with the monarch increase in intensity. A devout Catholic, More stands by his religious principles and moves to leave the royal court. Unfortunately, the King and his loyalists aren't appeased by this, and press forward with grave charges of treason, further testing More's resolve. (Rotten Tomatoes)
Watch the Trailer:
19. FIREPROOF (2008)
Total Earnings: $33.5 Million
Rating: PG
Synopsis: FIREPROOF is an incredibly gripping, compelling, heartrending, transformational story about saving a marriage that is on the rocks. The dramatic structure of this movie written and produced by pastors Alex Kendrick and Stephen Kendrick in Albany, Georgia, is so incredibly good that it overcomes a few amateur acting moments, a wee bit of static dialogue and a few other technical problems. It is a worthy successor to their last movie, FACING THE GIANTS. (MovieGuide)
Watch the Trailer:
18. COURAGEOUS (2011)
Total Earnings: $34.5 Million
Rating: PG-13
Synopsis: COURAGEOUS may do for fatherhood what FIREPROOF did for marriage. It has some extremely poignant, heart-wrenching moments. In fact, this is not a three hankie movie, but a whole box of hankies movie. Wisely, the poignant moments are mixed with some of the funniest moments you'll ever see. Structurally, COURAGEOUS breaks some rules, but, in spite of that, it works. (MovieGuide)
Watch the Trailer:
17. The NATIVITY STORY (2006)
Total Earnings: $37.6 Million
Rating: PG
Synopsis: THE NATIVITY STORY is a nearly perfect movie. It has one of the best scripts ever for a biblical story. A sense of jeopardy is present throughout. The dialogue, the plot development, the turning points are refreshingly dramatic. Best of all, THE NATIVITY STORY testifies in every way to Jesus the Messiah and is clearly evangelistic without being preachy. (MovieGuide)
Watch the Trailer:
16. Overcomer (2019)
Total Earnings: $38 Million
Rating: PG
Synopsis: OVERCOMER is another very well-produced movie created by the Kendrick Brothers. The storytelling, acting and cinematography are wonderful. Some actors deliver their lines more poignantly, but in the end everyone adds significantly to the movie's sweet, inspiring tone. … The Gospel of Jesus Christ is proclaimed powerfully more than once in OVERCOMER. The film features a very strong Christian worldview and is filled with many touching, poignant moments. (MovieGuide)
Watch the Trailer:
15. SOUL SURFER (2011)
Total Earnings: $43.8 Million
Rating: PG
Synopsis: SOUL SURFER is an inspiring, powerful story about young surfer Bethany Hamilton. The movie has very poignant moments that will bring tears to your eyes. It has one of those endings that make the movie work, despite some lightweight scenes. Anna Sophia Robb as Bethany gives a wonderful performance. A cast of veterans provides great support. The good news is that real courage comes from deep faith in Jesus Christ, not just willpower. There are powerful church scenes, but they shouldn't alienate secular viewers because they are extremely real. Bravo! (MovieGuide)
Watch the Trailer:
14. THE SHACK (2017)
Total Earnings: $57.4 Million
Rating: PG-13
Synopsis: Based on a popular book, THE SHACK has added many nice statements reaffirming some good Christian theology. However, the parts closest to the book still promote a false view of God the Father, His Son Jesus Christ and the Holy Spirit. It also promotes cheap grace. Finally, although horrible things happen in the story, the movie is very static, with lots of speeches reminiscent of Sunday School lessons. It's clear the filmmakers tried to fix the theological problems in the book, but they failed to turn THE SHACK into a compelling, dramatic story. (MovieGuide)
Watch the Trailer:
13. CHARIOTS OF FIRE (1981)
Total Earnings: $59 Million
Rating: PG
Synopsis: In 1981, Chariots of Fire captured four Academy Awards, including Best Picture. It boasts no marquee stars. There's a noticeable absence of big-budget special effects. But for families interested in a film with heart, character and a respect for one man's faith in God, it remains one of the most spiritually uplifting motion pictures ever made. (Plugged In Online)
Watch the Trailer:
12. SON OF GOD (2014)
Total Earnings: $59.7 Million
Rating: PG-13
Synopsis: SON OF GOD is a captivating showcase of God's grace. The acting is excellent, including the powerful ending. The movie is life changing, but the pacing could be tighter. Thus, the movie opens strongly, but the first half is too episodic. Also, some biblical episodes, including dialogue, seem too truncated. That said, the conflict between Jesus and the Jewish and Roman leadership is strong. Also, the movie has a powerful resurrection sequence. SON OF GOD clearly shows that the death and resurrection of Christ is a glorious reminder of God's love. (MovieGuide)
Watch the Trailer:
11. GOD'S NOT DEAD (2014)
Total Earnings: $60.8 Million
Rating: PG
Synopsis: GOD'S NOT DEAD is an entertaining, profound, powerful Christian movie about a college student who has to stand up for his faith when bullied by an atheist professor. There are a lot of stories in the movie, but they work because they end up in the same place. The direction and acting are very good. The ending is terrific. GOD'S NOT DEAD is a powerful evangelistic movie. Even better, the entertainment value transcends the message. Viewers won't be bored. They will be enlightened and inspired by GOD'S NOT DEAD. (MovieGuide)
Watch the Trailer:
10. WAR ROOM (2015)
Total Earnings: $67.8 Million
Rating: PG
Synopsis: WAR ROOM is spiritually and emotionally powerful. Most viewers will cheer at the end. Although it has some minor problems, such as static dialogue and extra subplots, the movie's jeopardy truly rivets viewers to the storyline. Also, the emotional power of a family struggling with the world, the flesh, the Devil, and God's Grace helps the movie transcend its defects. Therefore, WAR ROOM is a must-see movie for Christians. (MovieGuide)
Watch the Trailer:
9. BEN HUR (1959)
Total Earnings: $74.7 Million
Rating: G
Synopsis: BEN HUR ranks among the most honored of films, taking 11 of 12 Academy awards. This beautifully crafted film begins with the birth of Christ and demonstrates a journey of faith of one man, Judah Ben-Hur, who goes from prince to prisoner to champion charioteer to Christian. This is a film that every family should see and cherish as a defender of faith and Christian values. (MovieGuide)
Watch the Trailer:
8. I CAN ONLY IMAGINE (2018)
Total Earnings: $86 Million
Rating: PG
Synopsis: I CAN ONLY IMAGINE is a powerful, heart-rending story of redemption and reconciliation found in Jesus Christ. Dennis Quaid is terrific as MercyMe frontman Bart Millard's father. Bart described his father as a monster and someone he hated, but who transformed into a man and who became his best friend and a role model. Void of objectionable content, I CAN ONLY IMAGINE warrants only a light caution for younger children because of tastefully executed abusive violence. (MovieGuide)
Watch the Trailer:
7. HEAVEN IS FOR REAL (2014)
Total Earnings: $91.4 Million
Rating: PG
Synopsis: Based on a bestselling book, HEAVEN IS FOR REAL tells the story of a four year-old named Colton who says he goes to Heaven during an operation where he was near death. Wonderfully written by Chris Parker and directed by Randall Wallace, HEAVEN IS FOR REAL is one of the most engaging, most inspiring Christian movies ever made. The acting, dialogue, cinematography, and editing are first-class. Best of all, the movie shows the truth of God's love. (MovieGuide)
Watch the Trailer:
6. THE TEN COMMANDMENTS (1956)
Total Earnings: $93.7 Million
Rating: G
Synopsis: THE TEN COMMANDMENTS is a magnificent achievement in the history of film. Despite some hokey moments, the movie is carried along by the brilliant performances of Charlton Heston as Moses, Yul Brynner as Rameses and Yvonne DeCarlo as Moses' wise wife. Best of all, THE TEN COMMANDMENTS makes God the real hero of the story, with a theological power seldom seen on the silver screen. (MovieGuide)
Watch the Trailer:
5. NOAH (2014)
Total Earnings: $101.2 Million
Rating: PG-13
Synopsis: NOAH is an epic adventure story, with a nice ending that wraps everything up on a hopeful, inspiring note. In the ending, a conflicted Noah learns that the Creator is a God of mercy and love, not only justice. Despite the positive ending, NOAH inserts some extra-biblical material into the story, to build tension and give the story a dramatic three-act structure. The positive ending doesn't quite justify this. That said, NOAH shows Adam and Eve really existed, the Fall of Man is real, and the Creator acts miraculously. Caution is advised for some violence and intense moments. (MovieGuide)
Watch the Trailer:
4. THE CHRONICLES OF NARNIA: VOYAGE OF THE DAWN TREADER (2010)
Total Earnings: $104.4 Million
Rating: PG
Synopsis: VOYAGE OF THE DAWN TREADER is in every respect a four star movie, in terms of entertainment and production values. Whereas the book is episodic, the movie has a focused goal with a classic story arc. However, the book has been changed in significant ways, and some of the book's richness has been lost. Even so, the characters are well developed, the dialogue is brisk, the acting is excellent, the special effects are good, and the ending is heart-rending. Though magic is often rebuked, some of it is not, but there are strong redemptive themes, including ones focusing on Aslan's likeness to Jesus Christ. (MovieGuide)
Watch the Trailer:
3. THE CHRONICLES OF NARNIA: PRINCE CASPIAN (2008)
Total Earnings: $141.6 Million
Rating: PG
Synopsis: PRINCE CASPIAN is an exciting, fantastic epic in the tradition of LORD OF THE RINGS. Despite some loose ends, it re-imagines the book's story, which is about having faith in God through the Christ figure of Aslan. Ultimately it is God who determines the future of Narnia. MOVIEGUIDE® commends the filmmakers for being faithful to the book's spiritually uplifting, redemptive themes. They turned a complex plot into an exciting adventure. (MovieGuide)
Watch the Trailer:
2. THE CHRONICLES OF NARNIA: THE LION, THE WITCH, AND THE WARDROBE (2005)
Total Earnings: $291.7 Million
Rating: PG
Synopsis: Almost one hundred million people have read THE LION, THE WITCH AND THE WARDROBE, in a publishing universe where most books sell less than 10,000 copies, according to the publishers. The book is credited with leading many people to know Jesus Christ and is a favorite among Christians, although many readers have said that they have missed the book's clear Christological allusions. The great news is that the Disney movie, produced in conjunction with Walden Media, is not only very entertaining, but clearly retains the deeper truth and essence of C. S. Lewis's great novel, the first in his great seven part CHRONICLES OF NARNIA fantasy series. (MovieGuide)
Watch the Trailer:
1. THE PASSION OF THE CHRIST (2004)
Total Earnings: $370.8 Million
Rating: R
Synopsis: THE PASSION OF THE CHRIST is a must-see movie, beautifully directed, powerfully acted, and with terrific sound. Filmed in Latin and Aramaic, THE PASSION OF THE CHRIST has a foreign sensibility. The violence and the glee of the Romans who were scourging Jesus highlight the demonic quality of the battle Jesus was fighting. Those who see it will understand, perhaps for the first time, the price that Jesus paid to forgive us our sins. This is real grace, not cheap grace. (MovieGuide)
Watch the Trailer: