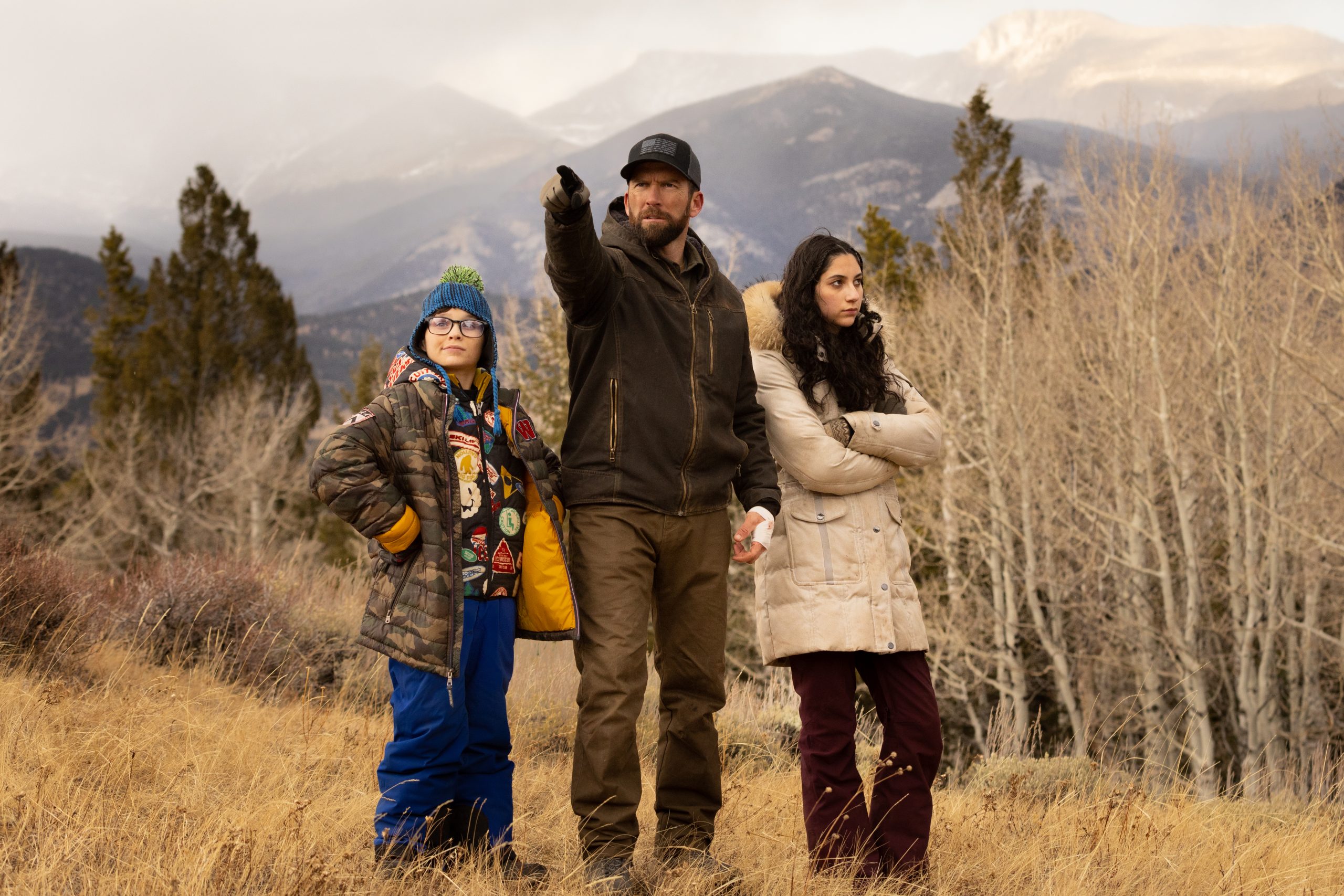 When actor Lucas Black made the decision to step away from NCIS: New Orleans after six seasons in 2019, he was really unclear on what his next career move would be. All he knew is that he wanted to spend more time with his family. Twenty-five years of bouncing from one film project to another, while exciting, can wear a person down.
Without any new film project to run off to, Lucas and his wife entered a season of prayer asking the Lord to guide them to whatever was next for his career. An answer to their prayers came at a homeschool convention of all places. There, they met a pastor who had a friend who had written a script he might be interested in. Black reluctantly agreed to take a look. And what he was sent has seemingly become a new beginning for him.
That script turned out to be Legacy Peak, a new Pure Flix movie starring Black. The movie hit all the right notes for him. Family-oriented, featuring the great outdoors, but most importantly it unabashedly shared the love and redemption of Jesus Christ.
I recently sat down with Black, who counts Seven Days in Utopia, 42, and Friday Night Lights among his many film credits, to discuss the new film, his perspective on what makes a great dad, and what matters most as he enters this new phase of his acting career.
First off, if you were trying to encourage a friend to go see the movie Legacy Peak, how would you describe it to them? What would be the hook in your sales pitch to get them there to watch it?
Mine would be, you're longing for a story that empowers the family, the nuclear family and it empowers fathers and also men in general. This story, especially my character, you see the man using a lot of his manly qualities to protect the innocent and provide for the children when they get in survival mode. It's an adventure for the whole family. The whole family can enjoy it, but I think that is kind of countercultural for today. I feel like our society is kind of wanting to see projects made like this that have good family aspects. Positive family values are empowered throughout the story.
I'm sure a lot of scripts come your way. What was it about the script for Legacy Peak that attracted you to your role as Jason?
That's a good question. I really love the faith aspect of the story. (My character) Jason is a man of faith. He looks to his Heavenly Father for help and realizes that He's in control. He's trying to control a lot of things but at the end of the story he realizes that God is in control and he is not . The part of the story where he has found his fulfillment and feels loved by his Heavenly Father, that God is always there never leaves him or nor forsakes him, that's something that appealed to me. I'm a man of faith, so if a story's going to point people to Jesus, glorify God and expand His kingdom, that's something that definitely has my interest piqued. This (movie role) was an answer to prayer for me and my wife because we had been praying about what the next step was going to be after NCIS: New Orleans. I was on that show for 125 episodes. I stepped away from the show to spend more time with my family. Our eyes were open to the culture shift that was going on here in America. And so, we were just praying about how God could use me and the platform that I have to point people to Jesus and expand God's kingdom, but also empower men, fathers, and the nuclear family. So, God orchestrated the whole thing.
For me, the scenario of this movie can make or break a dad. A plane crash. Fortunately, everyone survives. But then, everyone is looking at you to lead and to make the decisions that will save lives. That's certainly a lot of pressure. How did you approach your role? Did you try to draw from past experiences, did you do a lot of research on this type of crisis parenting, or did you just sort of let your natural instincts take over?
That's one of the things I like about this story. (My character) Jason is willing to step into that fatherhood role and take on those responsibilities even though he may not know how to do it. He probably didn't think he was prepared for these adversities that he was going to face with the kids during their journey through the wilderness. But he's able to use all of his manly qualities that he has learned in the past. You can tell he had some survival skills. For me, I grew up outdoors and so I knew how to do all those things. And so, I hope it comes across in my character and in my actions that at least it looked like I knew what I was doing when I'm building a fire, camping, catching a fish, and cleaning the fish.
But I think as far as parenting, when we step into the fatherhood role – when I had my first child, you're stepping into an unknown and it doesn't matter how many books you read, you're going to be faced with adversity. You will kind of figure it out. So, I just kind of relied on those experiences and tried to use those experiences to portray what Jason was going through. But also what I loved is, he calls on his Heavenly Father for help. Jason realizes that he can't do it by himself. He's taking a leap of faith, yes. He's taking responsibility to be a father, but he also realizes, hey, I need help here. It's a short, quick prayer. He says, 'Lord, help me.' And then he gets to work. I just love that about the story. I think that's something that I try to implement in my own life, just trusting and knowing that God's in control and that I can just call on Him for help whenever I need it.
With that said, from your perspective, what makes a great dad?
I believe that being there for your children, meaning being present, is really important. Sometimes, we don't realize how important that is. You know, there's times with my kids, I don't have to plan anything. I don't have to have an activity planned. They just want to be around you. They want to feel that you want to be around them and they have your undivided attention. That's the one thing that you need to do to be a great dad. You've got to spend that quality time with your kids. You've got to be present with them. I also think that verbally, you need to express that you love them and that you're proud of them. You need to let them know that they are good at something. They need those words of affirmation. They need to hear that, you know? That's something that I try to practice and I think all of us can get better at.
After people have seen Legacy Peak, what would you like to see audiences get out the experience? What is your greatest hope for the film?
First of all, I just love how the story points people to Jesus. You can see that there's some pain in Jason's life from his earthly father, such as leaving him as a youngster. And he has found that satisfaction, fulfillment, and love from his Heavenly Father, that's what keeps him going. It fulfills him, it fills that void, that empty hole that's in all of us. He has found that his heavenly father fills that void. I hope people, first of all, take that from the story. And then second of all, I hope that this empowers men and fathers. I hope they come away realizing how important their role is in their children's lives. Dads need to be there for their children.
Watch a Trailer for Legacy Peak: