Book Drawing!!!!! "Upcycled: Crafted for a Purpose" by Tina Yeager
I'm so excited to feature Tina Yeager's newest book and it applies to all of us.
(Continue reading to find out how to enter the drawing!)
Tina asks us: Ever feel worn, useless, and too broken to belong anywhere but the landfill? Just as chippy cast-offs gain worth as vintage décor, the imperfect pieces of our lives hold incredible potential.
Upcycled: Crafted for a Purpose takes you on an interactive journey to discover how God reinvents rusty and flawed folks like us into cherished masterpieces.
Each chapter includes a gift or décor project which illustrates one of the ways the Great Artist remakes us to serve a beautiful purpose. The projects can serve as tangible reminders and opportunities to share hope of renewal with the world.
Encounter the loving craftsmanship of a Savior who makes all things new.
Discover new ways to use what you have to honor the Lord.
Reevaluate your imperfections as opportunities for God's upcycling artwork.
Find the power of renewal in the Ultimate Artist, God.
Here's an excerpt to encourage you!
Divine Works of Heart
by Tina Yeager
Scents of dried lavender and chalk paint embrace me at the threshold of the old mill. Dust from a lost century kisses my soles as I stroll through the aisles. I wink back at rays dappling through the antique windows onto artful projects within. And I'm thoroughly enchanted by the romance oozing from this world of brokenness restored.
Some passersby might see junk—an undeserved price stickered on attic clutter. But I gaze deeper into things love-worn and retouched. Artisans have discovered hidden significance in castoffs. The image of a Creator glimmers in the work of these creatives.
On a mission of restoration, upcylcers seek the lost and abused. Vintage craftsmen lift forsaken items from the dust. Their callused fingers buff scars and filth from unrecognized treasure. Tremendous care and patience grace their efforts. They toil for a vision no one else imagines through sacrifices of sweat, time, and pain. Pieces redeemed from the landfill now stand on display to inspire another generation. Each refinished work of heart reflects the artist's spirit.
At nineteen, I shuffled along a gutter and pleaded with God to let me die. Roadside grime deepened the scuffs on my nightclub sandals. I fixed my gaze on the trail to the sewer, where I felt I belonged. But Jesus refused to abandon me as waste.
I'm so grateful my Savior rescued me from the dust. My refinished purpose lies in reflecting my Redeemer's spirit. He sets me out to serve as inspiration to others. I am the heart work of Christ.
Like all mortal sculptures, I remain a work in progress while here in life's studio. My upcycler offers regular touch-ups and much-needed repairs. His grace adds a gleam to my face. He polishes the grit from my gears, so I function better. Though the sandpaper might offer a little irritation at first, I thank him for every blessed stroke of his hand.
Join us for a hands-on journey with Jesus, the visionary carpenter who makes all things new—even us. And check out my on-line crafts from my book:
Thank you, Tina, for those "uplifting" words and also sharing your video.
To enter the drawing for Tina's book, make a comment on this blog post by end of day, Monday, January 9, 2023. Only USA addresses can win.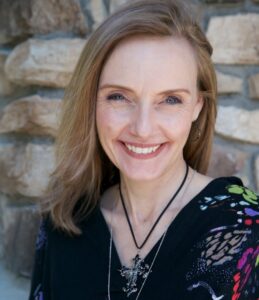 Award-winning author, speaker, Flourish-Meant podcast host, licensed counselor, and life coach, Tina encourages audiences to fulfill their potential. She hosts a Subdue Stress and Anxiety course featuring 15 expert presenters. Check out Beautiful Warrior: Finding Victory Over the Lies Formed Against You and Upcycled: Crafted for a Purpose (Bold Vision, 2022). Connect with Tina at tinayeager.com.
Tina's website: https://tinayeager.com/
Amazon: https://www.amazon.com/Tina-Yeager-M.A./e/B06Y4T4TMG/ref=ntt_dp_epwbk_0
Upcycled: Crafted for a Purpose (Bold Vision site)
Beautiful Warrior: Finding Victory Over the Lies Formed Against You (publisher site): https://www.newhopepublishers.com/shop/beautiful-warrior/
Inkspirations Online (devotional publication by writers for writers): https://www.inkspirationsonline.com/
Facebook: https://www.facebook.com/tyeagerwriting/
Linked In: https://www.linkedin.com/in/tinayeager/
Instagram: https://www.instagram.com/tina.yeager.9/
Twitter: https://twitter.com/tyeagerwrites
YouTube: https://www.youtube.com/c/TinaYeager
Pinterest: https://www.pinterest.com/tyeagerwrites/
Goodreads: https://www.goodreads.com/author/show/3865622.Tina_Yeager
Book Bub: https://www.bookbub.com/profile/tina-yeager?list=author_books
Used by permission of Kathy Collard Miller.