Make a Statement in 2022 With These Intuitive, But Powerful, Beauty Tips!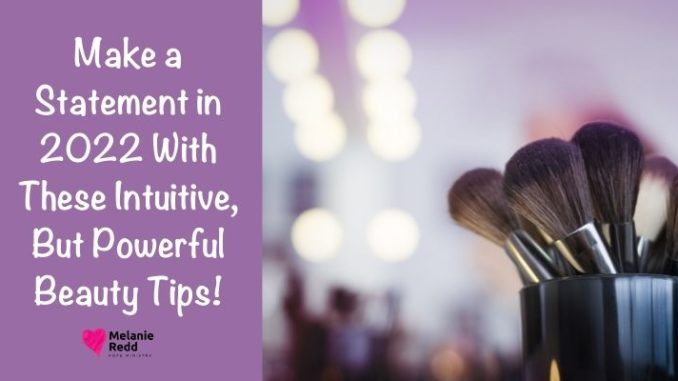 Could You Use Some Beauty Tips Today?
There is something amazing about the ability to sit and apply makeup.
Some women use it merely to draw attention to their natural characteristics, while others use it to conceal flaws on their skin or to make their skin tones more even and conceal dark spots, among other things.
Others use make-up to drastically alter their appearance, mainly by contouring the face to look smaller or a different shape.
When it comes to applying makeup, many women struggle since their results are clumpy or inferior to those of the makeup artists they follow on social media.
Though it may seem challenging at first, it is not as complicated as you may imagine, and you can quickly get a high-quality aesthetic without spending a lot of money.
Also, this post will show you how to improve your image in 2022.
The First of the Beauty Tips – Treat yourself to a little R&R.
Pampering yourself is a terrific method to improve your overall appearance and self-confidence.
You'll feel better since your body is releasing tension and stress. It's a well-known fact that some people appear more attractive when they are untroubled by tension or anxiety. So indulge in self-care as often as you can.
To unwind, you might pour yourself a cup of hot tea or take a long soak in the tub. Additionally, you could go to the nail salon.
Whenever you can, engage in whatever activity or indulge in whatever pleasure makes you feel happy. Additionally, self-care typically means using luxurious lotions and fragrances that will leave you looking and smelling great.
Taking time for R&R isn't just about running a bath and spending the night doing things you enjoy.
While this is an effective method to take care of your mental health, you should also be making a conscious effort to pinpoint what's making you feel stressed or anxious in the first place.
Once you realize what's troubling you, you can take proactive steps to alleviate these issues, or even cut them out of your life altogether.
The Second of the Beauty Tips – Take good care of your skin.
Because your skin is the first thing that others see when they look at you, having troubled skin may become an issue that causes you to feel self-conscious about your appearance.
Further, drinking enough water on a daily basis will ensure that your skin and body receive sufficient water to wash out any toxins.
You'll notice a difference in your skin's appearance as soon as you start drinking more water. It's also important to be mindful of what you're applying to your skin, particularly if you have sensitive skin.
Many individuals with sensitive skin fear wearing make-up because it will aggravate their skin, but this shouldn't be an issue if you apply the appropriate lotions beforehand.
Before applying makeup, get the best face moisturizer for your skin type and you'll be ready to go.
Also, you will notice that using the proper moisturizer for your skin will help to improve the appearance of your skin. Win-win situation!
The Third of the Beauty Tips – Focus on Good Haircare.
Taking care of your hair will also have a significant impact on how you feel and look. Try not to wash your hair too often, because you could eventually wind up with hair that looks greasy all the time. This could cause itchiness and even spots on your face.
Determine which shampoo and conditioner are most suited to your hair type. For example, if you have curly hair, look for a range of products that will help to enhance your natural curls rather than mask them. You'll notice that your hair is in much better shape as a result.
Also, avoid dyeing your hair too much since this can cause irreversible damage.
If you do decide to color your hair, it is usually recommended that you visit a salon and have it done by specialists who are knowledgeable about what will and will not damage your hair. Additionally, you should get fairly regular trims to prevent split ends.
However, if you are choosing to dye or bleach your hair at home, do yourself a favor and equip yourself with the right knowledge and products to do so.
You may have heard of YouTube hairdresser Brad Mondo, who reviews people's "at home" attempts and also creates helpful and instructional videos for those who do want to attempt to do their hair at home.
Also, he talks in detail about how to correctly bleach your hair, which products to use, how to get the best results when using a hair toner, and also how to trim your hair the safest way without completely ruining your hair.
Save yourself some heartache by watching some of his videos and choosing the right products for your hair!
The Fourth of the Beauty Tips – Keep an eye on what you're eating.
What you put into your body will have a significant impact on the appearance of your skin, hair, nails, and even your teeth.
When possible, consume a healthy, balanced diet instead of junk food, since this will have an impact on your physical beauty (and your health).
Get rid of fatty meals in order to improve both your physical appearance and your overall well-being by eating more healthy food.
If you struggle to eat healthy foods, or don't know how to incorporate them into your diet, using a service like Ocado might help you pack more into your diet.
You can also watch videos from SORTEDfood who regularly talk about how to pack more into your diet to make it tasty and nutritious.
The Last of the Beauty Tips – Practice on Putting on Makeup.
Unless you're ready to employ a professional makeup artist on a regular basis, the best approach to refine your appearance is to practise and experiment with fresh styles.
There are a plethora of make-up videos available on the internet, and sometimes it is as simple as sitting down and spending the time to research the simplest and most effective procedures that will pay off in the long run.
If you follow these easy steps, you will be able to impress everybody with your new and enhanced appearance this year!
Were you encouraged by what you read?
Then, would you share this article with a friend, co-worker, or family member?
Or, maybe you can send it to a friend or family member?
This blog occasionally uses affiliate links and may contain affiliate links. Additionally, Melanie Redd is a participant in the Amazon Services LLC Associates Program. This is an affiliate advertising program designed to provide a means for sites to earn advertising fees. These are earned by advertising and linking to amazon.com. Also, for more on my disclosure policy, click HERE.
© Melanie Redd and Hope Ministry, 2022. Unauthorized use and/or duplication of this material without express and written permission from this blog's author and/or owner is strictly prohibited. Further, excerpts and links may be used, provided that full and clear credit is given to Melanie Redd and Hope Ministry, LLC. Please give appropriate and specific directions to the original content.