The Intentional Giver Gift Guide - Lisa E Betz
Want to reclaim this holiday season by aligning your Christmas giving with your values instead of following the materialistic trends? So do I. That's why I've come up with the Quietly Unconventional Intentional Giver Gift Guide.
Let's be honest. We don't need more random stuff—even if it comes in a cute snowman gift bag or sings Silent Night in three languages. What do we need more of? Gifts that:
Build relationships by encouraging time spent together
Encourage exploration and new experiences
Enable a healthier and more satisfying lifestyle
Communicate love by encouraging someone's interests
This gift guide will help you find gifts that accomplish one or more of those goals, so read on to be inspired to become a more intentional gift giver this year.
Custom Consumables
Consumable gifts are anything that is, well …consumed. As in food or drink, but also hobby supplies (paint, yarn), charcoal and wood ships, birdseed, and other items that get used up.
Consumables are a great intentional gift idea for a variety people on your list. They're great for minimalists who don't want more stuff cluttering up their spaces. Consumables also work well for those on your list who already have everything they need. And finally, they're a fun gift for anyone who's a big aficionado of the substance in question. (Dark chocolate, anyone?)
Here's where you get creative and intentional. Instead of simply ordering a typical gift basket, you can compile a one-of-a-kind basket with items tailor-made for your recipient's interests. For example, combine specialized food items with appropriate extras such as fancy napkins and matching plates. Or stock a basket with a few favorite recipes plus the key ingredients to make them.
DIY gifts
If you are a crafty or creative person, handmade items can be a perfect intentional gift choice. This category goes way beyond hand-knitted sweaters and decorative knick-knacks. In addition to creating physical items, you could offer your creative talents or simply your companionship as a gift. Here are some ideas, many of which can be presented in the form of a gift certificate or coupon:
Offer your services for a specific task. (stacking firewood, lawn maintenance, redecorating a room, cooking a meal,… The sky's the limit here.)
A promise to take the recipient on an outing. (Hint: schedule the date right away so you actually accomplish this.)
A promise to go shopping with them and help them spend $X.
Create a poem, story, or song or video just for them.
Make a one-of-a-kind story book by creating a photo album with added text that tells about a fun family event or favorite family story.
Hobby Upgrade
Is your loved one using old, worn, or beginner-level equipment for a favorite pastime? Would they benefit from receiving an upgrade on something? For instance, if your child has an intro-level instrument, is he at the stage where a higher quality model would help him develop his skills and enhance his enjoyment?
Another Example: I love to cook and bake. Over the last five years I have been systematically requesting upgraded versions of my old pots, skillets, and bakeware. I use this equipment all the time and it's been a joy to cook with my high-quality pots and muffin tins instead of putting up with wobbly handles, warped cookie trays, and thin skillets that burn too easily.
What pastimes do your loved ones have that could benefit from an equipment upgrade? Besides music and cooking, consider sports, art, hobbies, and home office.
Creative gift card / gift certificate ideas
Gift cards make great intentional gifts. They're easy to mail, they cover pretty much any interest your loved one might have, and they offer the recipient flexibility. No returns necessary because you purchased the wrong color, size, or brand.
Obviously, a thoughtful gift-giver will take the time to purchase a gift card that is unusual and specific. Here are a few ideas:
Gift cards to a local restaurant or coffee shop the recipient enjoys
Specialty store gift cards—hobby supplies, sporting equipment, etc.
A gift certificate to a local theater or concert venue.
Sessions of an activity—yoga, exercise, massage, mani-pedi, etc.
A DIY date: gift cards for a meal plus a movie or other fun activity
A certificate for a fun activity they'd love but would never buy themselves. Ideas include balloon rides, escape rooms, cooking classes, and axe throwing.
Books, eBooks, audiobooks
I admit it, books are one of my favorite things. They also make good gifts. They are small, sturdy, non-perishable and easy to mail. (Plus eBooks and eAudiobooks can be sent virtually.)
What kind of books? Think outside the bestseller fiction mindset and consider who might enjoy a book this Christmas. Here are some options:
Children's books. Don't discount the benefits of reading to children. (There's a significant impact, trust me.) Are there toddlers or children on your list who will enjoy a fun book. (Oh, and did I mention it's a ton of fun to browse the kids lit section?)
Coffee table books. Do you know someone who is really into a certain topic or really loves a certain location? If so, an illustrated book on that subject might be meaningful.
The most meaningful book you read this year. Is there someone on your list that will appreciate it as much as you did? (This does not mean giving you-ought-to-read-this-because-I-think-it will-fix-your-problems books. Nobody appreciates that.)
A photo album. Create your own book of special memories to share with a loved one. There are plenty of online options that make it easy to create photo albums.
And finally… If you know someone who enjoys mysteries, historical fiction, or books with a slightly snarky female lead and a sneaky black cat, give them one of my award-winning Livia Aemilia Mystery novels.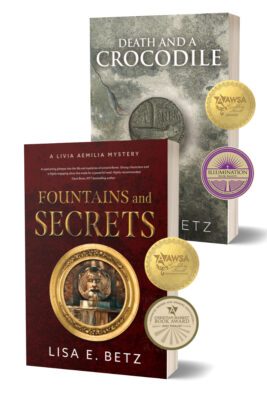 "A captivating glimpse into life and mysteries of ancient Rome. Strong characters and a highly engaging story-line make for a powerful read. Highly recommended. "
Davis Bunn, NYT Bestselling author
Find them on Amazon.com or or your favorite book retailer.