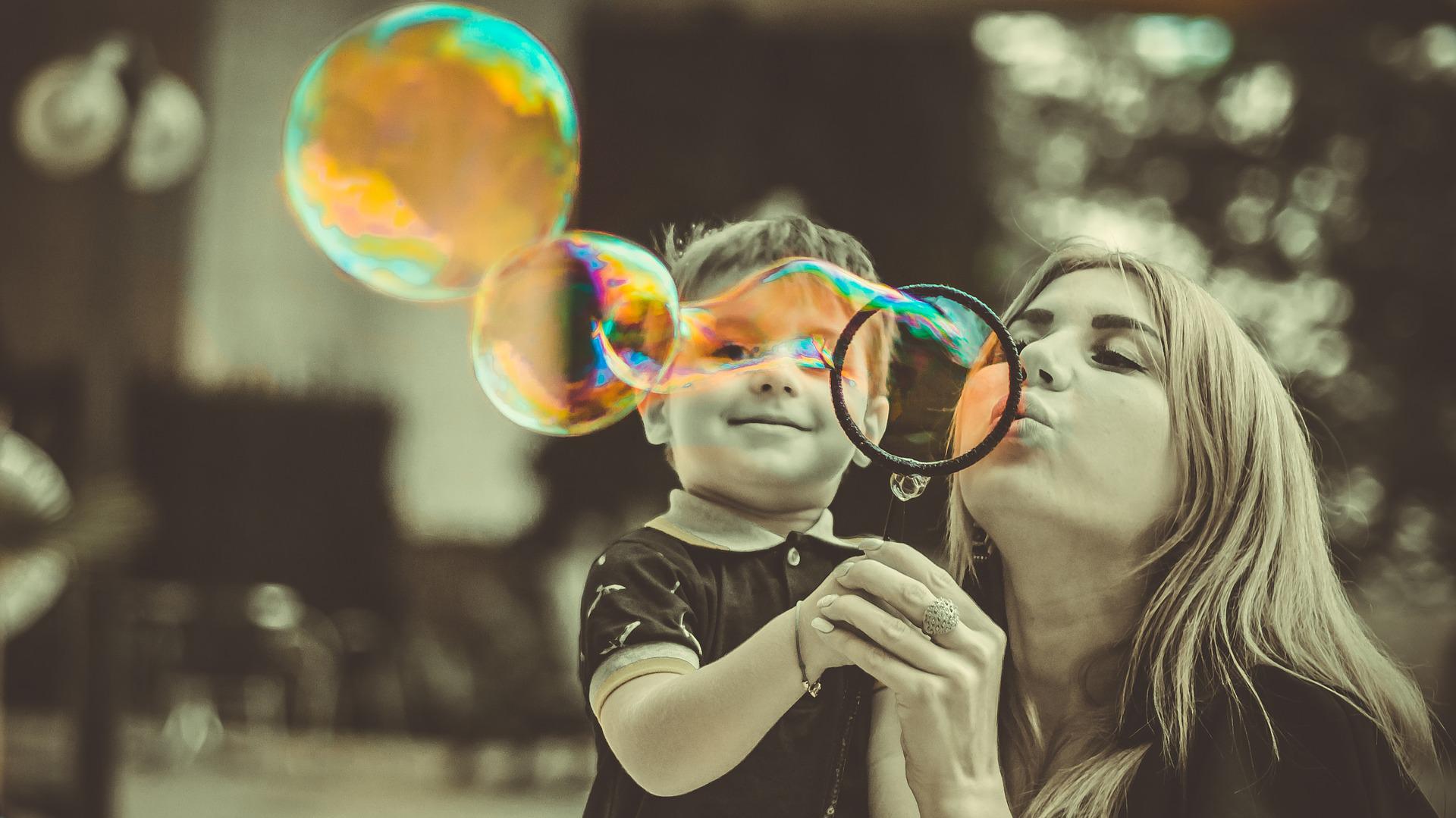 It's that time of year again! While we should celebrate her each and every day of the year, Mother's Day is a golden opportunity to let moms know just how much they are loved and appreciated.
However, Mother's Day isn't always pleasant and sweet for some. Perhaps the relationship between mother and child has become strained and downright unbearable. Years have passed without any sort of meaningful communication. Or, maybe your mother has passed from this earth making this special day a time of mourning and grief instead.
Whatever the case may be, Mother's Day can often be a day filled with mixed emotions.
In their latest devotional gift book, I Love You Mom! Cherished Word Gifts from My Heart to Yours, mother-daughter writing team Blythe Daniel and Dr. Helen McIntosh offer practical ways for celebrating her. But they also share a fresh perspective for honoring mom even when the relationship is hard.
Designed for mothers and grandmothers, the book eloquently captures inspirational thoughts and affirmations of love to let her know how much you appreciate all that she is and does.
Please visit Crossmap's special Mother Day Section!
I recently sat down with Daniel and Dr. McIntosh to discuss effective ways to thank your mother, showing her love even when you don't get along, and a few tips on how mothers can model joy for their children.
Beyond the fact that you are mother and daughter, why the decision to collaborate together on not only a book, but one that is likely highly personal in nature?
Blythe Daniel: We started asking each other, what can we give moms that they don't really have already? And we thought that word gifts, word affirmations, or things that moms appreciate being told, you're doing a good job. I see this quality in you. That really was the idea for this book. The goal for I Love You Mom! was to write 25 word gifts or affirmations for mom to just help the person. The goal for the book is to be able to give something tangible that shows mom, you're important, you matter. The job that you're doing has value. If you were to think about a Hallmark gift card, we've got 25 of those inside this book, because each devotional is like receiving a greeting card.
Helen McIntosh: Well, it's no secret that fatherhood and motherhood are being so assailed. I tell you the roles are just really under attack. And I talked to someone today who was so discouraged as a mother. Discouragement abounds and this book really will encourage many, many moms. That's so important because that's really the whole idea. We are God's design and that's really important.
This is a book for any mom to read and that a child or an adult can give to a mom or a grandmother. Why did you want to create not just a book, but a gift book for moms?
Blythe Daniel: Part of what we covered in our first book, Mending: Restoring the Hearts of Mothers and Daughters, was how to help mothers and daughters communicate better. And so, we really wanted to come up with a way for a daughter or a son to give a tangible expression of their love. We love Hallmark cards and sometimes you don't even find the right card to express everything that you would want to share with your mom, with your mother-in-law, or with a grandmother. And so, what better way than to use God's words for mom? Sometimes our own words are lacking but God's words in Scripture are very clear about how we're to honor our mom. There are attributes that would apply to our relationship with a mom. And so, every devotional starts with a title. Then it will go into a scripture verse and then a story. We felt like it would be special for this to be somewhat lighthearted, stories that would take you back as a child remembering your mom, or maybe it's currently your experience as a mom. We share some funny stories and/or biblical stories, and then end the devotion with the word gift, like you are joy, you are faithful. It just felt important to put a seal on what we were saying, coming from God's words to the mom, through us.
We're just a few days away from Mother's Day. What are some effective ways to thank your mother for all that she does for you in your life?
Dr. Helen McIntosh: Hand her this book. (laughs)
Good answer! (laughs)
Blythe Daniel: For younger kids, we've encouraged them to draw a picture and have something on it in their own words of how they appreciate their mom. Maybe it's that she cooks breakfast, that she is beautiful, or that they are able to put something in their own words. What they love about their mom and make that a big deal in giving that to her. Don't feel like you have to go out and buy a store bought card, or produce a big production on Mother's Day. That feels a little bit like a production that is fake, like we have to do this. But really just these words that we can hang onto for a lifetime that kids can do. Sometimes I ask my teenage kids to do something as well, like a card, some way that I can go back and look at their words as they get older. These things mean a lot. We've had some creative projects. Could you help your child make a magnet for the refrigerator, or create something that you can print out and hang in your office that will just show that they love you and that they notice who you are and the colors that you like. It just means a lot for a mom to be noticed and to be known for who she is and what she loves.
Dr. Helen McIntosh: Part of my story is that my mom gave me hurtful words. That is I have for decades come to treasure God's ways. Our culture is so dark and so full of violent words. That is another reason Blythe and I have treasured for much of our adult relationship, words that give life.
I'm glad you said that because let's say the relationship with your mom isn't so good. Could you discuss how to honor mom even when the relationship is hard?
Dr. Helen McIntosh: There are so many places in Scripture where it says choose joy or choose to show love. And that's what I did for many years. I thought to myself, this is not being fake. It's a choice. In other words, it wasn't counterfeit at all. I chose to love her. And actually, when I would forget the agony of the words that she had just given me and chose to hug her, hold her, or give her cards. I even made her some, "I Love You Mom" earrings at one point. She treasured those and was able to restore that love between us. So many of the people that are giving angry words and cannot love as they were intended to are just in deep pain. They need words of affirmation. Part of their cure is to hear words of love. We see in the Resurrection where death turned into life. I believe the intention of our heart is to bear that fruit. So, in the relationship between my mother and I was to choose the best times that we had. In other words, I chose to hold and hug her in spite of the pain that she had caused.
How can mothers leave a legacy of love? As we've been discussing, maybe your mother didn't leave you such a good legacy. How can a mom change that for her own children?
Blythe Daniel: The generation like my mother's generation did a lot of letter writing and I think some of that still happens, but the key is to be able to express words to someone that's hurt you. Maybe it's starting this Mother's Day by saying, I know we don't have the best relationship, but I would like to see it bloom and grow. And here's how I feel like I can help in that. What do you see that I could do that would make things better? I think just initiating with each other and leaving a legacy of love (is highly important).
I also think part of it is words, or actual word gifts. Maybe it's a card, maybe it is this book where you go to the beginning and you share your heart. There's a couple of pages in the beginning (of the book) where you can write a note to mom. That could be a great legacy builder because sometimes even just starting the conversation is the best way to go. You don't have to go back and try to fix everything that's happened. But just start with, 'I care about you. I love you. Even though we've been distant, I still care about you.' It's just letting that be the first piece of it. And I think teaching kids how to express their words is really important. In talking about kids and video games, so many kids want to focus on what's right in front of them. And they don't think about some of the things that we were taught. For example, how do you speak to an adult? How do you honor someone? And so, helping our kids understand that this is really a God-given assignment of affirming, loving and respecting by words, but also just writing notes and cards and finding some of that lost art of the written word. We can restore that.
After people have read, I Love You Mom!, what would you like your readers to take away from the experience? What's your greatest hope for the book?
Dr. Helen McIntosh: I think my greatest hope is that it would set a new pattern, that if perhaps speaking words of love have not happened recently that they could begin again. There's so much in Isaiah and other places about rebuilding the ruins and it's just a powerful way to begin to start over. I think it would be wonderful if they could realize that they're reading words of life and begin to give that to one another more.
Blythe Daniel: I feel like if moms could walk away feeling very affirmed in who they are as a daughter of God that I would have fulfilled my goal in writing it. We do have scriptures throughout so that (the reader) would see themselves as someone who's dearly loved by God. And He gives them the power to love and nurture their children. It's not up to our strength.
We try to do a lot in our own strength but that's exasperating. But I also think that as I'm watching my four-year-old daughter and her friends, I see a lack of mothering in some girls' lives. It affects my daughter's friends and it affects the next generation. So, for moms to see how God created them to parent, and that they could take an active role in parenting that next generation, it will create a knowledge of how they are seen and loved. I think it affects not only their kids, but my kids as well. I think there's a generation of motherless children. These kids are growing up on their own, trying to figure life out. And if the moms could know how valuable they are and what their role is, and could step in and help, I think it's that important. It really is important for all of us to have a healthy respect for moms and to help bridge those places where it's lacking.
To Purchase I Love You Mom! Cherished Word Gifts from My Heart to Yours: