'His Only Son' an Old Testament Movie with a Vital Modern Day Message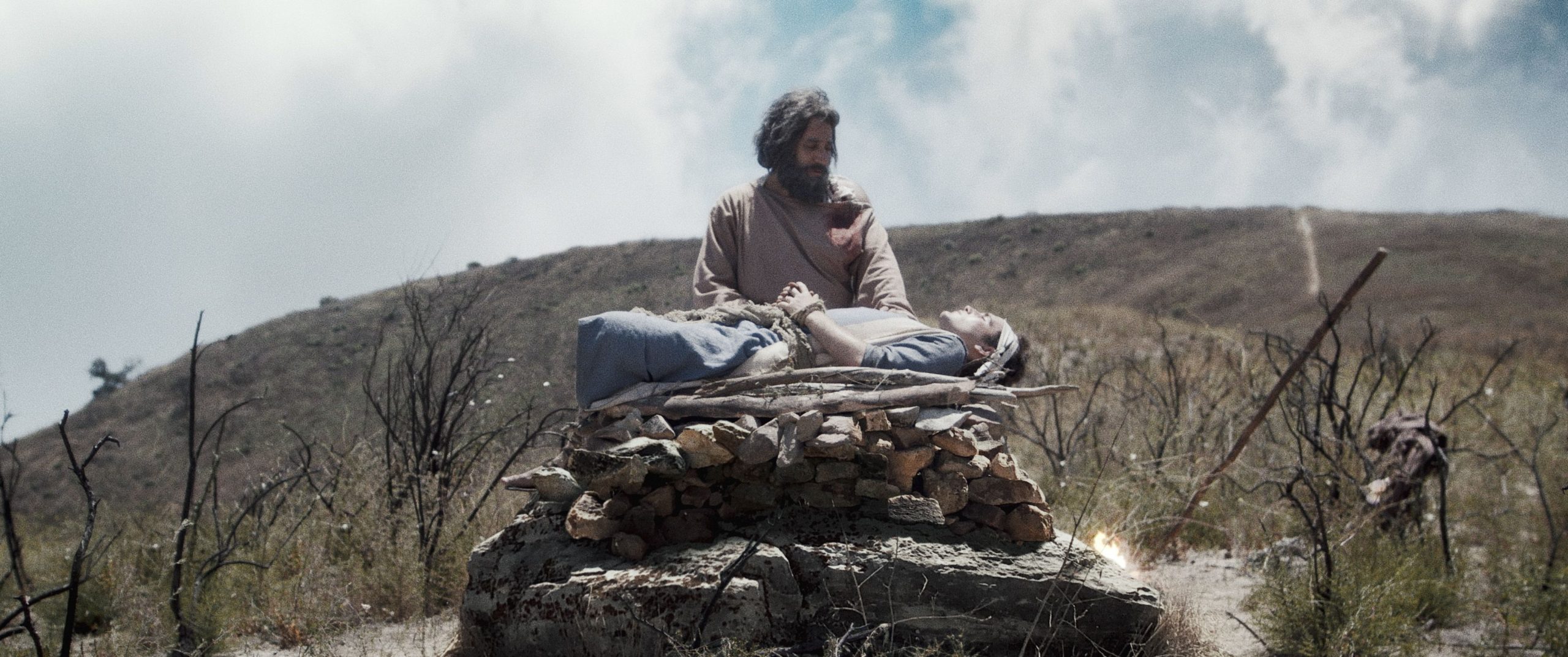 The genesis for the new Angel Studios movie release, His Only Son actually began in a dreary, dim cave in Iraq about 20 years ago.
David Helling, a young Marine sent to fight in the Iraq War, found himself contemplating life and his place in it, like so many young soldiers facing the uncertainties of war. It was in these moments, that God got a hold of Helling, showing him the depth of his own sin, and convinced him to read the Bible.
It was in these moments that God showed him the beauty of His love for mankind through the Old Testament. Helling discovered that these were real people with real struggles just like him. During this time, he felt that God was leading him to bring these powerful accounts to other people so they could see the truth of His Word. He could do this through writing and directing movies.
Following his military discharge, Helling has made it his life's endeavor to bring these Biblical accounts to the big screen through short films.
His Only Son, the story of Abraham and his son Isaac, is Helling's first full length feature film with Angel Studios. It opens nationally on roughly 2,000 movie screens this weekend, just in time for Easter.
I recently sat down with Helling and actor Nicolas Mouawad, who plays Abraham, to discuss the many valuable life lessons to be learned from this Old Testament prophet and why right now is the right time for His Only Son to be released to general audiences.
This may seem like a dumb question but why is an Old Testament themed movie being released during Easter season? On the surface, it seems a bit counter productive.
David Helling: You can see in the name, His Only Son, that those three words resonate so much with us, especially in this Easter season. When you understand and you look at all of Scripture from our perspective, we inevitably have to look through the Cross to get to and through the life of Christ to get to the Old Testament. And Christ even attests that all of it was pointing to Him. All of it was speaking of Him, and He fulfills all of it. So any Old Testament account that is told properly will point people to Christ because that's what it was doing from the very beginning.
Nicolas, I'm sure a fair amount of scripts come your way for you to consider various roles to be considered for or audition. What was it about His Only Son that attracted you to your role as Abraham?
Nicolas Mouawad: To be honest, it was the audition scene I submitted. It's a scene in which Abraham speaks to the Lord. I don't want to give anything away about the movie, but it's kind of like this very intimate and personal conversation that Abraham had with God telling him about his struggles and what he was feeling. And I felt that this character is so well written as a human being. I really love this because sometimes you watch Biblical movies and you feel like you're watching something, but I cannot relate to any of the characters. You feel you can't feel anything while watching. But when I read this scene, it made me tearful. It was just me reading the scene. So, I got super excited to audition, and when I read the movie, I found out that it all looks like that scene. It looks so human. So, as an actor, I like beautiful material to work with. And at the same time as a believer, I felt that it's a beautiful opportunity or a blessing that I could be part of this.
This is a movie that highlights the life of Abraham and his son Isaac. What is it about Abraham that is in all of us? How can we relate to him and what he represented through Scripture?
Nicolas Mouawad: I think it's this weighing God even when we don't want to. It's about trusting God even when things don't seem to work. It's being patient at first and knowing that it's all in God's hands, not in ours. And then it's about the fact of putting God first. Everyone would know how hard it would be for someone to sacrifice his own son, but what Abraham did was put God first. And I think that is something we should all learn. And no matter how hard this might be on all of us, it's just like He set the bar so high. But it's just beautiful to look at this man's faith and try to learn as much as we can from it.
I think Abraham's story is quite indicative of the fact there is a plan, and there is a purpose for everything that happens in all our lives. Could you comment on that a bit?
David Helling: We can be confident in that. In Abraham's life, the Lord definitely had a purpose in him, in taking this man out of paganism, setting him in a new land, promising him a nation. And we know God promised him that through his seed, that all the nations of the earth would be blessed. And then later on in Abraham's life, God said through Isaac, all the nations of the earth would be blessed. Through Isaac would be the seed through whom all the nations of the earth would be blessed. And so Abraham, in this dark trial, in this dark walk, in this hard road of obedience, that's all he had to hang onto was the truth of God's Word. And so for us, we're no different than Abraham in that aspect. We have to go through this day by day struggle to obey.
Because when we're in Christ and He indwells in us by His Holy Spirit, He dwells us with His spirit. From that moment on, we are now redeemed, but we're in this body of flesh that wars against our redeemed nature. In those dark trials, we have to hold onto the promises of God and to know, like it says in Romans 8:28, that He's working all things together for good to those who love him. And those are called according to His purpose. So even when things are hard, even when we don't understand it, even when we don't want to obey and we don't feel the nearness of the Lord, we still can walk forward with confidence in obedience, knowing that the Lord is doing something in it all, that He has a purpose. He's writing that purpose just like he did with the patriarchs and with Abraham. He's writing that purpose for his own plan of redemption for mankind.
What did you personally learn about your faith while working on this film?
Nicolas Mouawad: I learned to be as much as I can like Abraham in terms of being obedient and having patience because I'm someone who doesn't have a lot of patience in my life. I'm not a patient person at all. I want everything now on the spot. So saying how patient Abraham was, you couldn't, but take this from this character because always as an actor you learn from the characters you play. Sometimes you learn what to do or what to be. But with Abraham, you can only learn good things about yourself. And for me, first it's about being obedient and the second is to always have patience.
David Helling: Just waiting on the Lord in that it's all according to God's timing. And you may not know that when you obey today, you may not see the fruit of that obedience. Ultimately, when we're in Christ, at the point of our death, we will be glorified. We'll be like Him. We'll be in heaven with Him. And none of this is going to matter, but the obedience of our testimony will echo on into the lives of those around us, and into our children if the Lord gives us children. Never will we know all that the Lord is doing and the blessings that He's bringing from that life of obedience. So, to remember that is important as I've waited. This film has been a five and a half year endeavor.
As you mentioned, this movie has been five and a half years in the making. With that said, why is right now the right time for His Only Son to be released to the general public?
David Helling: It could not be more perfect of a time, at least from what I can see. You have this dark period of time that we've been in around the world due to all the COVID stuff going on. And for all these years everyone got sheltered, everyone got faced with death, sickness, depression, and fear. And now, there's this glimmer of hope that is rising up. Here in America, you had The Chosen season three finale in theaters. You've got Jesus Revolution being released. You've got all these revivals happening at colleges around the country. And It's caused the secular media to have Christ on their lips and in their minds more than we have experienced in years and years and years. So, I don't know what the Lord's doing now, but I know that it's good.
Nicolas Mouawad: My viewpoint is the same as David's. It's like the timing is always in God's hand. And this is actually what the movie teaches us. So, I'm sure it's coming now for a reason or for the plan that God had for it.
After audiences have seen His Only Son, what would you like to see people get out of the viewing experience? What is your greatest hope for the film?
David Helling: One, I want people to see what the Lord was doing in the life of Abraham. I want people to see what it was pointing to. That's why it's perfect to come out during the Easter season. The Lord had a purpose in Abraham's trial and the testing of his faith. And two, I want them to be able to see that the Lord had a purpose in Abraham's trial. We can know because we see that in Scripture that He's got a purpose in our own trials. He disciplines those whom He loves, and it's for the peaceable fruit of righteousness as we read in Hebrews 12. And so we can walk with confidence when we're reminded of Abraham's struggles. We can go with confidence in our own struggles knowing that the Lord is doing something in it, and we can know that it's good when we're in Christ.
Nicolas Mouawad: For me, I want people to see that no matter how high or holy Abraham is, he's a human being and he's a beautiful role model to everyone because it's beautiful for people to see. I think it was always in the back of my mind while acting in the movie. I want people to feel how real he is. Because if you don't feel how real those people are, you will never be able to relate to them or to even want to follow their example. I just want everyone who watches the movie to feel that they are so close to Abraham. We can be like Abraham and work to earn God's love, favor, and blessing.
WATCH A TRAILER FOR HIS ONLY SON: