Museum of the Bible Brings Innovative Version of C.S. Lewis' 'The Horse and His Boy' to Washington, D.C. Stage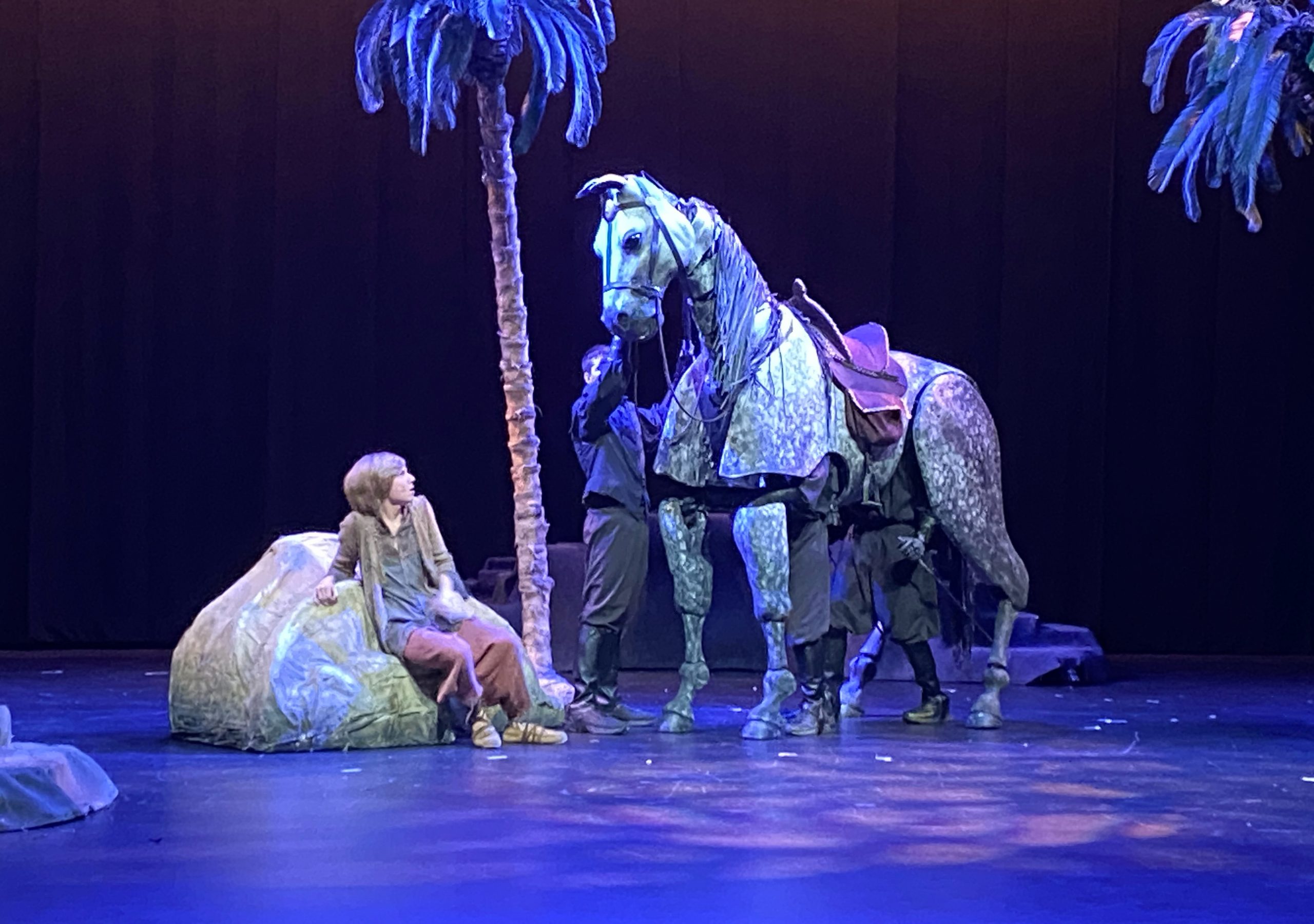 WASHINGTON, D.C. – Without stage performances in its World Stage Theater venue in nearly three years, live theater returns to the Museum of the Bible this weekend with the opening of C.S. Lewis' The Horse and His Boy. The classic story will be presented by the South Carolina based Logos Theater Company and will feature magnificent puppetry, world-class sets and costumes, and a message that is just as relevant today as it was during the days of Narnia.
"Nearly three years after the pandemic first shattered performance venues across Washington, D.C., the Museum of the Bible is thrilled to be bringing live theater back," said Charlotte Clay, the Museum of the Bible's Director of Marketing in a recent statement.
Set to run for the next 43 days through March 4th, The Horse and His Boy will feature 47 performances in the 472 seat World Stage Theater, a venue that has previously featured such theatrical productions as Amazing Grace.
The Horse and His Boy is C.S. Lewis's fifth book in the Chronicles of Narnia series and follows Shasta, a boy from Narnia who is raised in a different land by a fisherman. Upon discovering that his adopted father will sell him into slavery to a wealthy, uncaring man, Shasta strikes up a conversation with the wealthy man's talking horse. The pair decides to escape from their cruel masters and run away to Narnia, a land promising new life and freedom. Along the way, they encounter Aravis, a young aristocrat who is fleeing her wealthy family because she has been betrothed to an old man she does not love. Together, they plan to reach Narnia.
The Horse and His Boy, like other Narnia classic stories The Lion, the Witch, and the Wardrobe and Prince Caspian, demonstrates that God is with you in every circumstance, no matter how bleak it might seem.
"His (C.S. Lewis) hope was through these books, people would learn of Christ better in their world," explains Nicole Stratton, artistic director for the production. "This story just beautifully shows you that our Lord and Savior, Jesus Christ, is with you every step of your life. No matter if you're going through something beautiful or something very tragic, there is purpose in it. There's meaning in it. There's hope in it. Do not give up hope. Keep going forward and knowing that your life matters, that you matter to an almighty God. What's more hopeful than that?"
Stratton brings a production to our nation's capital that once included 75 members for its original theatrical run in South Carolina. But due to the obvious need to keep that stage company to the south running and prosperous, the cast and crew was winnowed down to 45, thus creating a leaner and tighter production.
"We had to be strategic, " Stratton shared at a recent preview event for the media. "Some of us are playing three or four roles to try to make sure everything's covered. We had to keep as many people as we did because of so many transitions. And the scene changes are so intricate, you have to have the people to be able to do them."
One of those people is young Brinton Stratton, who plays the lead role of Shasta. If the last name seems familiar to you, that is because the 13-year-old veteran actor is Nicole Stratton's son. Since making his first on-stage performance at nine days old, Brinton has spent his entire life in and around the theater. Despite having such a wealth of experience doesn't mean this role doesn't come with a certain amount of pressure.
"I've been in a lot of the plays at the Logos Theater (in South Carolina)," Brinton says. "There's not really much pressure when you're little. I didn't really feel any pressure when I was younger, but when you get the main role, there's a lot of pressure on you. Especially when someone's done it before and you see how they did it. And if they did it well, then you feel, oh, I have to do it as well as them and I have to live up to their performance. I must match the bar that they've set. But I really enjoy acting."
Joining Brinton at the forefront of The Horse and His Boy is 15-year-old actress Liliana Groth, who portrays Aravis. While not as completely immersed in theater as her co-star, Groth has been acting since the age of 10 and is anticipating a lifetime of memories to be forged over the next two months.
"I fell in love with the whole acting experience … the costumes, the lights, and especially the way that it really hit me hard on how the theater is so God-centered and how everyone is very humble and a family there," the exuberant Groth shares. "I felt like this is where I belonged and I really was super excited to be able to join this cast and this crew. The cast is just phenomenal. Acting off of Brinton is super fun. It's something that I am very grateful for."
While magnificent acting is certainly one of the keystones of a great theatrical play, perhaps the greatest hallmark of The Horse and His Boy is its life-sized puppets. Featuring two horses and a fine representation of Aslan the lion, each puppet is controlled by three individuals who operate them with such fluidity and ease that if you were to view these beasts from afar you would actually think they were flesh and blood animals. The puppets are made of fiberglass, aluminum, foam composites, and even 3D printing technology is used in their construction.
Puppet master Justin Swain told Crossmap.com that designing, constructing, and actually performing in these puppets is not only a labor of love but brings a sense of wonder to audiences who see this production of The Horse and His Boy.
"Every time we've brought a puppet out to a public venue or in a production, you just see even the most skeptical of people suddenly just start leaning towards the edge of their seat. They're just drawn in by them. It's such a powerful medium. So many people are seeing CGI animals in the movies, but these are real tangible. You can see them, they're there, they can emote with you as an audience. These puppets are such an integral part of this story, there's no way you could skip the characters. And having them as puppets just really takes it to the next level."
"The puppets are something that you just have to see in person, " adds Nicole Stratton. "You cannot explain really what they're like until you come and see them and say, this story is not only going to be so entertaining and the puppetry is going to be so magnificent. It is going to be meaningful and impactful to you personally in an intimate way."
Paramount to the success of this production of The Horse and His Boy being performed at the Museum of the Bible, was getting the approval and support of Douglas Gresham, the 77-year-old stepson of C.S. Lewis. Of all the Narnia stories this one might be the most near and dear to Gresham's heart for the novel was dedicated to him and his brother when they were young children. That's why it was with great trepidation that Nicole Stratton approached him about slightly altering the script to make the performance flow more smoothly.
"He was very easy to work with and he's such a good artist himself that he saw what the show was going to be, even though he was reading it on paper. He was so gracious about it. He actually said, 'I've done a lot of theater and this is good.' He was excited about it and he said, 'You know, these things can work and I would like to see how they would work on stage.'
Featuring daily performances from now through March 4th, the Museum of the Bible is not only excited about launching The Horse and His Boy to audiences this winter, but is optimistic for the future of live theater at the Washington, D.C. venue.
In his remarks to the media at a recent press event for the play, Museum of the Bible Chief Revenue Officer Garrett Hinton told reporters, "This will not be a one-off. We want 12 months of constant entertainment in this theater."
Tickets to The Horse and His Boy are available now and include four American Sign Language performances on January 25-26 and February 15-16. For more information please visit the Museum of the Bible's website.
Watch a Trailer for The Horse and His Boy Being Performed at The Museum of the Bible now through March 4th: