I was just finishing up a different blog when Carol Hardin called and reminded us that today, October 8, is the 15th anniversary of Jerry's death.
Jerry and I were best friends in grade school and high school. I wrote about him in my book In Light of Eternity. I gave him a whole chapter.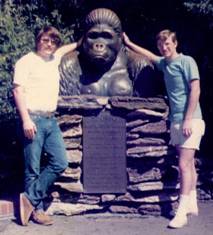 Here are Jerry and I in our early twenties. I'm the one who looks much more like the individual in the middle. Jerry is the one who looks civilized. I looked like a pot head, but instead of smoking dope I read the Bible. Jerry and I used to have a blast together. Different personalities, but we loved each other.
Today Nanci pulled out a few old pictures of Jer, and then Carol kindly dropped some others by. I scanned a couple of them below. As you can see the common theme is my long hair and sideburns. But note that I was starting to pull Jerry away from his clean cut look by the time we were in Bill Moon's wedding in 1974.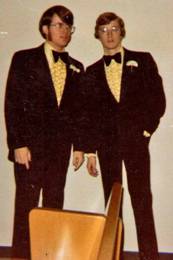 Today is also the 26th anniversary of the home-going (home-coming when viewed from the other side) of Lucille Vivian Alcorn, my mother. I'll save Mom for another blog. But hardly a day goes by where I don't think of her, and thank God for her. Mom fixed up a lot of snacks for Jerry and me. He loved Mom, too. You couldn't help but love her. I'm sure the two of them have spent some rich time together in God's place.
Okay, here's an excerpt from the beginning of chapter eleven of In Light of Eternity:
In 1965, as sixth graders, Jerry and I became best friends. We spent our "wonder years" together. Side by side we patrolled our turf, a few rural Oregon miles of rolling hills, open fields, and sporadic houses. Today, more than thirty years later [still true in 2007, forty years later], I ride my bike over the same ground. Every corner, every driveway, every house and field triggers memories of a time in my life inseparable from Jerry.

Out in those fields, hidden from the rest of the world, he and I engaged enemy soldiers, hunted wild animals, dug up treasures, and encountered aliens. Sometimes I still walk around our little grade school where we spent so much time shooting baskets, throwing footballs, playing catch, and riding our bikes. Then on Friday nights we got civilized, spiffied up and went to junior high parties together, reeking of Jade East and Brut, intended to make us irresistible to the girls. (They never fell under our spell.)

Every summer we'd go together to the County Fair, proving our emerging manhood by proudly enduring all the scariest rides. We'd eat corn dogs and cotton candy till we were sick. We threw dimes and won goldfish and carnival glass and stuffed animals, first for our moms, then our girlfriends. One summer, imagining we were cool (trust me, it required a lot of imagination), we wore those stupid Nehru shirts with the high collars, the ones that were in fashion maybe two weeks.

Most Saturdays we went to the Hood Theater, watching matinees now relegated to the oldies section in video stores. Some of the titles still make me think of the guy who shared those giant tubs of popcorn with me as we watched and snickered and exchanged inane comments. I've taken my own teenagers to that same theater, virtually unchanged. The same Ju-ju-bees and Good-and-Plenty Jerry and I dropped are still stuck to the floor right where we left them. Certain seats in the balcony still trigger the time warp that takes me back to those years so closely linked to Jerry.

Favorite places. Unforgettable adventures. On display in my mind is an endless collage of games, journeys, field trips, concerts, awards assemblies, and countless little vignettes containing Jerry. Like the eighth grade musical where Jerry had the lead and I shared the final scene with him. At the climactic moment he ran to the big heavy hanging microphone where he was to burst into song. But he'd miscalculated and couldn't stop in time. He smashed his head on the mike, causing it to swing back and forth like Tarzan's grape vine. All the horrified parents and family in the audience didn't deter me from laughing nonstop for twenty minutes. Memorable mishaps like that, accumulated over the years of childhood and adolescence, are the bricks and mortar of a unique sort of friendship, the kind those who first meet as adults can't know. Best friends aren't always your oldest ones, but there can never be any friends like early ones.

I remember Jerry and I picking (and throwing) berries at dawn on summer mornings, then spending our afternoons swimming and listening to the Beach Boys and Simon and Garfunkel, switching channels on our squawky eight-transistor radios and reading comic books starring Superman and Batman, who epitomized male strength and heroism. We'd talk about cute girls and adventures and exploits, and what we'd do when we grew up. We'd haul out our sleeping bags and camp out under the stars in my back yard, with Champ, my golden retriever. We'd look through my telescope at Jupiter's moons and Saturn's rings and the great galaxy of Andromeda and wonder what life was all about. (In those days we didn't know.)
Well, the story goes on. You're welcome to go to our website and read the rest if you want to.
Two months before he died, elders from Good Shepherd Church and a few others, including my friend Larry Gadbaugh, Jerry's brother-in-law, came to Carol and Jerry's house and anointed him with oil and prayed God would heal him. It was a powerful time. Jerry said, "I'm not afraid to die. If God does not choose to heal me, I'll be happy to go be with Jesus in Heaven."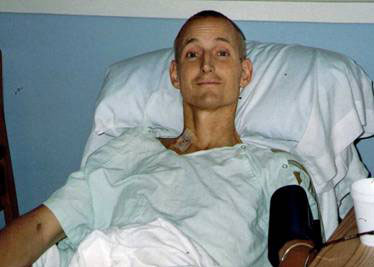 This picture is of Jerry, two weeks before Heaven, cancer working him over, yet God sustaining him. On October 8, 1992, I had the unforgettable privilege of being with my friend when he left this world. It's as vivid to me now as it was fifteen years ago. I will never forget that day, and those final amazing moments. (It's in the story linked to above.)
Jerry loved Jesus. And he loved Carol, his wife, Bryan his son, and Natalie his daughter. He left behind a huge space.
Earlier tonight I called my daughters Karina and Angela, and told them it was the 15th anniversary of Jerry's death, and the 26th anniversary of their grandmother's death. I told them I knew she was proud of them, and that I am too. I told them I loved them. And that we never know when we'll see each other on this present earth for the last time, but it's so great to know we'll be together in a far better world, eventually on the New Earth. I had two great conversations with my daughters. I didn't plan on it, but I cried with both of them, and they cried too. Good tears.
Nanci's my closest friend, and she and I expressed our love for each other tonight. Then I called and left a message for Steve Keels, my best buddy in my adult years. It's good to stay current with the people you love. If I died right now, I'd have no regrets.
So call your family and close friends. Or drop by. Or send them an email. Tell them you love them.
Or, if they've gone to the party ahead of you, ask Jesus to give them a hug from you. Ask Him to tell them you're looking forward to the great reunion…thanks to Him and what He did for us.
If you do, I bet He'll greet them for you. It would be just like Him.
Where, O death, is your victory? Where, O death, is your sting?
By Randy Alcorn, Eternal Perspective Ministries, www.epm.org. Used with permission.