Christian couple tackle 'demonic push' against biblical definition of gender in new children's book
To fight back against what they see as a "demonic" attack on the biblical definition of gender and sexuality, a Christian couple has written a book teaching young girls to embrace and celebrate their God-given identity as females.
She is She, written by husband-and-wife duo Ryan and Bethany Bomberger, uses rhymes and colorful illustrations to "counter the lies of gender spectrum politics and illuminate the beauty of what a girl is."
"Our culture is broken and confused," reads the book's description. "Aside from abortion, nowhere is this confusion more evident than in the denial of our very core identity — our sex/gender. God created us male and female and with thousands of beautiful and biological differences. Children, tragically, have become the main target of LGBTQ+ and other 'woke' activists who want to peddle political propaganda to the detriment of our nation's youth. But kids are not the testing ground for anyone's emotional or sexual affirmation. Children deserve their innocence, and they deserve the truth."
In an interview with The Christian Post, Bethany Bomberger said it is "somewhat sad" she and her husband had to write She is She, as what was once regarded as simple truth has all but been "discarded" in an increasingly secularized society.
"There are all these lies that have now been put in place to try to really combat the simple truth that we are biologically, beautifully different," she said.
"There is this push … a demonic push. The enemy knows if he catches our children at younger and younger ages, then he doesn't have to wait till they're in college to start making this decision."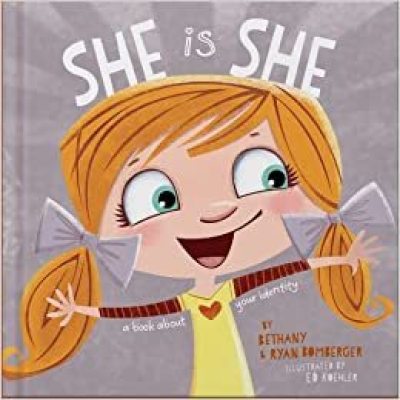 A former educator and a mother of four, Bomberger understands the power of literature and how it can help "take away fear and replace it with confidence." She and her husband wrote She is She to provide parents with a tool to help them tackle tough subjects with their children.
"There is an agenda that is targeting our children at younger and younger ages," she said. "We have to reach our children before a broken world does; we have to teach them before the broken world reaches them."
Bomberger pointed out that increasingly, bookstores and libraries are peddling children's books that promote the idea that "who God's created us to be isn't as important, and that there's a [gender] spectrum."
"All of that might sound fuzzy and OK, but when you get to the bottom of it, it is very destructive," she stressed. "It will feed into a destructive mentality. It feeds into mental health issues, which we are seeing exploding. And if parents don't understand that our role is to really steward the souls that God has given us — we don't own our children, but we have a short amount of time to really steward their souls. Everything that we pour into them is preparing them for an eternity. … We have to understand, with a healthy fear, the responsibility of parenting our children, and that means that we have to figure our way through the cultural sludge and darkness and bring the light."UnmuteAdvanced SettingsFullscreenPauseUp Next
Instilling a biblical worldview in young children is crucial, Bomberger said. She cited a recent Barna study that found a person's worldview is primarily formed between 15 months and 13 years of age.
"I know God is a God that redeems all things, regardless of what children have gone through, but if we understand what's going on in children's brains, and what's being developed, I think that we would all understand how important it is to have these foundational truths as part of our children's daily lives. And as they grow up, there will be a standard by which they're going to weigh all the information that will come to them, and we want that standard to be truth."
This isn't the first time the Bombergers have tackled a difficult subject through literature. The founders of The Radiance Foundation, a life-affirming organization that creatively illuminates that life has purpose, they're also behindPro-life Kids! a children's book that uses rhyme to teach an age-appropriate pro-life worldview.
Bomberger described the backlash they received for Pro-life Kids! as "incredible" — so they braced themselves for "a ton of pushback," once again, when they released She is She. But this time, she said, the response has been different.
"There are so many people who are watching what is going on in our culture, but they feel that they don't have the luxury of speaking the truth, so they are silent," she said. "What we've found with She is She, is that when people get ahold of the book, they feel so validated because, at their core, they know that what we're watching going on with the erasure of gender, the erasure of women, is at a very core level not gelling with what they know is true."
A recent survey found that the share of the American population identifying as LGBT has doubled over the past decade as Generation Z is more likely than older Americans to identify as gay, lesbian, bisexual, transgender or something "other" than heterosexual.
As the issue grows, Bomberger stressed that she and her husband have a "deep well of compassion" for families of children struggling with gender dysphoria. She encouraged parents to remind their children that they are "special and loved by God" and stressed the importance of finding Christian counselors and pastors who can help "find the roots of some of these thought patterns and some of these personal identity crises that are going on."
And through She is She, Bomberger said she hopes parents are empowered to fight against the lies society is increasingly promoting. She voiced hope that as the world grows darker, God will raise up young people to help lead their generation into the light.
"Jesus always empowers children throughout Scripture," she said. "The same Holy Spirit that resides in me as an adult resides in my children. … I believe that with the attacks that are coming to our children, with tools like this, and other folks that are speaking out, the prayer would be that there would be individual voices that begin to emerge at younger and younger ages that are speaking truth."
"My prayer is that as the enemy increases his attack against children, the Holy Spirit would rest in a new way on our kids and that they would embrace being a voice at a younger age."
She is Sheis now available
Originally published on The Christian Post.