Take a Hike: Experiencing the Christian Walk - Lori Altebaumer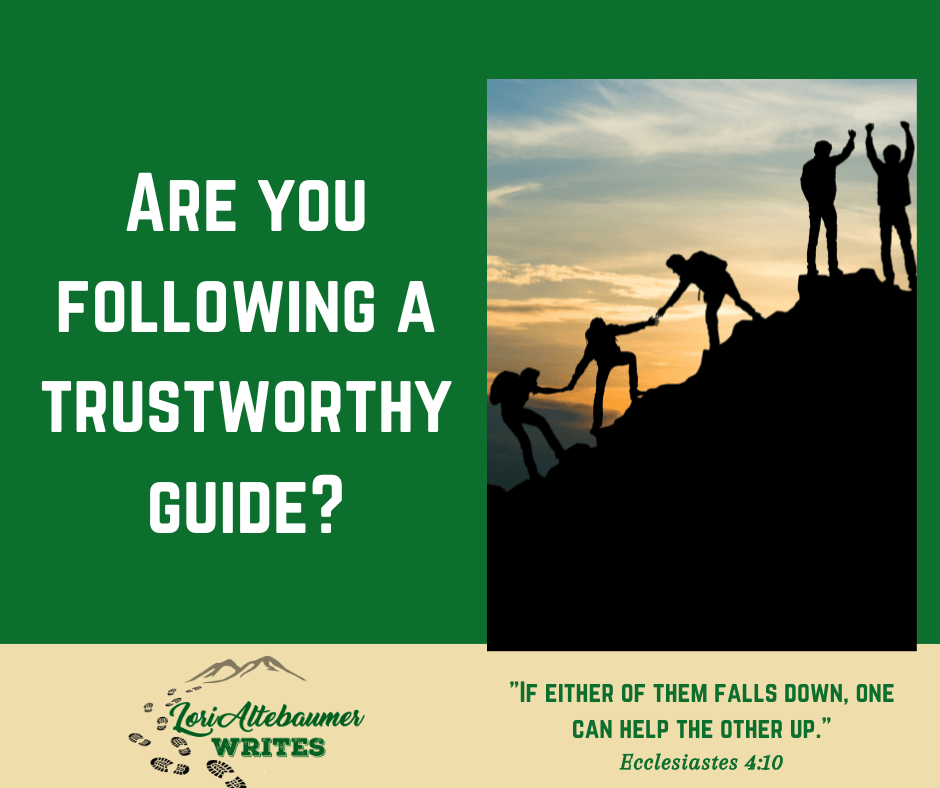 Two are better than one, Because they have a good reward for their labor. For if they fall, one will lift up his companion. But woe to him who is alone when he falls, For he has no one to help him up. Ecclesiastes 4:9-10 There is something restorative about…
Two are better than one,
Because they have a good reward for their labor.
For if they fall, one will lift up his companion.
But woe to him who is alone when he falls,
For he has no one to help him up.
There is something restorative about hiking in the forest. The crisp mountain air scented with pine and the earthy aroma of the forest floor, the quiet babble of a mountain stream, the solitude, the magnificence. Some people find the beach or the city or a coffee shop good for their soul, but for me it's the mountains. (I shared how the forest helps me gain perspective in a previous blog you can read here.)
We hike every summer in the mountains of Northern New Mexico. It's something we look forward to every year, counting down the days. A few years ago, we had the opportunity to visit during the fall when the aspen leaves were changing and decided to try a hike we hadn't done before.
We took off at sunrise while the frost was still on the ground and our breath still puffed out in clouds of white. We walked along the stream as the mountain awoke to a new day. It was like walking into a brand-new world.
This is a lot like the walk of a new believer. The world is glorious, full of beautiful things. The air we breathe seems clearer and more refreshing. And as we walk, going deeper in our relationship with Jesus, the darkness continues to lift, the light of our new day grows brighter, and we start to see things that we couldn't just a short time before. Perhaps we start to feel a but invincible. Life is good.
But our hike that day took a turn we didn't see coming. A few days before, a windstorm had toppled over hundreds of aspen trees. They scattered across the trail like someone had dumped out a package of toothpicks…really big toothpicks. The debris of limbs and leaves left by the storm covered the trail.
Not to be deterred, we began climbing over, going under, and walking around these massive trees. This went on for nearly a mile, making the hike far more exhausting than we were prepared for. My knees began to hurt (I'm a flatlander from Texas so my knees don't see a lot of hiking on an incline).
This too is like our Christian walk. Obstacles appear, but we are so enthralled with our new life and the beauty we see that we keep going.
Until we can't.
Eventually we got to the other side only to realize we had lost the trail. And this is where our hike can make such a painful reflection of the Christian life.
We are not promised a life with no problems, a life free of obstacles and easy to navigate. In fact, Jesus tells us in this world we will have problems (see John 16:33).
So how do we find our way when the hundreds of trees–trees like failed relationships, calls from the doctor we never want to receive or unforeseen financial needs– are blown over to cover the path?
Unfortunately for us, that day we left the thing that would have helped us most sitting back in our hotel room. It's a GPS device that would have aided us in navigating our way back to the trail while marking the route for an easier return.
Christians have God's Word. It is the one trustworthy, true, and unchangeable source of guidance. But when we leave our Bibles collecting dust, His word can't lead us. Too often the first thing we do when obstacles block our trail is try to figure out for ourselves how to get over, under, or around them. We forget about our guidebook… our Bibles.
We spend so much time getting ourselves through the chaos that surrounds us that we are exhausted. And no hike—or Christian walk—ever ends well when we get to the place of utter exhaustion.
This past summer we hiked a trail we've done many times. But once again, an incredibly rare and strong storm had blown down hundreds of trees to cover the trail. These weren't aspens, though. They were giant pines, covered in limbs that made the trail completely impassable.
https://lorialtebaumer.com/wp-content/uploads/2023/03/Middle-Fork-Tree-Fall.mp4
Until someone saw the need and set out to clear it. As Christians, we are called to help our fellow travelers navigate the trail. Sometimes this means we are going before them, clearing the obstacles so they may pass safely through. Sometimes it means walking through the tree fall with them, keeping track of the GPS (God Positioning Service). Sometimes it means waiting for them on the other side of their trial to help get them back on the right path.
Never does it mean for us to leave them stuck right where they are.
But before we can help others, we need to teach ourselves to be trustworthy guides.
Along with my husband, I have started a podcast (listen to My Mornings with Jesus and Joe here) in the hopes that no one stays stuck in their faith walk. We've passed through some tree falls of our own and lost the path more than once. We've made mistakes, neglected our Bibles, and looked to the wrong things for guidance. And we've gained knowledge and experience that might help someone else avoid the same.
Through it all, God has been faithful to welcome us back and set us on the trail again. He is out trustworthy guide through a world filled with obstacles.
I hope you'll let us share some of what we've experienced and learned with you so that your hike up the mountain of our faith faces fewer of these obstacles.
But even if you don't, I hope you are encouraged to keep going, stay in God's word, and look for trustworthy guides to get you through the tree falls.
For if they fall, one will lift his companion up.