Tauren Wells Finds 'Joy in the Morning' on New Album Release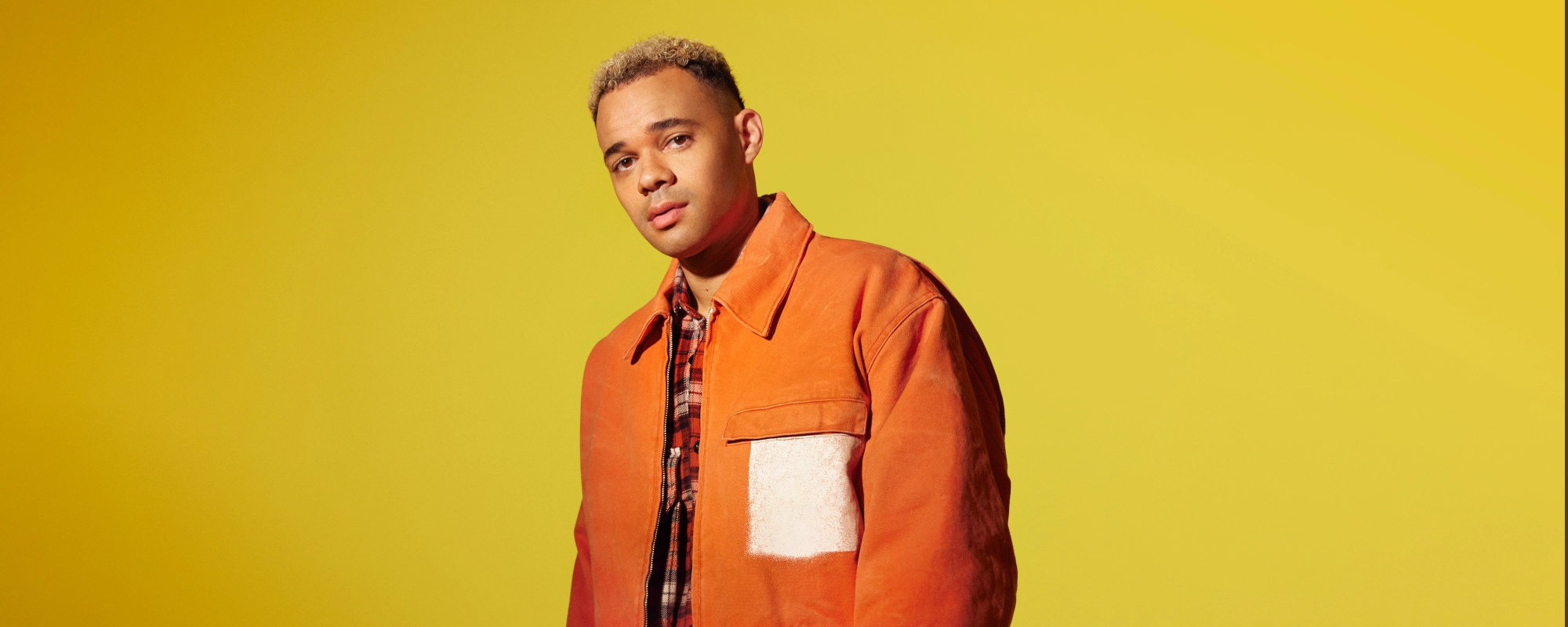 This is shaping up to be a momentous summer for ten-time Grammy nominee Tauren Wells.
Fresh from co-hosting the K-LOVE Fan Awards, Wells is set to perform at the legendary outdoor concert venue, Red Rocks Amphiteather in Colorado this summer, before embarking on a headlining tour in the fall. And if that's not enough, today he releases his third album, Joy in the Morning, the much anticipated follow-up to his 2021 Grammy-nominated release, Citizen of Heaven Live.
The former Royal Tailor frontman has garnered more than one billion combined global music streams during his career and has charted six number one radio singles since going solo in 2016.
I recently sat down with the Michigan native to discuss the new album release which includes the hit singles "Fake It" and "Empty" as well as his take on being vulnerable before God when we don't completely understand what is happening in our lives.
I had the chance to see you live for the first time a couple of months back at Winter Jam. And I was just very impressed with the energy level that you and your band brought to the stage. You even had a little punch of praise going in there too. For someone who has never seen Tauren Wells live, how would you describe it to someone?
I would say that we aspire to create an experience for people that is truly something that is worth all of the effort that they put into getting themselves into the room. Being a husband, having four of my own kids, I know what it takes to either take my family somewhere or to coordinate everything at home so that my wife and I can have an evening out. I never want people to come in and think that wasn't really our best effort. That was a little lazy. I just want to bring my best. I think for me, people can experience something that has a high entertainment value. It's unapologetically entertaining. I want people to just have a moment of awe and wonder and think this is so dope. As believers, we want to rise to the level of what our purpose and potential can be in these different spaces. I want people to be very entertained, but I also don't want to leave them in the shallow end of entertainment. I want them to have a genuine experience with God, a place where they can evaluate their soul and where they're at with God.
The new album Joy in the Morning has just released. What can you tell me about it?
The heart and soul of the project is to remind people that there is a horizon called eternity, what a believer has the opportunity to set our sights upon, and that what we are experiencing in the here and now is not all that there is to experience. We may endure for a night, but joy comes in the morning. In our everyday lives we may get glimpses of God's glory. We may get glimpses of what eternity with Him will look like, but ultimately all of our desires will be fulfilled. All of our pain will disappear when that great morning comes.
If you don't mind, let's pull a couple of these songs from the new album apart and put them back together again. In other words, what is the story behind the song? What can you tell me about "Fake It"?
It is about learning that with God, the more vulnerable we're willing to be, the more we position ourselves to be loved by Him. I think a lot of us have different ways that we fake it in life and different ways that we fake it with God. Some of us fake our faith through religious routine. Some of us fake our feelings by putting a smile on and quoting the Bible, 'The Lord is my strength,' and never actually dealing with what's happening on the inside with the wounds and the trauma that we carry. Some of us fake our friendships. We act one way and that's not who we really are. And what I've learned in the context of my relationship with my wife is the more I'm willing to let her see me struggle and not try to be Superman, the more I open myself up to actually being met with grace, with truth, and with love. Obviously, God gives us this picture of a marriage as an incomplete picture of His love for us. So, if it's true in a human context, then it must be true with God. If I bring Him what's real, then I get something from Him that I can't get If I'm trying to be fake. Jesus did not die for the image that I project. Jesus died for who I really am. The Gospel is actually alive and activated in my weaknesses more than my strengths. So, that's "Fake It".
How about "Empty"?
"Empty" is a song about dealing with the meaningless pursuit of life. I'm reading a book right now called 40/40 Vision, by Peter Greer and Greg Lafferty . I'm not 40 yet but it is a book about midlife. I'm trying to get a head start. I have read it since writing "Empty". So, this song just came from an overflow of what I was feeling that I wasn't knowing. Here I was, in a new house and a new writing room. This was a big leap from my other creative environments that I had been in over the years. I used to write and record songs in a closet or at the dining room table under a blanket. So, it was amazing to have my own dedicated space that my wife actually let me decorate myself. All of the husbands out there know what's up with that.
Oh, I hear you, brother.
You've got to have it. It doesn't matter if it doesn't match. It's mine and I picked it. So, that was cool. And then I'm looking around at the walls and I've got some plaques that I really look at as like memorial stones of God's faithfulness to use me, but also to reach people and to fulfill His mission. So, I'm looking at those and I'm thinking, man, these songs have reached millions of people. That's unbelievable. And then, I hear my kids running around upstairs and their footsteps banging through the ceiling. My wife is in the other room and she's prepping the house for a get together with family that we're having. So, I go over to the piano and I think, man, I'm going to write a song of gratitude, a song of praise.
And as I played the keys, the first thing that came out over these melancholy chords were you could have it all and still feel empty. So, the song just kind of came from there. I think as Christians, we always want to sing and write the songs that are responses to what we feel like are the negative emotions, where the truth is negative. Emotion is a myth. The emotions were gifted to us by God to help us process our inner life. And although they don't give us all of the information, they give us some information. There's sirens of the soul leading us toward things that need to be looked at. And so, I have been dealing with this and I wanted to write a song that wasn't just the faith response to the feeling of emptiness. I wanted to write about the feeling of emptiness because of what Greer and Lafferty point out in their book.
(It makes) you think of Solomon. He's telling us everything is meaningless. He says, 'God has placed eternity in our hearts, a universe sized expanse that would swallow the world whole if it could and still be hungry. That's essentially what that song is saying. You could have it all, you can have the things that you've dreamed of … the family, the wife, the flourishing career, the ministry. And if you're looking for satisfaction and ultimate fulfillment in those things, you will always feel empty. But your emptiness should force you to ask questions that point you to what really can fill you up. And that's God.
That is such an important message, especially since COVID kicked in a couple of years ago. People are really having a hard time because they're feeling more isolated. This is causing people to really think about their lives, where they're at, and where they're going. And I think a lot of times that creates this tremendous sense of emptiness that you talk about. But then, of course, we know that Jesus Christ is the fulfillment of that.
I think what you said is so important too, having the time to sit down in isolation and evaluate what is happening in our inner life is so important. And to your point, our schedules are so full. Our calendars are so busy. You have to really be intentional about taking the time to hear what's happening and to feel it. If you don't, you'll just spend your life numbing those feelings, ignoring those feelings, shoving those feelings aside and never really get to that place of ultimate fulfillment and a true place of hope.
You have been described as a genre-bending recording artist, as it's very difficult to assign just one musical tag to you. In talking to many musical artists over the years, this is usually due to being exposed to many different types of music at a young age. What were those genres for you growing up? What kind of music were your key influences?
It was everything, which is why everything is reflected in what I do. My dad was very musically diverse and inclined and was always introducing me to different artists. Everyone from the Isley brothers to Wynonna Judd to Bonnie Raitt to ZZ Top. Also, Fred Hammond and Gospel Gangsters. It was every type of music and my dad had thousands of albums, just a ridiculous library of music. And then, he creates music as well. So, pretty amazing. I got into 1990s country, and I actually have to credit my stepdad with that one because he got me into that. I listened to just about everybody. Tim McGraw, Travis Tritt, Aaron Tippin just to name a few. So many of these guys … I just loved it. I don't think that we have to live in the spaces that have been pre-defined for us. The beautiful thing about music is that it is inherently uniting. So, why not use those same chords, those same notes that we all use to step into each other's spaces? It's all to make each other better.
What's your greatest hope for the new record? What do you want people to get out of it?
My greatest hope is that as they listen to the album, they have permission to feel. I think in all of our great teaching about scripture and about God, there is an element of our faith that I think is often overlooked and that's when faith leaves the room for an analysis. Questions, doubts, heartbreak, pain, and loss. That's actually what faith is for. So, if we don't talk about the heartbreak, the pain, the loss, the doubt, then what's the point of the faith? I've been very honest with the album. I've got songs that talk about where I feel like I need to grow as a husband in empathy. I've got songs that talk about who I want to be as a friend to people. I've got songs that talk about how overwhelmed I am by God's love for me from my feelings of emptiness or failure. And I think that it's going to resonate with people if they allow themselves to engage with it on that level. I hope people get permission to feel, and then those questions that come out of that place lead them to better answers.
To Purchase Joy in the Morning:
Watch a Music Video for Tauren Well's single, "Fake It":