'The Confession': An Amish Musical Comes to the Big Screen with a Whole Lot of Heart and Soul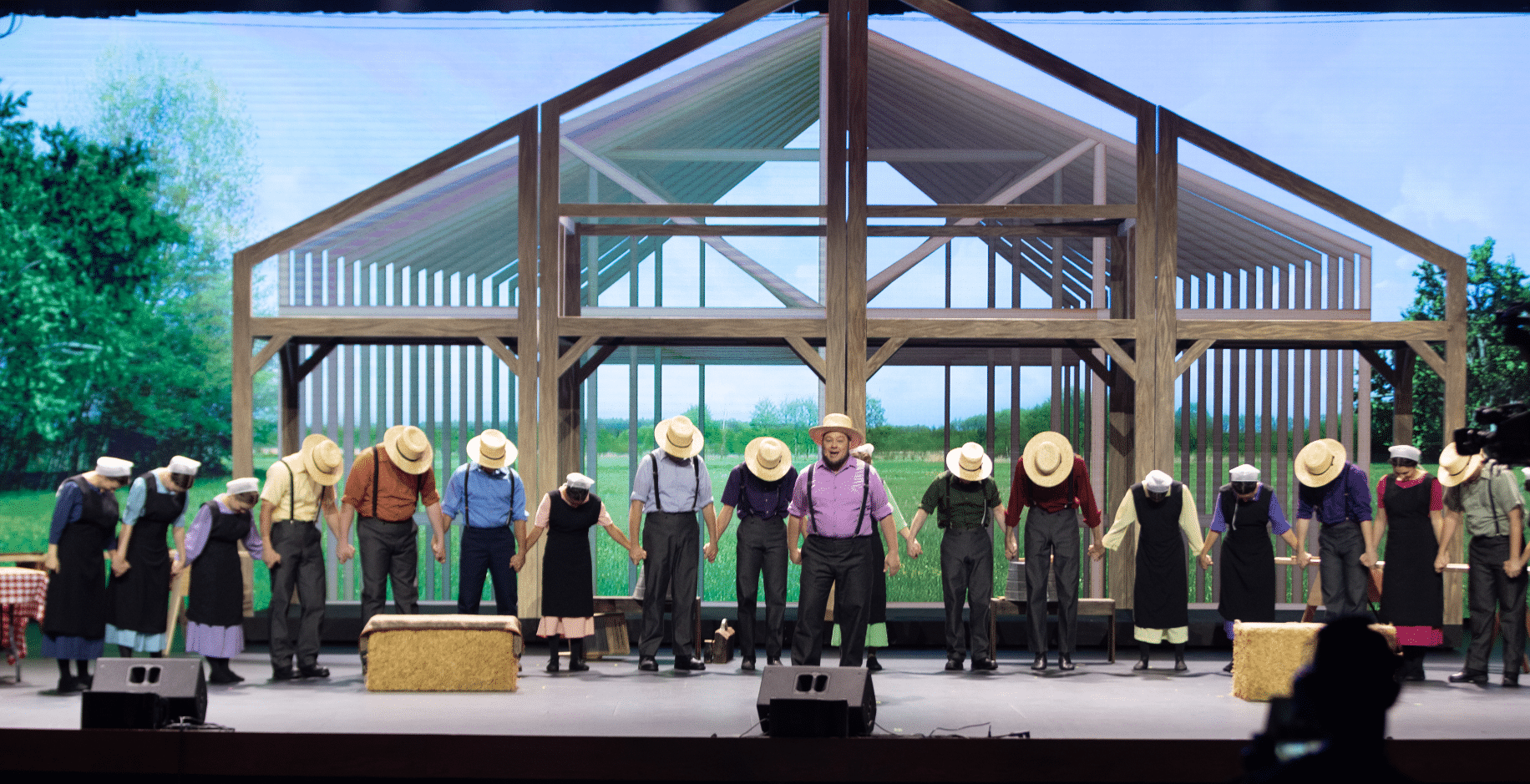 New York Times bestselling author Beverly Lewis has been captivating her readers for more than two decades with her tales of love and devotion set against a backdrop of Amish culture. The author of more than 100 books, Lewis is known for her ability to weave what is regarded as a rigid set of beliefs and practices with the heartwarmingly plain heritage of this community who chooses to live their lives 'apart' from traditional culture.
Now, Lewis's bestselling book series The Heritage of Lancaster County has been developed into a theatrical musical that is coming to the big screen as a Fathom movie event on February 20th. Called The Confession, it is a story firmly rooted in Amish culture that explores what happens when a family risks being shunned because their daughter has decided to explore the possibility of living in a world defined by a modern set of principles, ideals, and lifestyle.
"It's a three hour escape into a world that people don't know that much about," explains Emmy-nominated screenwriter Martha Bolton, who adapted Lewis' book into the musical. "The Amish are so much like we are in so many ways in that they have the same challenges in life. They have the same challenges in their family. They just put God first. Faith is very important to them, and they believe in living apart. There's a lot to respect about them."
Despite the appeal of a Beverly Lewis novel adapted to be a play, you might still be having difficulty grasping the concept of the Amish world being set to music and dance. For Bolton, it is not as far-fetched as one might think.
"Music is important to the Amish," notes Bolton, a Hollywood veteran who once served as Bob Hope's head writer on several of his comedy specials in the 1970s and 1980s. "We have Amish songs in The Confession. There's an Amish hymn that is included. So, music is important to them. And then, it just is a great storytelling mechanism to bring it to life. And then, obviously there is the comedy, the dialogue, and the drama. And then as far as the dancing, it springs out of the emotions. They do it very naturally. It's almost like joyous dancing."
The plot for The Confession is not unlike any other modern day tale of trying to get ahead in our world. A young Amish girl discovers her parents have been keeping a secret from her … she is adopted. Rather than settling for what she has been told, the girl decides to seek and find her birth mother. Doing so will defy the rules of her Amish village, setting her up for a shunning. Subsequently, the girl's birth mother, battling an illness that could take her life, decides to search for her long lost daughter and leave her a substantially lucrative inheritance. There is only one problem, her "dutiful" husband is scheming against her to make sure he collects the substantial sum she intends for her daughter. Fortunately, their maid uncovers the plot and does everything in her power to prevent his misdeeds.
The musical stars John Schneider (Dukes of Hazzard, Smallville) as a gold-digging husband and Chonda Pierce (All Saints, Selfie Dad), who plays a well-meaning maid who tries to foil her employer's plan at every turn.
"The story is wonderful," says Schneider, who is best known for starring as Bo Duke in the 1980s hit television series, The Dukes of Hazzard. "An Amish girl in search of her birth mother and the fear of being shunned because of it. In my world before this, shunned was just a word, but in that culture, if you are shunned you are forgotten. You did not exist.You no longer exist. Your name is not even allowed to be spoken by the people who remain. It's a very serious thing."
Schneider and Bolton have nothing but praise for Pierce, suggesting that audiences will be very surprised to see the breadth of her acting ability. Pierce, who is best known as the "Queen of Clean Comedy" for her brand of side-splitting storytelling, steals the show, not for one-liners but for her singing ability instead.
"I loved working with Chonda, " says Schneider. "She's fantastic. She's funny. She's serious. She sings like an angel. Believe it or not, one of the funniest women I have ever met sings like an angel."
"Chonda is perfect for the role," Bolton adds. She plays the friend of the adopted girl's mother. Not only is she zany and funny, which is Chonda for sure, but she also has a fabulous voice. She is very musically talented."
Not to be lost in the festive music, fine acting, and wonderful storytelling is the concept of forgiveness that serves as the foundational core of The Confession. It is this conscious, deliberate decision to release feelings of resentment toward a person that can literally change the world, or at least prove to be the guiding force for this well-meaning Amish family.
Says Schneider, "Forgiveness is huge for everyone. We all need to be forgiven, but we also all need to forgive. So the hope is that when you witness someone being forgiven in this movie musical or in your life, when you are forgiven for something, I hope you will then examine your own heart, your own soul."
"It doesn't mean everything's going to go right," shares Bolton. "It doesn't mean that you have to let go of your boundaries in certain situations. It's just that in your heart you forgive, you move on, and take what you learned and get stronger with it. We're going to find out all of the truth. We're going to find out in heaven anyway. So, while we're on Earth, just forgive and don't let it affect your life. Just forgive."
The Confession is set to make its Fathom Movie Event debut on Monday, February 20th as a one-night-only event. For more information on where it is being shown and how to purchase tickets, please visit https://www.fathomevents.com/events/The-Confession-Musical.
WATCH A TRAILER FOR THE CONFESSION: