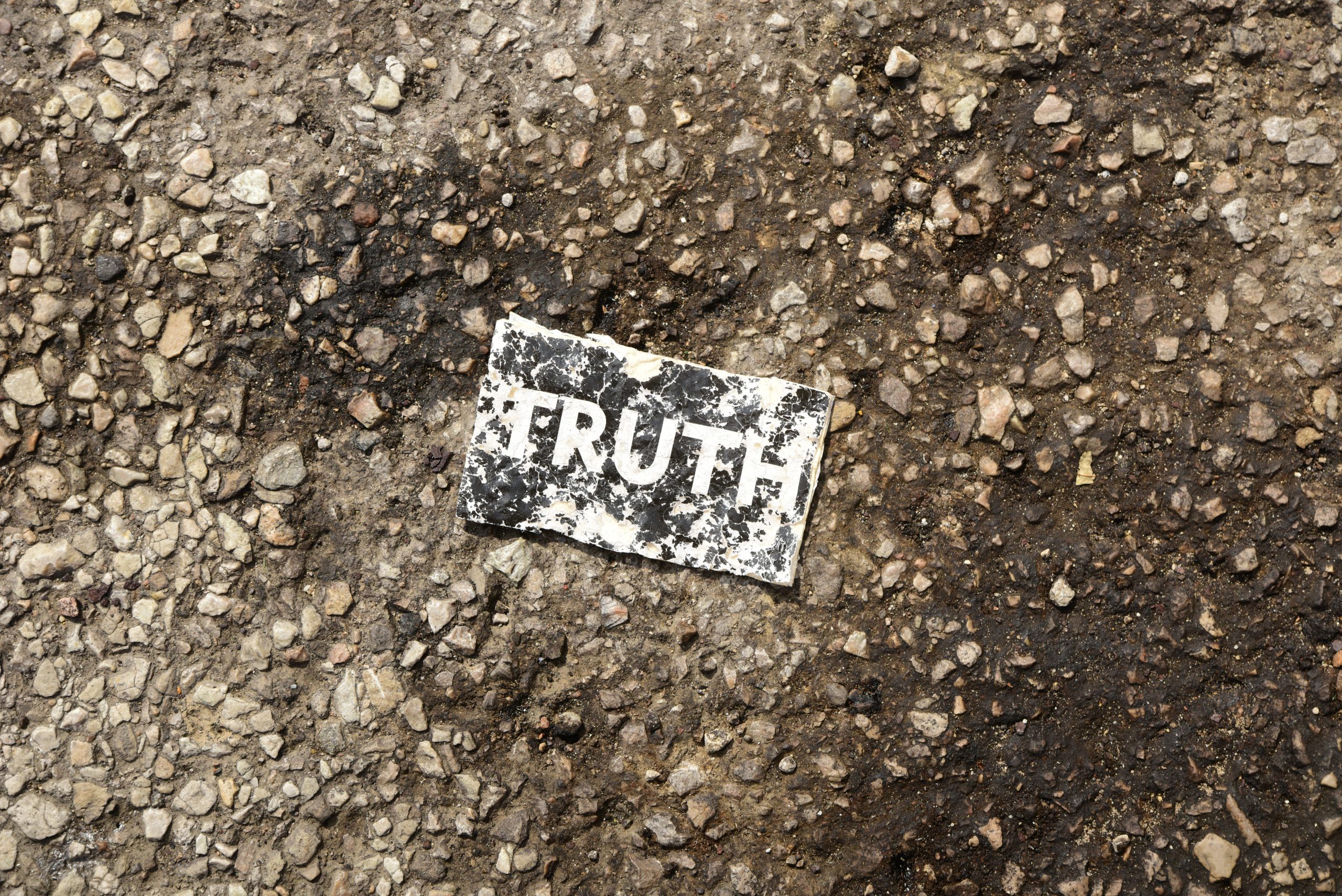 That's the big philosophical question, isn't it? It seems every generation asks this question, either because they really want to know or to justify their own behavior. So, is there a standard for truth or is it anyone's guess? I think there is. We will look at both popular and authoritative sources to answer the question, What is Truth, and how can we find it. Let's start with a definition of truth.
Noah Webster's Definition, c.a.1828
Truth
TRUTH, noun
1. Conformity to fact or reality; exact accordance with that which is, has been, or shall be. The truth of history constitutes its whole value. We rely on the truth of the scriptural prophecies.
My mouth shall speak truth Proverbs 8:7.
Sanctify them through thy truth; thy word is truth John 17:17.
2. True state of facts or things. The duty of a court of justice is to discover the truth Witnesses are sworn to declare the truth, the whole truth, and nothing but the truth
3. Conformity of words to thoughts, which is called moral truth
Shall truth fail to keep her word?
4. Veracity; purity from falsehood; practice of speaking truth; habitual disposition to speak truth; as when we say, a man is a man of truth
5. Correct opinion.
6. Fidelity; constancy. The thoughts of past pleasure and truth
Noah's definition aligns precisely with how the Bible defines and describes truth. Noah Webster learned 28 languages, including Greek and Hebrew in preparation for his work composing an American Dictionary of over 70,000 words. Thank you, Noah; you just saved me a lot of writing.
Next, you will see that even our legal definition and description of truth is not far from the Biblical understanding of truth.
1. TRUTH. The state of things.
2.In contracts the parties are bound to toll dealings,adeviation from it will generally avoid the contract; Newl. on Contr. 352-; 2 Burr. 1011; 3 Campb. 285; and even concealment, or suppressio veri, will be considered fraudulent in the contract of insurance. 1 Marsh. on Ins. 464; Peake's N. P. C. 115; 3 Campb. 154, 506.
3. In giving his testimony, a witness is required to tell the truth, the whole truth, and nothing but the truth; of the object in the examination of matters of fact, is to ascertain truth.
Okay, that was then and this is now.
What is truth, and How is it described today?
#Oprah Winfrey and #Carley Victoria share contemporary views of truth.
What is your truth?
Hmmm. Is there such a thing? If so, what do you mean? Facts are facts, and reality is reality unless you speak of events from your perspective. Whether or not they are authentic, from your perspective they are true. You may recall that #Oprah Winfrey famously talked about this in a speech at the Golden Globes Awards. There is an article about it in the Philadelphia Inquirer. What are the advantages of believing or speaking your truth? What are the dangers?
How can you find it?
This is how Carly Victoria's blog The Journal Life defines it: "To live in your truth simply means to live as your most authentic self, doing things daily that bring you happiness and joy, living as true to yourself as possible." I can imagine that this might make a person who is not a follower of Jesus Christ happy; if she attained it, it was because she was living for her own pleasure.
However, what is the end resut of living for your own pleasure? Is it a fulfilled or an empty life? Living for yourself is not why God created us. We weren't designed to live a selfish life but to live pleasing to our creator. He is our God and gives us forgiveness, peace, and restoration. If we live for him, who died for us, how happy our life will be! This is connecting truth to life.
God's purpose and design for us
Praise be to the God and Father of our Lord Jesus Christ, who has blessed us in the heavenly realms with every spiritual blessing in Christ.

For he chose us in him before the creation of the world to be holy and blameless in his sight. In love he predestined us to be adopted as his sons through Jesus Christ, in accordance with his pleasure and will–to the praise of his glorious grace, which he has freely given us in the One he loves.

In him we have redemption through his blood, the forgiveness of sins, in accordance with the riches of God's grace that he lavished on us with all wisdom and understanding.

And he made known to us the mystery of his will according to his good pleasure, which he purposed in Christ, to be put into effect when the times will have reached their fulfillment– to bring all things in heaven and on earth together under one head, even Christ.

In him we were also chosen, having been predestined according to the plan of him who works out everything in conformity with the purpose of his will, in order that we, who were the first to hope in Christ, might be for the praise of his glory.

And you also were included in Christ when you heard the word of truth, the gospel of your salvation. Having believed, you were marked in him with a seal, the promised Holy Spirit, who is a deposit guaranteeing our inheritance until the redemption of those who are God's possession– to the praise of his glory. (Eph 1:3-14)
What is Truth according to the Bible? How is it defined?
Well, this is easy. Review Noah Webster's definition. He connects Truth to life in a real way.
The standard
Absolute Truth–although we may have many perspectives, there is in reality only one Truth. And, since human beings are sinful and their hearts deceive themselves (Jeremiah 17:9), we must look outside of them to a more extraordinary, wiser being. Sometimes, only he can discern Truth from error because he knows the hearts of all people. I'm referring to God, of course.
Unbelievers may not recognize God as the author of all Truth. And, believing in him may seem foolish and unscientific. The Apostle Paul recognized that and addressed philosophers on Mars Hill in the first century,
A group of Epicurean and Stoic philosophers began to dispute with him. Some of them asked, "What is this babbler trying to say?" Others remarked, "He seems to be advocating foreign gods."

They said this because Paul was preaching the good news about Jesus and the resurrection.Then they took him and brought him to a meeting of the Areopagus, where they said to him, "May we know what this new teaching is that you are presenting? You are bringing some strange ideas to our ears, and we want to know what they mean." (All the Athenians and the foreigners who lived there spent their time doing nothing but talking about and listening to the latest ideas.)

Paul then stood up in the meeting of the Areopagus and said: "Men of Athens! I see that in every way you are very religious. For as I walked around and looked carefully at your objects of worship, I even found an altar with this inscription: TO AN UNKNOWN GOD.

Now what you worship as something unknown I am going to proclaim to you."The God who made the world and everything in it is the Lord of heaven and earth and does not live in temples built by hands. And he is not served by human hands, as if he needed anything, because he himself gives all men life and breath and everything else.

From one man he made every nation of men, that they should inhabit the whole earth; and he determined the times set for them and the exact places where they should live. God did this so that men would seek him and perhaps reach out for him and find him, though he is not far from each one of us. 'For in him we live and move and have our being.' As some of your own poets have said, 'We are his offspring.'

"Therefore since we are God's offspring, we should not think that the divine being is like gold or silver or stone– an image made by man's design and skill. In the past God overlooked such ignorance, but now he commands all people everywhere to repent. For he has set a day when he will judge the world with justice by the man he has appointed. He has given proof of this to all men by raising him from the dead."

When they heard about the resurrection of the dead, some of them sneered, but others said, "We want to hear you again on this subject." At that, Paul left the Council. A few men became followers of Paul and believed. Among them was Dionysius, a member of the Areopagus, also a woman named Damaris, and a number of others.(Acts 17:18-34)
Suppression of truth
The problem with humanity is that we suppress the truth evident to all.
The wrath of God is being revealed from heaven against all the godlessness and wickedness of men who suppress the truth by their wickedness, since what may be known about God is plain to them, because God has made it plain to them.

For since the creation of the world God's invisible qualities– his eternal power and divine nature– have been clearly seen, being understood from what has been made, so that men are without excuse.

For although they knew God, they neither glorified him as God nor gave thanks to him, but their thinking became futile and their foolish hearts were darkened.

Although they claimed to be wise, they became fools and exchanged the glory of the immortal God for images made to look like mortal man and birds and animals and reptiles.

Therefore God gave them over in the sinful desires of their hearts to sexual impurity for the degrading of their bodies with one another. They exchanged the truth of God for a lie, and worshiped and served created things rather than the Creator– who is forever praised. Amen.

Because of this, God gave them over to shameful lusts. Even their women exchanged natural relations for unnatural ones. In the same way the men also abandoned natural relations with women and were inflamed with lust for one another. Men committed indecent acts with other men, and received in themselves the due penalty for their perversion.

Furthermore, since they did not think it worthwhile to retain the knowledge of God, he gave them over to a depraved mind, to do what ought not to be done.

They have become filled with every kind of wickedness, evil, greed and depravity. They are full of envy, murder, strife, deceit and malice. They are gossips, slanderers, God-haters, insolent, arrogant and boastful; they invent ways of doing evil; they disobey their parents; they are senseless, faithless, heartless, ruthless. Although they know God's righteous decree that those who do such things deserve death, they not only continue to do these very things but also approve of those who practice them.(Romans 1:18-32)
Wow! That's a lot to take in. We, meaning all of us, are condemned for our sins. That's bad, real bad! But, there is good news. Paul would later say in the same letter, "Therefore being justified by faith, we have peace with God through our Lord Jesus Christ" (Romans 5:1 ), and "there is no condemnation to them who are in Christ Jesus" (Romans 8:1). "Salvation is found in no one else, for there is no other name under heaven given to men by which we must be saved." (Acts 4:12)
Jesus said to him [Peter], "I am the way, and the truth, and the life. No one comes to the Father except through me. (John 14:6)
What do you think about that? One of the trinitarian persons of God becomes a man, lives a sinless life, does miracles, and proclaims he is the only way into the presence of his heavenly father. Only he can forgive sins (John 3:16). Call on him today if you want forgiveness, peace, and spiritual life (Romans 10:9-10).
In a most intimate prayer to his heavenly father before he sacrificed himself for the sin of the world, Jesus prayed for his followers, "Sanctify them by the truth; your word is truth." (John 17:17, NIV). We will talk about that more in the next section, how God connects his truth to life.
How God Connects His Truth to Your Life
If we read his Word and obey it, the LORD says he will bless us.
"We are witnesses of these things, and so is the Holy Spirit, whom God has given to those who obey him." (Acts 5:32)
Blessed is the man who does not walk in the counsel of the wicked or stand in the way of sinners or sit in the seat of mockers. But his delight is in the law of the LORD, and on his law he meditates day and night.

He is like a tree planted by streams of water, which yields its fruit in season and whose leaf does not wither. Whatever he does prospers.

Not so the wicked! They are like chaff that the wind blows away. Therefore the wicked will not stand in the judgment, nor sinners in the assembly of the righteous.

For the LORD watches over the way of the righteous, but the way of the wicked will perish. (Psalm 1:1-6)

If we are to connect truth to life, what is life? That will be the topic for our next page, coming soon. In the meantime, perhaps you want to go back to the home page or check out the many interesting posts on this blog.

Similar posts: Who is Jesus?

Did Jesus exist? 5 ways we can be sure

Satan's Influence; 7 things we should know about him
from the free online legal dictionary
Used with permission from Rodney Harrier.