I think of my childhood home often … the century old home that still stands at 6555 Alleghany Road.
When I picture it … I can still see my mom standing in the sunporch which lined the front of our house well-cared for homeplace.
She likely had an apron on and was watching me cross the country road as I went to pick up the daily mail or go to a friend's house to play for the afternoon.
It seemed that I would always be safe as long as my mom was able to see me. Isn't that the way of mothers?
In the scrapbook of my heart … I can still see my Dad mowing the lawn in the summer … shoveling the long driveway in winter … and planting the annual garden in the spring. He was always industrious and yet always had time for me … his little girl.
When my heart takes me back to that place where my heart was nourished … where my body was fed … and where my dreams were born … I can hear the laughter yet around the kitchen table … and the prayers that were prayed at family devotions.
I can see my little brother playing with his kitten as the sun danced across the kitchen floor.
That was home. My home. The place of my roots and my faith.
Now, I know that not everyone had the childhood that I enjoyed or lived in the type of family that I was blessed with … but for me there is something wonderful about revisiting the home of my childhood … even if it is only in my memories.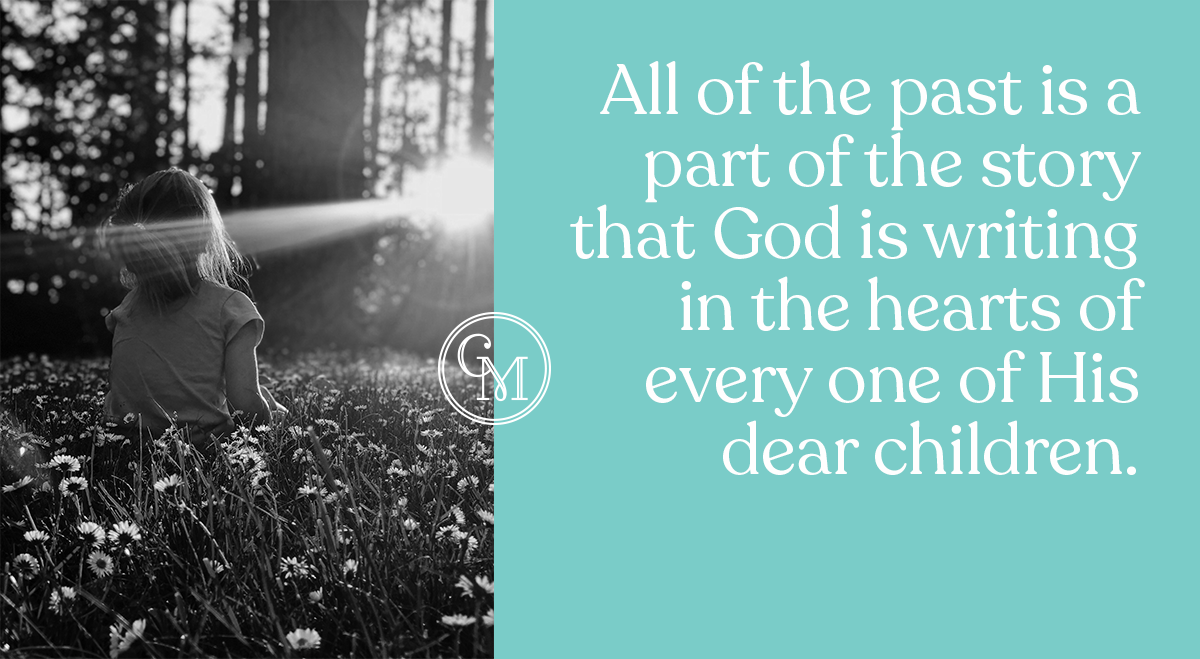 All of the past is a part of the story that God is writing in the hearts of every one of His dear children.
Each story is part mystery … but it is all a love story.
Have you ever read the story of Joseph in the Old Testament? He was his father's favorite son.
Joseph, whose story is told in the Book of Genesis, initially had a happy childhood but then his 10 older brothers ganged up on him … beat him up … put him in a pit … and sold him into slavery.
They told their father that Joseph had been killed by a wild beast.
Who does this to their little brother?! Who does this to their aging father?!
Joseph spent time as a slave … he was the victim of sexual harassment … he spent years in prison … and he was forgotten.
Through it all … Joseph was aware of the nearness of His God.
Through it all … Joseph kept his heart free from bitterness and blame.
Through it all … Joseph was kind.
Through it all …Joseph told others about His God.
God took all of the cruelty of Joseph's narrative … all of the days of pain … all of the long nights of separation … and redeemed it.
God used Joseph's abuse for a greater good … to save a nation from starvation.
How does that happen?!
It happens … when an ordinary woman or a common man chooses to feast on the nearness of God.
It happens … when a broken woman or a discouraged man chooses to worship instead of whine.
It happens … because God is at work writing the end of your story.
Whatever happened in your past … or in my past … can serve as a preparation for the plans and purposes of God today and tomorrow.

I wish I could tell you why your childhood may have been painful and why mine was idyllic … but I can't.
"It is the glory of God to conceal a matter." – Proverbs 25:2
Perhaps your childhood story is filled with the mystery of, "Why?"
Joseph's story was certainly a mystery … but God solved it! He solved it with a miracle so profound that it brought grown men to their knees.
If your childhood story is filled with pain … you can rest in His nearness today.
I can assure you that He was with you then … and He is with you now.
He is able to take your pain and turn it into purpose … just like He did for Joseph.
He works all things together for good … He promised.
"As for me, the nearness of God is my good; I have put my trust in the Lord God." – Psalm 73:28
Thanks for listening to my heart this week. As you know by now, my heart is truly not a perfect heart but it is a heart that is filled to overflowing with gratitude for the life I have been given and for the people who walk with me. And, it continues to be a heart that is relentlessly chasing after God and all that He is!
Used with permission from carolmcleodministries.com.